The free app store for Android phone device is what you're looking for? The following blog post has the best recommendation for the question.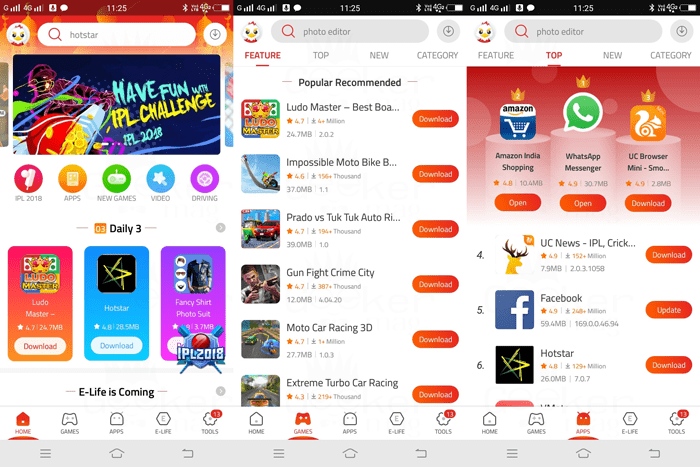 Google Play store is an app store that comes preinstalled on the devices running Android operating system. It has thousands of apps, games, movies, music, books, magazine, TV and much more. Some of the apps are free, and the remaining ones are paid (Offcourse they have something special which free apps doesn't offer you).
Some users always seek some excellent places to grab stuff for their Android devices, especially the free stuff like free Android games, free Android apps and more. The internet is full of useful things and so do the apps marketplace for Android.
9Apps – The Best Free App Store for Android
9Apps is one out of them and in this article, I'm going to share with you everything you need to know about this free app store for Android. So without further delay why don't you start reading about it:
What is 9Apps?
9Apps is undoubtedly the best third-party app marketplace out there launched by Alibaba group. Apart from that, it is the best Google Play alternative for free Android apps. It offers you various apps and games at high lightening speed.
Why Choose 9Apps?
There are so many reasons behind this 9Apps free app store for Android is counted as one of the leading places to download free apps and games. The people all across the globe us using the application making a total of around 97 million users. Some of the key features are:
It is a lightweight application that comes with millions of apps, games accompanied by multimedia apps.
It doesn't offer any viruses and bloatware.
It has clean interface and options are well arranged.
It does not matter whether you have a super-fast smartphone (or tablet) or a single core old-school device, because the apps run smoothly without any issues.
There is also a manual-search option that allows users to search for the required app or game manually.
There are over a billion apps and games featured in this very small sized app.
It let you download videos, ringtones, and even themes.
Apart from these features, there are lots of other things which makes this app store for Android users useful.
How to Install 9Apps on Android
To install the 9Apps app on your device, you will have to perform 'side-loading.' Here is how to do that:
1. On your Android Phone visit this web page (https://9appsapk.com/)
Here on this page click on the button which reads "Click here to download 9apps.". This will start downloading the 9Apps apk file.
2. Tap on the apk file and follow the instructions suggested by the installer to complete the installation.
Note: Make sure to check 'Unknown sources' before start installing the application. This option is available under security settings.
That's it!
What You'll Get in the 9Apps
Just tap on the 9apps application icon on the homescreen. At the bottom of the app homescreen, you will see different tabs for Games, Apps, E-Life, and the Tool.
According to your needs, switch to games and apps tab if you want to download games and app. E-Life is like timeline feature where you will get the updates from other users using the app.
In the tool tab, you will find various settings related to the application. The good thing about this app store is that it does not come with any bloatware.
How to Get it on Windows and Mac PC
Although this app is not explicitly available on either of the two operating systems, it can be made to run on them with the help of an Android emulator. Bluestacks app player is a favorite freeware Android emulator available for Windows and Mac PCs.
What it does, is that it creates a virtual Android ecosystem and all the APK files can install and run on it comfortably. Thus, you can also install this free app store for Android on both Windows and Mac PC with the help of .apk file.
That's it!
Why don't you give a try to this free app store for Android? Find it useful? What are the things you like about 9Apps? Let me know in the comments.