Sometimes you find yourself in a situation when you want to download mp3 of YouTube video instead of watching it right? Officially its impossible, so how to do that?
Internet is full of YouTube to Mp3 online converters and software, but some users might be looking for ways using they can convert YouTube videos in mp3 format without leaving the YouTube page, right? And we're sure you're one out of them for sure.
If you're using Chrome as a default browser, then fortunately there are various YouTube to MP3 Chrome extensions available using which you can easily convert Youtube videos to MP3 audio, and download them on your device. You can listen to them later from any of your devices without spending your data.
Best YouTube To MP3 Google Chrome Extensions
Although every extension available on the Chrome web store doesn't work the way its reads, so to help you out we decided to create a list of best YouTube to Mp3 Extension for Chrome worth trying.
Let's start with first one in the list:
YouTube To Mp3 Converter Browser Extension from Addoncrop is one of the best options available using which users can easily convert YouTube videos to MP3 without leaving the YouTube page. This extension supports conversion to MP3 bit rates 96Kbps, 128Kbps, 256Kbps, and 320Kbps.
Using this extension you can even download a part of the video as an audio file, without having to download the complete file. The extension is part of Crosspilot extension, here's how you can download it on Chrome and use it:
Visit this page and then click on the Install via Crosspilot button available on the right side. Make sure, Chrome is selected as a browser.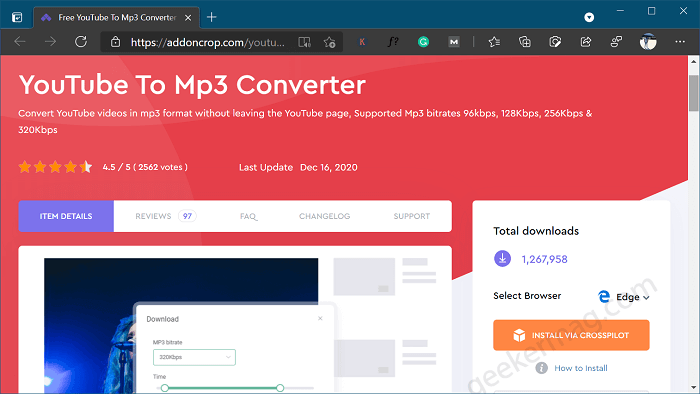 Doing this will start installing the extensions. It will ask permission, click on Grant Permissions.
Once installation, it will take you this page where you can manage default settings for the extension.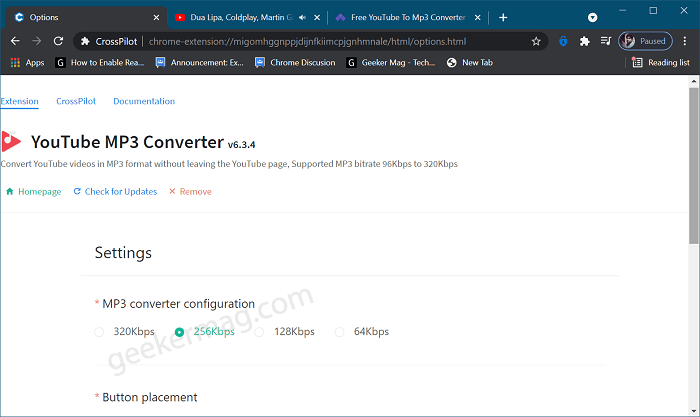 Using the extension is easy. Open any video on the YouTube of which you want to download MP3.
Next, click on the Download MP3 button, you will find it just above the Subscribe button. Doing this will open a dialog box where you can select bitrate and what part of the video you want to download as audio.
In case, you want to mp3 of full video, then leave it as it it, then click on Download button.
Doing this will convert the video to mp3 and once done it will be downloaded to your device. You need to keep this thing in mind, that it can only convert videos upto 120 minutes log.
Apart from Chrome, the extension is available for other browser too that include, Edge, Opera, Vivaldi, and UC Browser.
Easy Video Download and MP3 Converter is another extension that you download videos or convert video to MP3 from various popular websites including YouTube. You can not only convert MP3 from YouTube videos, but also download videos in various formats like MP4, MOV, AVI, ASF, MPG, and even more.
After installing the extension in Chrome browser, go to Youtube, and open any video of which you want to download MP3.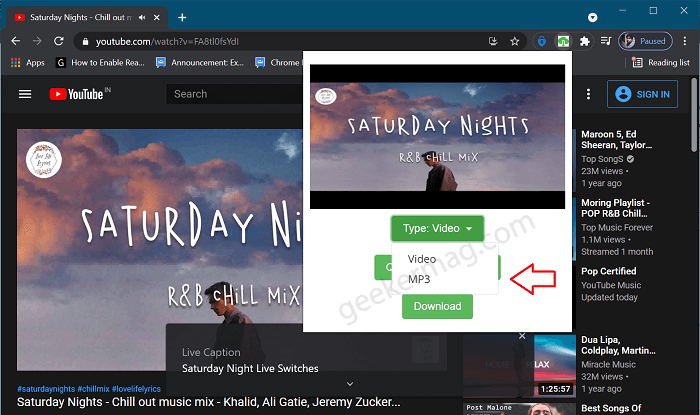 Next, click on the Extension icon, a dialog box will open up, showing details about video. Here, you need to select Download Type to MP3 instead of video.
Dong this will show you further options, where you can select a particular area of video of which you want to download MP3, select Bitrate, and then click on the Download button.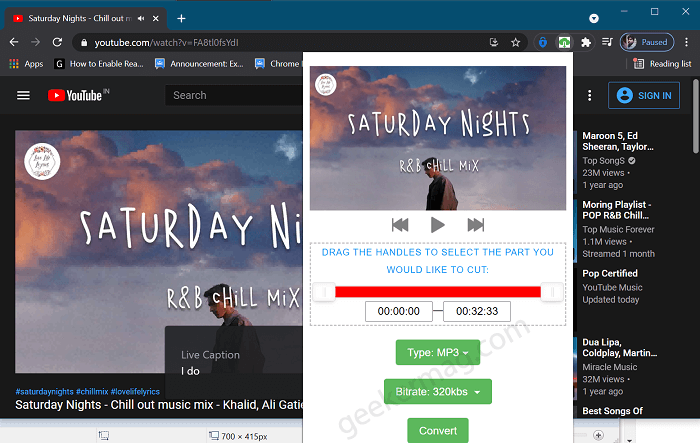 Once done, conversion will start and MP3 will be downloaded to your device.
In case, you're using Microsoft Edge as the default web browser, then you can learn how to install the Chrome extension in Edge browser and use the same extension in Edge browser to download MP3 from YouTube videos.
Maybe, there are more YouTube to MP3 Extension for Chrome available on the internet, but we found these two the best options that actually work flawlessly. Apart from that, there are various online YouTube to MP3 converter available like; ClipConverter and SaveFrom that you can use that includes.
In case, you know better YouTube To MP3 Chrome Extensions, then feel free to share the names in the comments.