Can't save hosts file in Windows 10? Fred not, The blog post will walk through the steps on how to open, edit and save hosts file in Windows 10. (Right method)
Windows 10 hosts file is an essential file of the operating system that maps hostnames to IP addresses. It is just a text file named as HOSTS.
Most of the time users take help of the host's file to block websites. Users are required to paste the IP address of the site which they want to block in the host's file and save it. Pretty simple right?
There are lots of users complaining that while following the procedure they failed to save hosts file while other users reported that they receive Access denied error message.
This is weird, right? Users can't save Windows 10 hosts files because they are not following the proper procedure or doing something wrong.
Can't Save Hosts File in Windows 10
To help those users I decided to write this tutorial in which users will find out simple and easy to follow guide on how to edit hosts file in Windows 10 in a right way.
The good thing about this tutorial is if you follow the steps as suggested, you will also fix the issue due to which you "Can't edit or save hosts file in Windows 10".
So without further delay why don't you start reading about it.
I have tested this tutorial on Windows 10 Pro Edition on 22/02/2019
1. In the Start menu search bar type "Notepad." When the Notepad comes up in the results, right click on it and Run as administrator.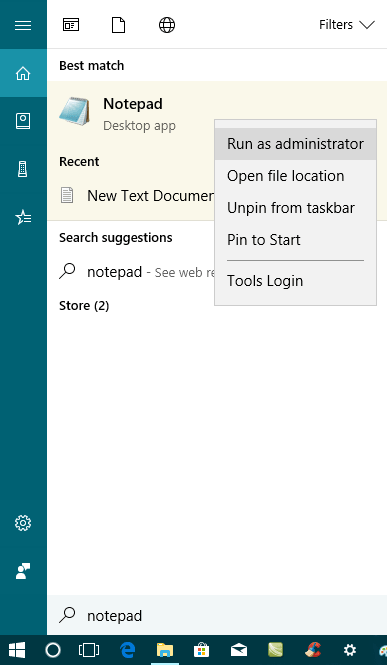 When UAC Dialog box appears, click Yes to continue.
2. In the Notepad file, click on the File -> Open.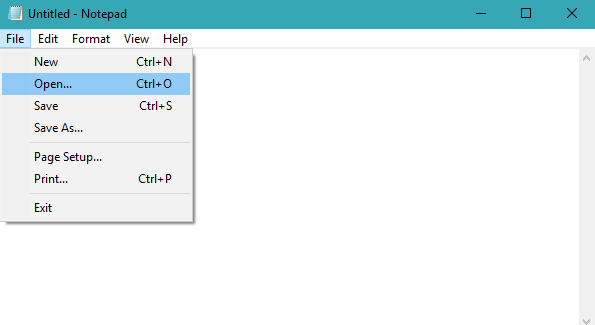 3. This will open a new window you need to navigate to the location where hosts file is available. Windows 10 hosts file location is C:\Windows\System32\drivers\etc\hosts file
To view files under this folder, you need to switch from Text Documents (*.txt) to All Files. You can change it just like shown in the following screenshot.
When you select All Files, you will get all the files available in the ETC folder. Here is how it will look: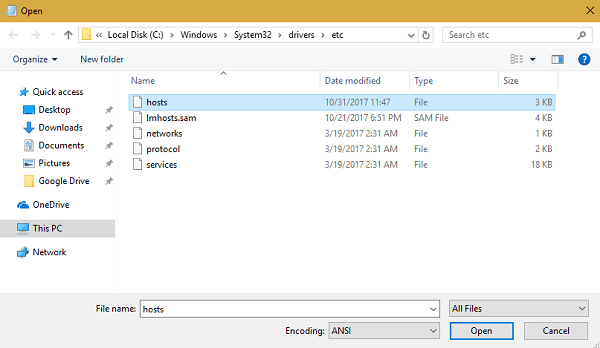 Just choose the Hosts file and click on the Open button.
4. This will open the host file in the Notepad. Here is how it will look: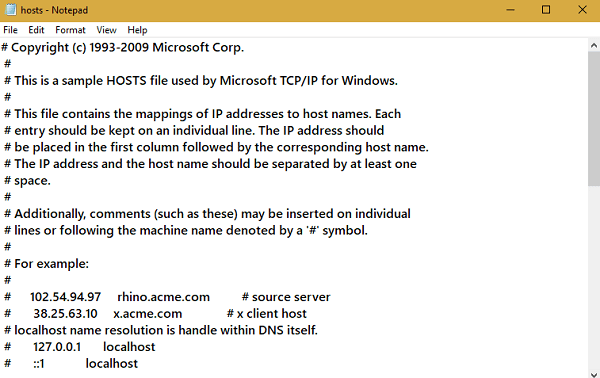 5. Here you can make the change as per your requirements and close the file. It will ask you to save the file. Click on the Save button to apply the changes.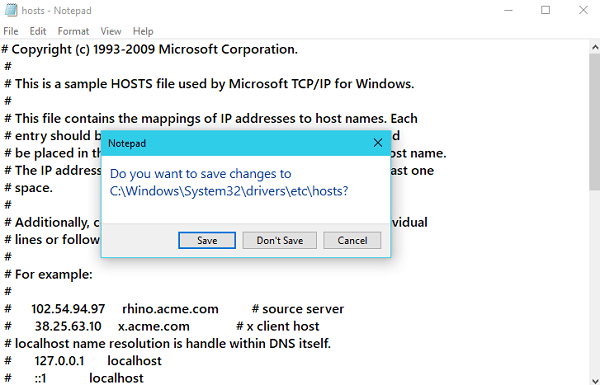 Note: Before editing the host's file it is very important to make a backup of the file.
That's it!
This will save all the changes which you have made in the host's file. If you open the host's file using above method then you can easily edit hosts file in Windows 10 apart from this you will resolve the issue due to which you can't save hosts file in Windows 10.
Find this blog post useful? Need assistance? Feel free to share it in the comments.
Himachali, Mechanical Engineer, Snooker Lover, Avid drinker of Scotch, Content Creator, Traveller and Shorter than you (probably).