Don't want Microsoft Edge as your default PDF program? In this article, you will learn how to change it with our simple tutorial, plus how to set other programs as a default PDF viewer.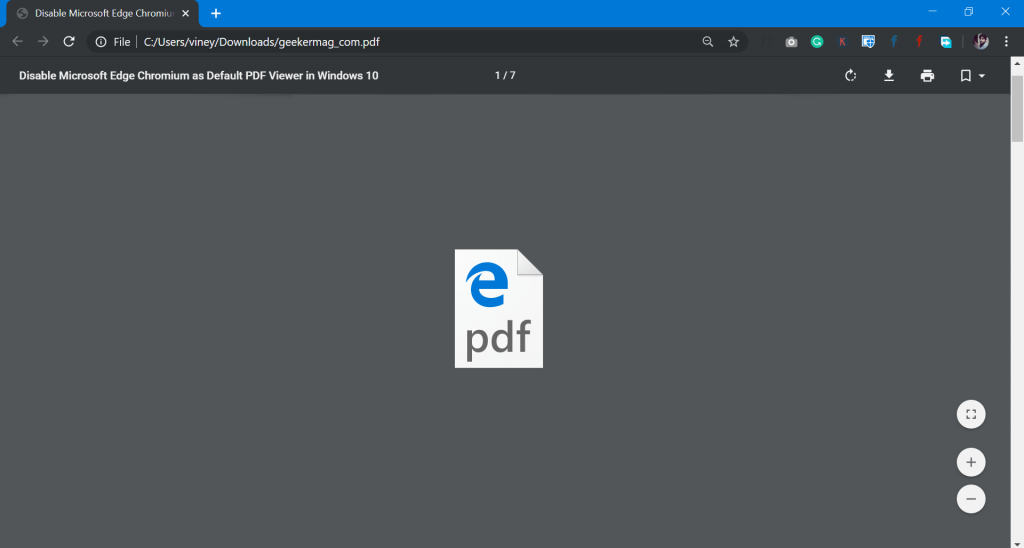 Microsoft Edge Chromium stable version is available for download people all across the globe. If you have already installed the new Edge on your computer, then you might have noticed that it is not only the default browser but it also a default PDF Reader. It means, whenever you try to open a PDF file, it's opening in Edge browse instead of your PDF Reader program which you have installed.
Although there's nothing wrong with using the new Edge browser as a default PDF Viewer, it offers a very limited feature as compare to third party PDF readers like Adobe Reader. Due to this reason, some users might want to change Edge Chromium as PDF viewers.
Disable PDF Reader in Microsft Edge Chromium
Fortunately, it is possible to change Edge Chromium as PDF Reader, here's what you need to do:
Using PDF File
With the help of this method, you can change the default PDF viewer just by making a single click or two. Here is what you need to do:
1. Right-click on any PDF file
2. From the context menu select Open With > Choose another app.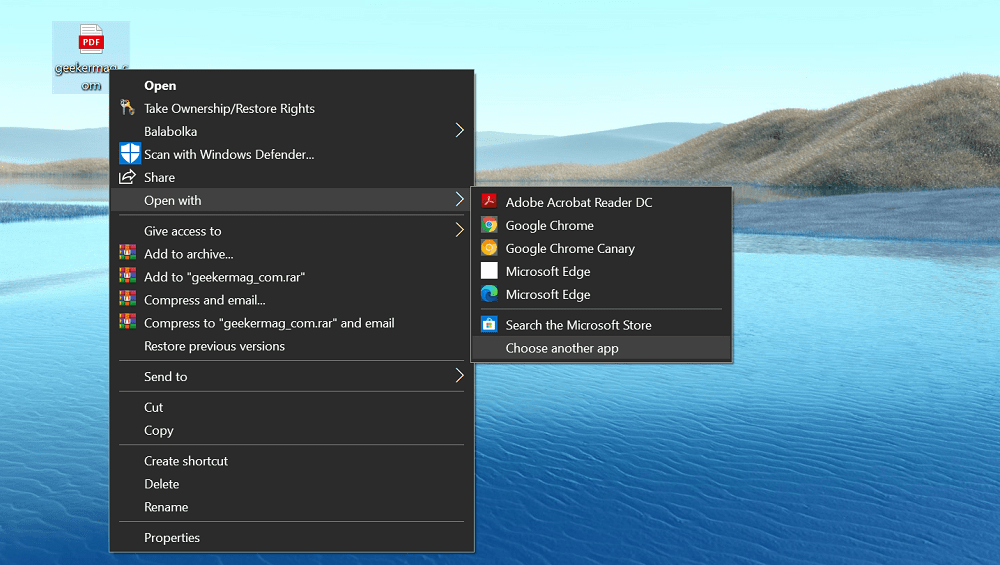 3. Now a new pop-up will appear labeled as "How do you want to open this file". You will also notice that Edge is the default PDF viewer.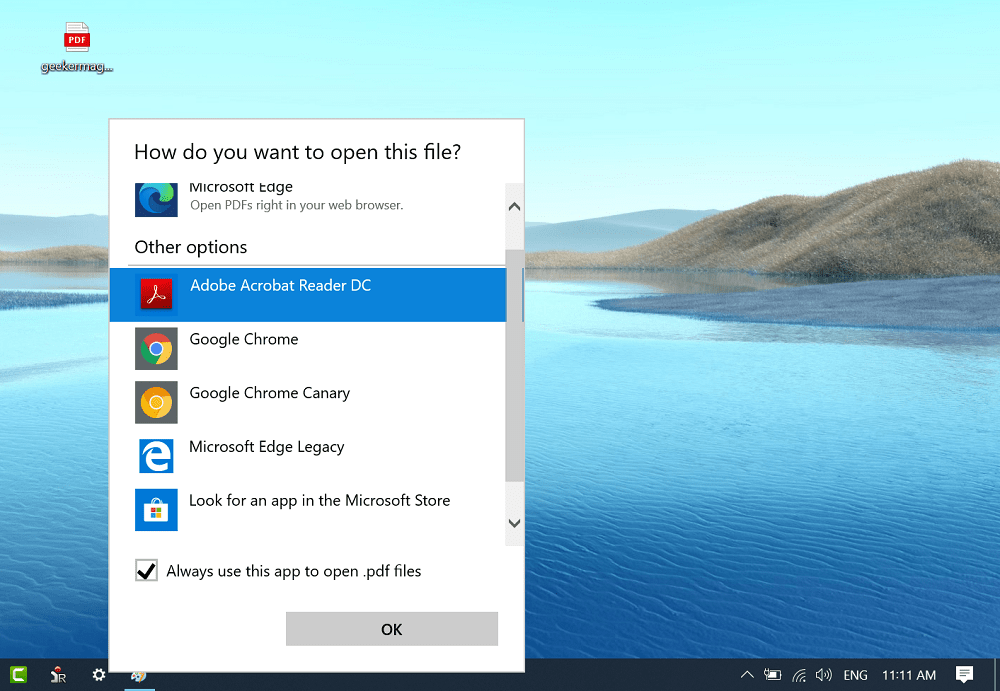 4. Just click on Adobe reader or the app you want to use from the list and check the box labeled as "Always use this app to open .pdf file" and click OK.
From now onwards, Adobe reader will open all your PDF files. In case, this method didn't work for you, go for the second method.
Using the Settings App
It's one of the best, simple and shortest method. For that you need to:
1. Launch the Settings app and select Apps.
2. On the left panel, switch to Default apps and then on the right side, scroll down to the bottom and click on the link labeled as "Choose Default apps by file type".
Next, you will be taken to a page where you will find a list of "Associate file types with specific apps". You need to scroll down until you find a .pdf extension.
3. When you find the .pdf file type in the list, you will notice that Microsoft Edge is selected as the default application. Click on it and you will get a pop-up showing you list of other PDF Reader installed on your computer. Select the one which you want to set.
For example, If you want to set Adobe Reader as a default PDF viewer, select it from the list.
Using PDF Viewer Itself
Whenever you install third party PDF Reader on your computer, it will automatically ask for your permission to set it as a default PDF Viewer like shown in the following screenshot: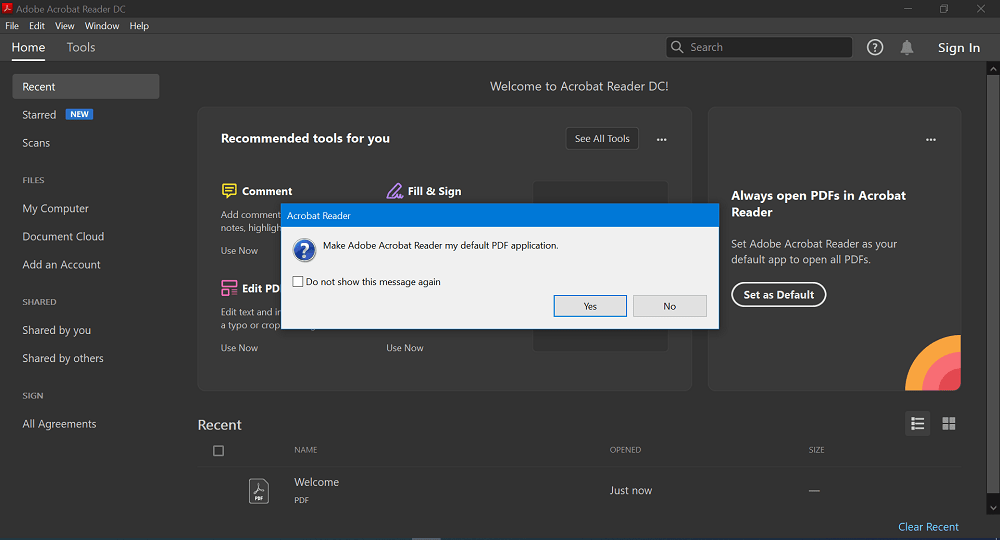 In case, due to any reason the same dialog box didn't appear, then you can set the same PDF reader as a default via its settings. For example, We're using Acrobat Reader.
Launch Adobe Acrobat Reader and select Home. Next, on the right side, you will find a card that reads "Always open PDFs in Acrobat Reader" under it there's a button Set as default.
A default PDF handler property window will open up, here click on the Change button, select Adobe Reader from the list and click OK.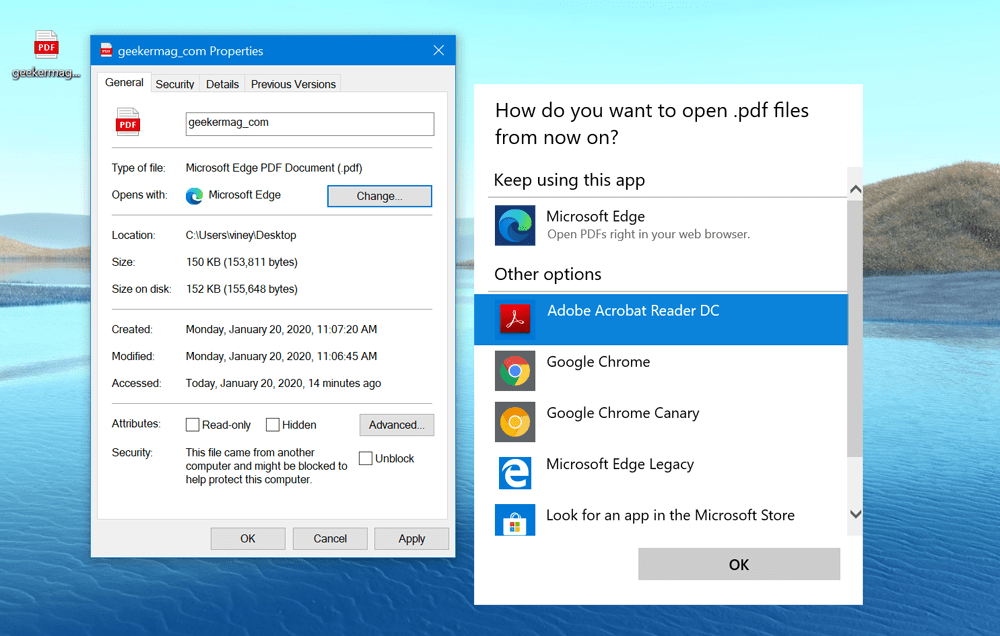 Are you happy with Edge Chromium as default PDF Reader or would like to set third-party PDF viewer? We would like to hear from you in the comments.
If you find this blog post useful, please share it on Social Media. A quick share will help in growth of this blog. It hardly takes 10 seconds, isn't it?