Microsoft recently rolled out Edge v86 in a stable channel with lots of useful features. You can check the full changelog here. Password Manager is a one security feature out of them, the feature when enabled will let show alerts when passwords are found in an online leak. A similar feature is already available in Chrome and Firefox.
The purpose of introducing Password Manager in the Edge browser is to ensure that the passwords they have saved in the browser are safe. The feature when enabled will scan all the saved passwords and compare them with its own list of compromised passwords and gives alerts about them.
Enable Password Manager in Microsoft Edge
If you want to enable Password Manager in the Edge browser, then here's how you can do that:
Make sure, you're using Microsoft Edge v86 or above.
Click on the Ellipse (…) icon and select Settings.
On the right side of Profile settings page, click on the Passwords. You can visit this page directly by visiting this address: edge://settings/passwords.
Here, you will need to turn ON the option which reads "Show alerts when passwords are found in an online leak"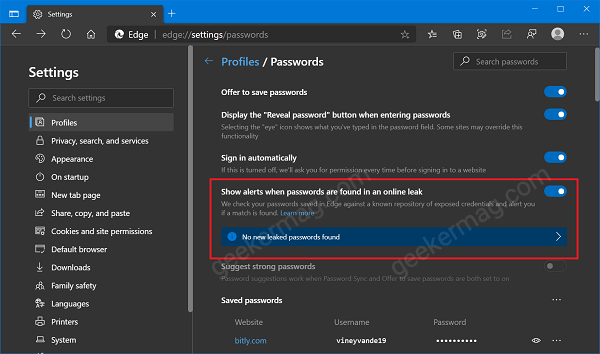 After doing this, Edge Password Manager will start scanning all the saved passwords. In case, during the scan, if it finds any compromised passwords, they all will be listed under the leaked passwords section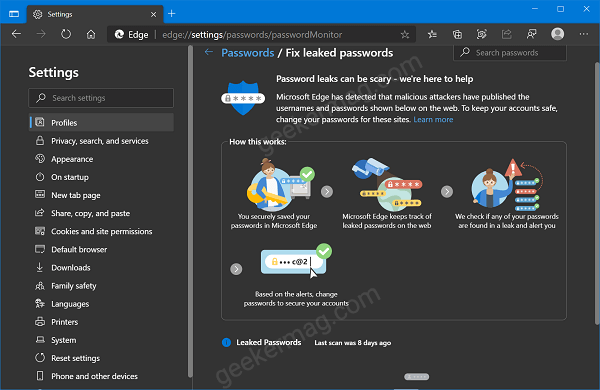 You can directly visit the Password Manager page of the Edge browser by visiting this address: edge://settings/passwords/passwordMonitor. Here, you can find a list of all compromised passwords and change them.
Unfortunately, for us Edge Password Manager didn't find any compromised passwords maybe scanning is in process. But this is how it looks like:
According to the Microsoft Edge v86 changelog, the feature is incoming soon status. So it is possible you might not see this option under the Password section. In that situation, you can download the latest version of Edge Canary to try the feature.
If you find this blog post useful, please share it on Social Media. A quick share will help in growth of this blog. It hardly takes 10 seconds, isn't it?