Microsoft is working heavily on improving the performance of the Edge browser so that users can surf the web flawlessly. To take Edge browser performance to another level, the company has introduced a new Performance mode feature.
Performance mode is a new optimization feature of Edge browser which when enabled will optimize speed, memory, responsiveness, battery utilization, CPU, and even more. But you need to keep this thing in mind that overall optimization may vary depending on browsing habits and individual specifications.
Turn On Enable Performance Mode in Microsoft Edge
Performance mode feature is available in the latest Edge browser in the canary channel build 91.0.856.0 and currently rolled out as a controlled feature rollout. In case, you can't wait for the feature to hit your browser and would like to try it right now, then here's how you can enable it:
In Start menu search, type Edge Canary and when it appears in search results, right-click and select Open File Location.
In Programs folder, location Microsoft Edge Canary shortcut, right-click and select Properties.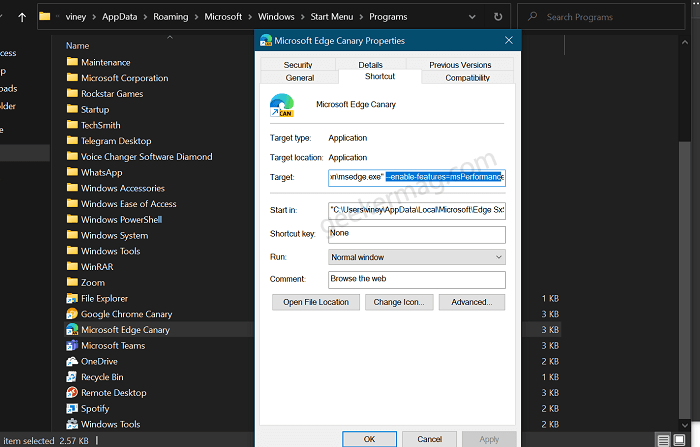 In the Properties window, head over to the Target section and then copy-paste this code: --enable-features=msPerformanceModeToggle after msedge.exe.
Click Apply/OK and then reboot your computer.
At this point, you have successfully activate the hidden Performance Mode feature in Microsoft Edge. Now to turn it On, here's what you need to do:
Launch Microsoft Edge and then click Ellipse (…) icon and select Settings.
Next, switch to the System tab on the left pane. You can visit this settings page by typing this address: edge://settings/system
On the right side head over to Optimize Performance section. Under this, you will find a new entry called Performance mode.
With default settings, Performance mode is set to Always Off. You can use the drop-down and select the Always ON option.
Doing this will optimize Edge browser at its best. But keep this thing in mind that, when you turn on Performance mode, the option "Put inactive tabs to sleep after the specified amount of time" will be grayed out. What that mean is if you enable Performance mode, the sleeping tabs timer becomes unavailable.
You might be interested in reading about Sleeping tab and Tab Fading feature that also helps in improving the performance of the Edge browser.
What is your take on Edge Performance Mode feature? Do you find it useful? Are you going to trying it? Let us know in the comments.