Even the new Microsoft Edge browser is based on Chromium, the companies developer doing their best to make it different look different from Chrome browser.
Every Edge Canary update bring new features and starting with Canary v76.0.161.0, the company is testing a new clear browsing data dialog. The present dialog box features two different tabs; Basic and Advanced to select items.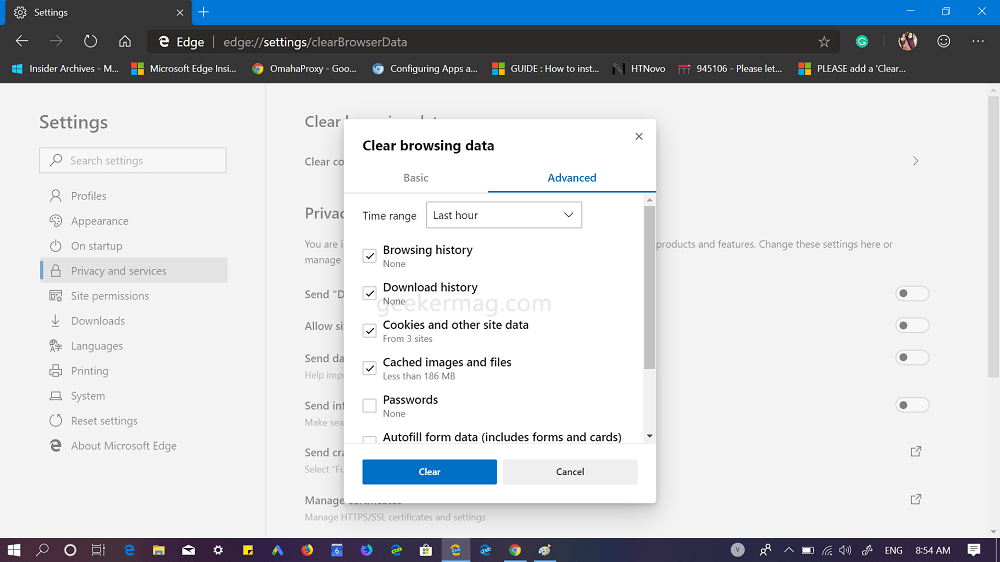 While in the new dialog box, the company ditched tabs and users can select all items in one go.
Enable New Clear browsing data dialog in Microsoft Edge
In case, you want to try the Edge browser new Clear browsing data dialog, then it is possible using the new flag which is available in the latest version of Edge Canary.
1. Make sure, you're using the latest version of Edge Canary (version number 76.0.161.0).
2. Next, you need to visit Edge://flags and search "Microsoft Edge Clear browsing data dialog" flag.
Or visit
edge://flags/#edge-clear-browsing-data-redesign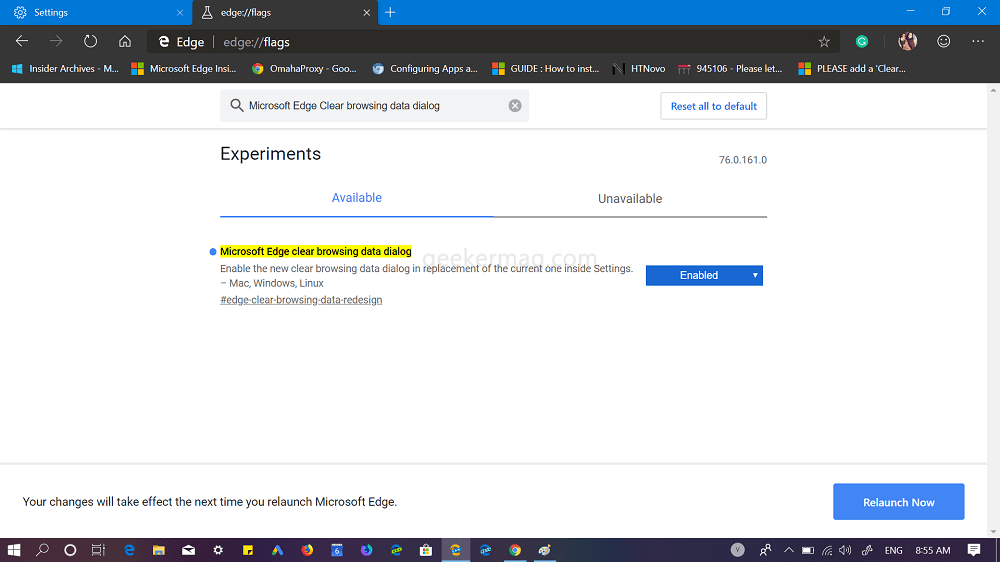 Here, you need to change the settings from Default to Enabled and then click on the Relaunch Now button to apply the changes.
Now there are three different ways to visit new Clear Browsing data in Edge Canary.
Keyboard Shortcut:
Ctrl+Shift+Del
Load
edge://settings/clearBrowserData or 
From Settings
Click on the (…) Settings and more icon > Privacy and services. Here on the right side, under Clear browsing data click on the "Choose what to clear" button. The new Clear browsing data dialog will open. Here, you can select a different option.
With default settings, Browsing History, Download History, Cookies, and other site data, and Cached images and files. To clear browsing data, click on the Clear now button.
That's all about new Clear Browsing Data in Microsoft Edge. Why don't you give a try to this new dialog box? Let us know your thoughts about the redesign of the Clear Browsing Data dialog.
Source: Techdows