Getting into college is a big deal, not only is it the first real step into the big wide world, it will also be the first time that people have been truly independent. When you are preparing to leave for college, you will be buying everything you need from clothing, bedding, stationary and the all-important laptop.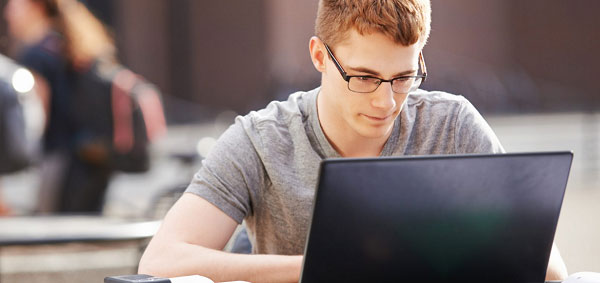 A laptop is a must when you are going to college, it will be what you complete your work on, do you research, and pass the time between classes. But when it comes to buying the right laptop, how much should you be spending?
Don't worry we're here to help.
1. Courses
The first thing you need to think about is what type of laptop you need for your course. If you are only going to be word processing and using excel, or SPSS, you won't need something as powerful as a student that is doing design. You want to be looking at a laptop that can easily handle of all these tasks and more, so you don't want to be spending as little as possible, as this could cause you problems in the long run.
2. Durability
College courses are 4 years, which is 4 years of heavy use from your laptop. It will be used day in, day out either as you work or as you stream or game. You don't want to spend $500 on a laptop that will only last the first year, but you don't want to have to spend $2000 unnecessarily. Look at reviews for different laptops that come in your price bracket and select the highest-powered one you can find within that bracket. This way you can be pretty certain you are getting a durable laptop that will last the length of the course if you look after it properly.
3. Studying VS Gaming
If you are an avid gamer, then you aren't going to want a run of the mill laptop and the chances of you being able to take your desktop gaming set up with you are pretty slim. There is a big difference between studying and gaming laptops, from the CPU to the GPU and the overall power of the internals, you want to make sure that if you are gaming, you get the best processing power possible. What is good though, is that if you are into gaming and choose a high specification gaming laptop, you will be able to do all the studying and more as this needs a lot less power than running games.
There is an array of great options for under 1000 dollars and what makes it even better is that gaming laptops are often modular, so you can upgrade parts as you see fit.
4. Operating System
Before you settle on your laptop, you need to think about what operating system is best for you, especially if you are on a budget. If you are only using your laptop for light work, like word processing and watching movies, then you don't need an OSX platform. Macs are expensive laptops and for some people, they aren't an affordable option. You can get laptops that have a similar performance specification for more money.
However, if you are a design or film student, you may well need the OSX platform. A lot of Colleges will have media suits where you can work within your class, so it is worth checking what type of systems they have. If they are running Mac and OSX, then you may well need to invest in a Mac, as it means you'll be able to take work from the college systems over to yours and back again without fear of it not working on your system.
You might be interested in reading a blog post on best laptops for video and photo editing created by The WiredShopper
When it comes to buying a laptop for college, new students really are spoilt for choice. There will also be a lot of offers around vying for your attention, so you can be sure that you will pick up a good deal. Before you jump in and purchase the cheapest laptop possible, really think about how you are going to use it and how laptop intense your course is.
If you are just going to be using it lightly, then there is no need to get a heavy specification laptop, but you also don't want to go too cheap, because then it won't last. If you are a gamer, you will have excellent options for gaming laptops that will easily handle any course-related activities due to their power capacity.
Before you spend thousands of dollars on a laptop, think about what you need it for, and whether you are spending too much if you are just writing documents.
Please do not hesitate to Contact me on Twitter if you want assistance with issue related to Windows 11, Windows 10, and Edge browser. I will try my best to assist you ASAP. (Follow me first and then PM your issue on Twitter)

Buy us a coffee if you find information shared in this blog post useful. Mention 'Coffee' in Subject. So that I can thank you