Microsoft keeps testing new features in Windows 11 with their dev builds. Recently they have added ability to organize pinned apps in Start menu.
Usually, when you install particular app on Windows 11, its pinned automatically in the Start menu. Sometimes, you might want to organized pinned apps, right? Fortunately, you can add similar apps into a folder, rearrange apps available in folders as well as remove apps from the folder in Start menu.
Starting with Windows 11 build 22579, the company has introduced another option to customize pinned apps in start menu. It is now possible for you to rename apps folder in Start menu.
With the help of feature, it will be easier for you to find out which folder has what kind of apps. When you make a folder for apps, the 'Folder' name is automatically applied. You can change this name according to your convenience.
For example, you can add all social apps like Facebook, Instagram, WhatsApp and other to a folder and name that folder Social.
Following this you can create as many folder and name them according to what kind of apps the folder has.
Change Name of Folder of Apps on Start Menu in Windows 11
In case, you want to learn how to change name of folder of apps on the start menu. Here's how you can do that:
Click on the Folder that you want to rename.
In the new windows, click on 'Edit name'
Now, you will have a option to type a name for a folder. You can name it whatever you want. In my case, I name it Social.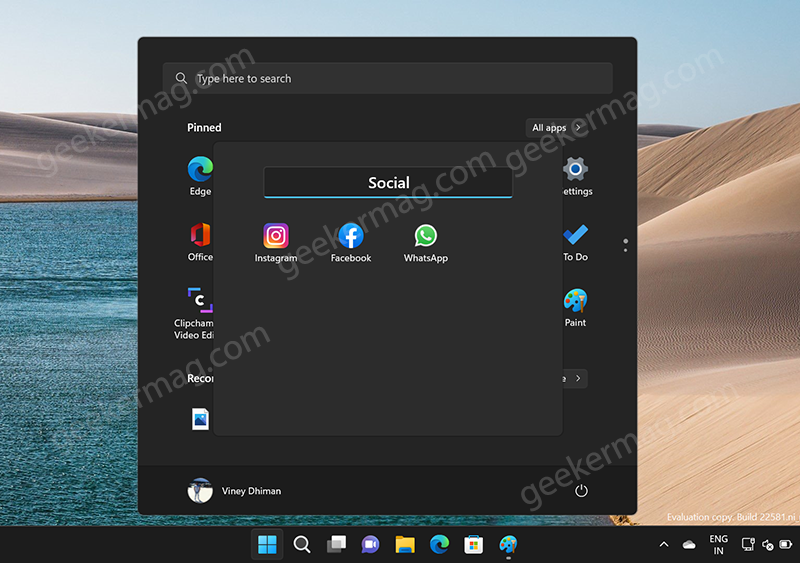 Once done, either press Enter or click somewhere on Start menu to save it.
As simple as that. Following this method, you can rename as folders you want.
Please do not hesitate to contact us if you want assistance with Windows or its solutions. Our team is always here to help you. (Mention 'Tech Support' in Email Body)