Is your internet connection not working properly? Or you're experiencing issues and problems related to DNS? Or It is possible that the DNS cache is corrupted. Maybe, Flushing Windows DNS cache.
Domain Name System, popularly known as DNS is a cache file consist of hostnames & IP address the user has visited. The primary job of DNS is to translate hostnames into IP Addresses. Whenever you type any website address in the address bar, the web browser initiates a request & it is completed when the URL gets converted into IP address.
Although, DNS Cache plays an important role in surfing the internet from your Windows 10 PC. Sometimes you might find yourself in a situation when flushing DNS cache helps you. Let's discuss common reason:
Sometimes, DNS in the local server gets broken, resulting in users not viewing the web page available on the internet.
DNS Cache spoofing sometimes cached inappropriate results causing your browser unable to communicate with the host properly.
Due to a sudden IP change of a web address, you cannot visit a website as its old DNS is saved on your computer.
Sometimes website files to open due to outdated DNS cache.
How to Flush DNS in Windows 10
If you make upto this blog post, then there's no doubt that you're also experiencing issues related to Windows DNS, and you want to learn the right steps to flush the Windows DNS cache. Here's how you can do that:
Using Command Prompt
On your Windows 10 PC, launch the Elevated Command prompt, type the following command: ipconfig /flushdns and hit enter.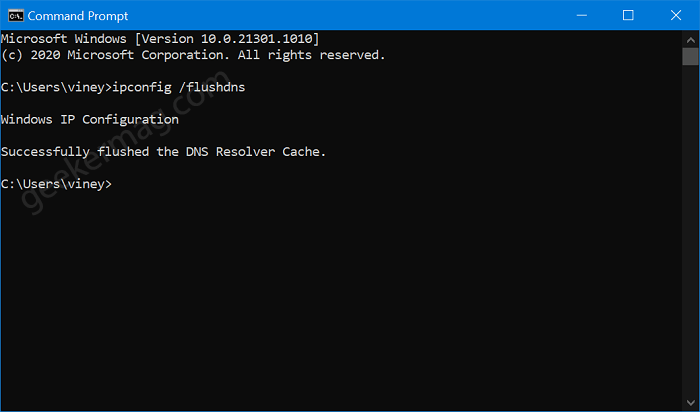 Once done, you will see this message "Successfully flushed the DNS Resolver Cache."
Run Dialog
Launch Run window by pressing WIN + R keyboard combinations and type ipconfig /flushdns and hit enter.
Doing this will flash the command window for a seconds. This will reset DNS Cache in Windows 10.
Using Windows PowerShell
Launch Elevated Windows PowerShell. For that, right-click on the Windows button and select Windows PowerShell (Admin).
When UAC dialog appear, click Yes to continue.
Here, you need to type this command: Clear-DnsClientCache, and hit enter. Doing this will reset Windows DNS Cache.
So these are three methods on how to reset DNS Cache in Windows 10. If you know any other method, feel free to share with us in the comments.
Donate on Paypal or Buy us a coffee or Join Patreon if you find the information shared in this blog post useful. Mention 'Coffee' in the Subject. So that I can thank you.