Microsoft Edge comes with an autofill password feature. With this feature, you won't have to enter your password again and again whenever you visit a website. You can save the password for the frequently visited website, and the next time you try to login into that website, passwords saved in the browser will be auto-filled automatically.
However, this feature brought some privacy concerns. With the autofill password feature, any unauthorized person using your computer can access the websites with your credentials. To overcome this thing, the company has added a new option to their Microsoft Edge Canary browser, which stops auto-filling of the saved passwords.
How to Stop Autofilling of Saved Passwords in Microsoft Edge
The majority of the users were demanding similar features for a long time. The company has start testing it in the latest build of Edge Canary Build 91.0.849.0 under Controlled feature rollout. In case, you want to try this feature, then here's how you can do that:
Open Micorsoft Edge browser and then click on the Ellipse (…) button and select Settings from the menu.
Here, on the left side select Profile, and then on the right side, under Sign-in (listed under Offer to save password), you will find two options:
Sign in automatically – Password manager won't ask you for permission each time you sign in to a website.
Require authentication – Password Manager will ask you for your computer's password before autofilling password fields
You can can directly visit here by visiting this (edge://settings/passwords)
To Stop Passwords to AutoFilled in Microsoft Edge, you need to select Require authentication option. If the Windows Security dialog box appears, enter the password, fingerprint to select the option.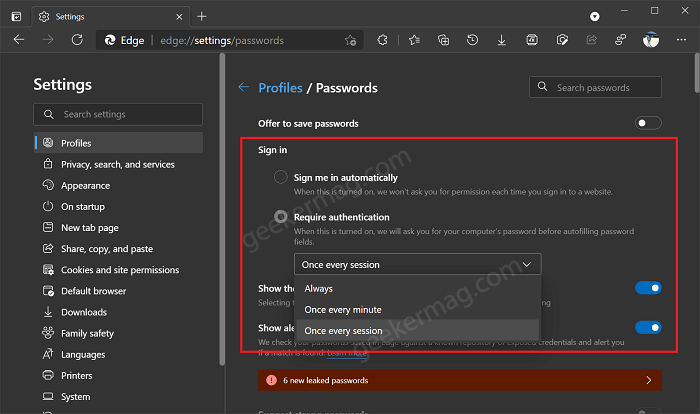 In the drop-down menu, you can select between three options depending on how frequently you want this feature to work. The options includes:
Always
Once in every minute
Once in every session.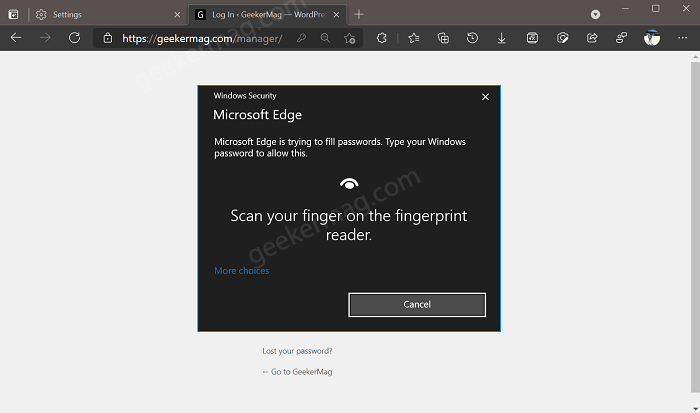 Once done, the feature will be enabled. Now the Edge Canary will not autofill your password until you authenticate using your computer's password.