Windows 11 comes with lots of useful features and improved UI and one out of them is Teams chat integration right into the taskbar. To start using it, all you need to do is click on the Team (chat) icon and you're good to go.
Despite Microsoft's hard efforts to force users to use Teams based chat feature, if you're not a fan of the feature and would like to remove it, then you can do it by making few clicks.
How to Turn Off Microsoft Teams Integration in Windows 11
In upcoming lines, we will share step-by-step instructions on how to turn off the Chat feature in Windows 11.
In the Settings app, select Personalization > Taskbar.
On the right side, locate the Taskbar items section. Here, Turn off the Chat item.
Doing this will instantly hide the Chat icon from the Windows 11 Taskbar.
After doing this, you can also stop the Teams app to start automatically when you turn on your Windows 11 PC
Again, launch the Settings app and then select Apps > Startup.
Scroll through the list until you find Microsoft Teams or Microsoft Teams Preview and turn off the option.
By following the above steps, the Teams (Chat) application will still remain on your device, but won't work. It's like you have disabled the Chat feature in Windows 11.
In case, you want to remove Chats (Teams) feature from Windows 11, then you can uninstall the app too. Here's how you can do that:
Again, launch the Settings app and then select Apps > Apps & features.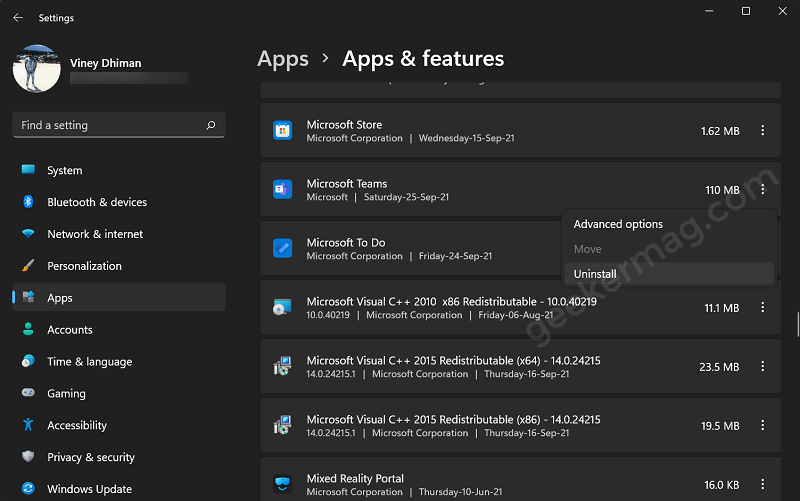 Here, scroll down until you find Microsoft Team or Microsoft Teams Preview app, then click the three dots icon and select Uninstall two times to remove it.
Do you want to turn off Teams integration in Windows 11? What are your thoughts about Windows 11 Chat feature, find it useful or useless. Let us know in the comments.
Please do not hesitate to Contact me on Twitter if you want assistance with issue related to Windows 11, Windows 10, and Edge browser. I will try my best to assist you ASAP. (Follow me first and then PM your issue on Twitter)

Buy us a coffee if you find information shared in this blog post useful. Mention 'Coffee' in Subject. So that I can thank you