Want to know what is Avast SafeZone browser? This post is dedicated to you as in this post you will find out everything you need to know about; Download to uninstall.
Avast is a cybersecurity software company that develops internet security service accompanied with antivirus software. The company has developed popular security services like Avast Secureline, Avast Antivirus, Avast SafeZone browser and much more for Windows, Mac OS, Android and iOS platform.
There are lots of users who want to know about Avast SafeZone browser. So to help those users I decided to write this blog post in you will read about everything you need to know about SafeZone browser from Avast.
What is Avast SafeZone Browser?
SafeZone browser is one of the most secure web browser available developed by Avast. It comes with various safety features that protect your privacy and prevent from the hackers attacks while surfing the web. As a result, make a browsing experience much better.
Some of the favorite features of the SafeZone browser:
Tackle irritating ads.
Block the web pages with a bad reputation.
Let you download the favorite video right from the video hosting websites.
Protects your banking websites from being hacked by creating a private browser session.
Avast SafeZone Browser Download
SafeZone browser comes included with Avast Antivirus. But starting from September 6, 2017, the company decided to discontinue the browser, and it will no longer come with Avast Antivirus.
The company also shared that in the near future the SafeZone browser will be available for users. The users who are already using Avast SafeZone browser on the PC's and Laptops will be automatically upgraded to the recent version of the browser when it is released.
Currently, there is no way to download SafeZone browser.
Avast SafeZone Browser Vs. Chrome
There are lots of users who want to know which browser is better SafeZone Browser or Chrome. We all know that Google Chrome is one of the popular browser available it has all the browser which an ideal modern browser must have. Even majority of the users prefer to use it because of the vast variety of features availability.
On the other hand, Avast SaveZone browser also provides various privacy features which make it most secure web browser available. But the research done by Google Security researcher revealed that the SafeZone browser is vulnerable, and attackers can easily list and read the file from your PC when you click on any wicked link.
The Avast already fixed this severe flaw in the browser.  Now it is up to you which browser you want to install on your PC.
Is Avast SafeZone Browser Safe?
Majority of the users also want to know whether the SafeZone browser from Vast is safe to use? The answer to this question is a BIG NO. As I discussed above, the company has discontinued the browser starting from September 6, 2017, that means the company will no longer provide updates to it which makes it more vulnerable and attackers can easily steal the information.
So I would like to tell the users who're currently using the Avast SafeZone browser to uninstall it. You can again download it when company relaunches it in the near future.
How to Remove Avast SafeZone Browser?
This section will cover step by step tutorial on how to uninstall Avast SafeZone browser. The process is very easy still, some users don't know to do that. As the browser automatically installed into the system when you install Avast Antivirus. So to remove Avast SafeZone browser, users need to take help of Avast Uninstaller.
Here is what you need to do:
1. Click on the Start menu search bar and search Control Panel and when it appears in the search result. Click to open it.
2. Here in this windows, you need to click on Program and features.
3. Now scroll down until you see Avast Free Antivirus and on it and select Change.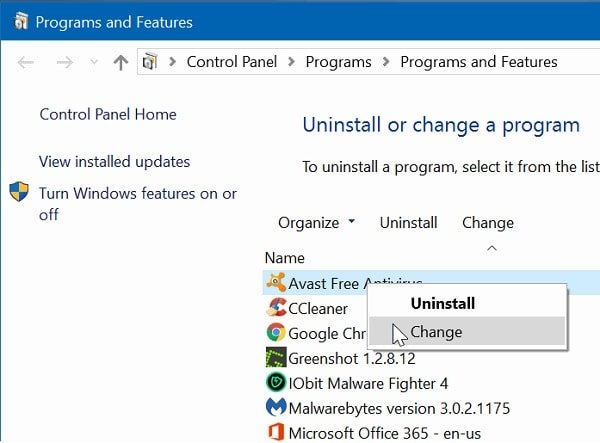 4. New Avast installer window will open click on the Change button.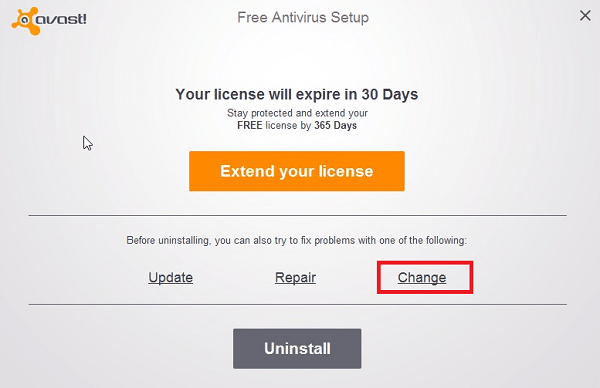 5. In the next windows uncheck SafeZone Browser option and then click on the Change button.
That's it! You might also love to learn about how to uninstall Avast Antivirus from Windows 10
I hope you find my article on Avast Safezone Browser useful. Let me know if you have any query related to it in the comments.