In today's post, I come up with a working solution to "Windows 10: There was a problem resetting your PC" issue. If you're the one facing the issue, then keep reading this post.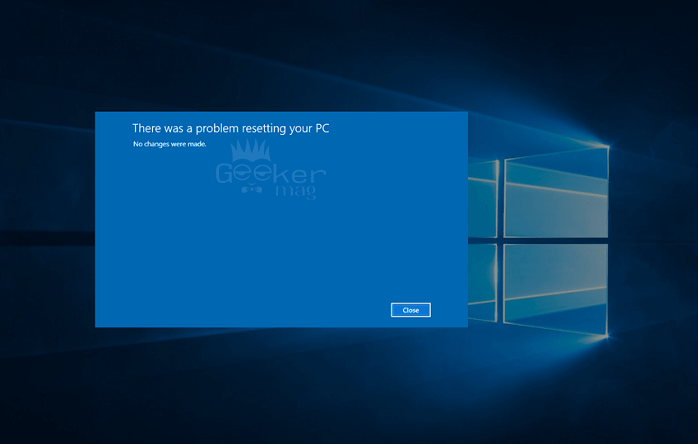 Windows 10 comes with lots of useful features accompanied with powerful options and one out of them is "Reset My PC." With the help of this settings, users can reset Windows 10 operating system back to its default state.
This option is useful if you want to get rid of various bugs and issue due to which your Windows 10 PC is not working correctly.
But what if this option fails to do for which it is baked into the operating system?
There are lots of users complaining that they are receiving the error which reads  "There was a Problem Resetting your PC" when trying to run the Reset task.
The worst part is that no message related to this error appears in the Event Viewer which makes it difficult to solve.
Possible Cause
After doing lots of research about that error, I concluded that this error comes up due to unsupported or missing version of the recovery image
There might be other reasons causing the error but the discussed above is the one due to which majority of users is receiving the error.
Windows 10: There was a Problem Resetting your PC
No doubt this error is pretty tricky to solve, but it can be fixed if you follow the steps as discussed in upcoming lines. Here is what you need to do:
1. Launch Elevated Command Prompt in Windows 10
2. In the command terminal run these command back to back
cd %windir%\system32\config
ren system system.001
ren software software.001
3. After that type Exit and hit enter this will exit you from Command Prompt.
4. Reboot your system to apply the changes.
5. Now again try to Reset the system. I'm sure this time this process will complete successfully.
Alternatively, you can use a boot-up CD or USB stick to troubleshoot the issue. For that, you need to download the Windows 10 installation files from the Microsoft site and then create a bootable CD or USB stick.
After that insert the Windows 10 USB Stick and boot to the USB recovery drive > Troubleshoot > Recover from a drive. Follow the instructions appear on the screen.
This is how you can troubleshoot Windows 10: There was a Problem Resetting your PC error. Why don't you try the method discussed in this post and let me if this helps you?
In case, you have any other working solution drop it in the comments so that other users can take help from it.