Microsoft added a new option that when enabled allows users to receive Windows 11 Features (Moment) Updates as soon as they are available for their PCs. It will prioritize your PC for receiving updates and you don't have to wait for Patch Tuesday every month for receiving patches, bug fixes, and new features.
This also means that you don't have to manually search for the preview version of updates for Windows 11 released by Microsoft. You just need to turn ON the same option and the system will automatically download and install the update.
Enable the option to receive Windows 11 Feature (Moment) Updates
The option to receive Windows updates quickly is part of the Windows 11 22H2 Moment 3 Update. In case, you find this feature useful and would like to give it a try, then you need to download and install Windows 11 22H2 Moment 3 Update on your PC.
Once you have installed the Windows 11 Moment 3 Update on your PC, then here's how you can turn this feature ON.
Launch the Settings app on Windows 11 PC by using WIN + I key combinations.
Switch to the Windows Update tab on the left side.
On the right side, you will find a new option "Get the latest update as soon as they're ready for your PC",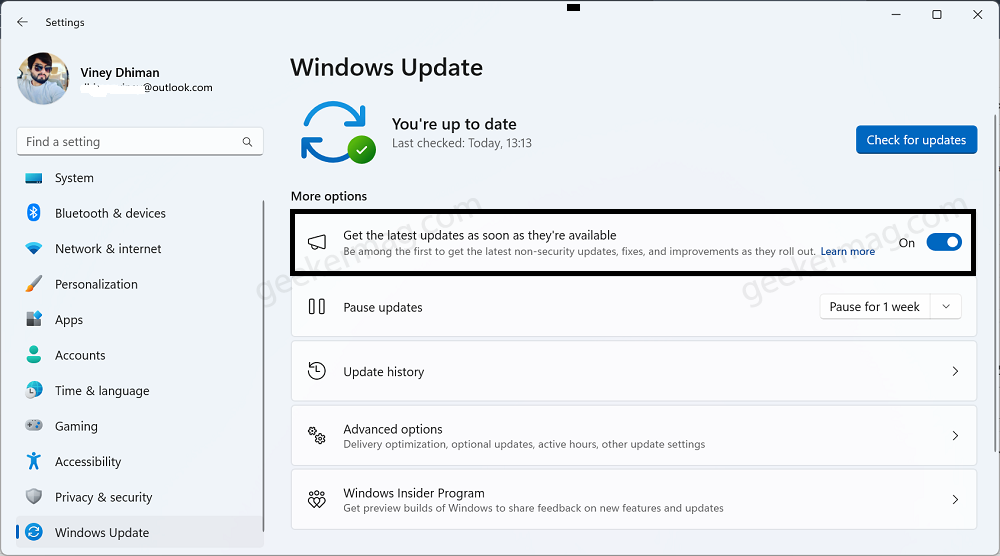 For this option Move the slider to the ON position. And, you're good to go.
From now onwards, whenever the new update is available, you will get it quickly on your PC.
Due to any reason, if this option is unavailable or missing or you don't want to install Windows 11 Moment 3 Update but would like to have this feature, you can try the method discussed below to get it:
Before you proceed, keep these things in mind:
The feature is under development and unstable.
To enable this feature, we're going to use a third-party program.
These features are highly experimental, so we recommend users try them on virtual machines and secondary PCs
Important Step – You need to install Update Stack Package version 1101.2303.8011.0 on your PC, if not, you will not see the option even if you perform the method discussed below. You can if it's installed on not via Windows 11 Update History here: Settings > Windows Update > Update History > Quality updates. If it is installed, proceed to the next step, else check for the updates and install it first.
Download and set up ViveTool on your Windows 11 PC.
Launch the Command prompt with admin rights. For that, click on the Search icon and type CMD, when it Command prompt appears in the search results click to open it.
Here, you need to copy-paste this command: c:\vivetool\vivetool.exe /enable /id:43132439 and hit enter.
Once you get the message successfully set feature configuration, you need to reboot your computer to apply the changes.
In case, the option doesn't appear, then you can apply the registry hack as well. Here's what you need to do:
On Registry Editor on your PC, then navigate to the following location: Computer\HKEY_LOCAL_MACHINE\SOFTWARE\microsoft\windowsupdate\UX\Settings.
Select Settings key and then right-click on the right panel and select New > DWORD (32-Bit) Value and name it IsContinuousInnovationOptedIn and set its Value data to 1.
Restart your computer to apply the changes.
At any point, if you want to restore the changes for any reason, then you need to execute this command: c:\vivetool\vivetool.exe /disable /id:43132439 or Set Value data to 0 in the DWORD value that you have created above.
Did you find the new option "Get the latest update as soon as they're ready for your PC" in Windows 11 useful? Are you going to enable it? Let me know in the comments.
Thanks, XenoPanther and PhantomOcean3
Donate on Paypal or Buy us a coffee or Join Patreon if you find the information shared in this blog post useful. Mention 'Coffee' in the Subject. So that I can thank you.