Lenovo camera not working in Windows 10 laptop? Don't worry. In this post, you will read some possible ways to troubleshoot the issue.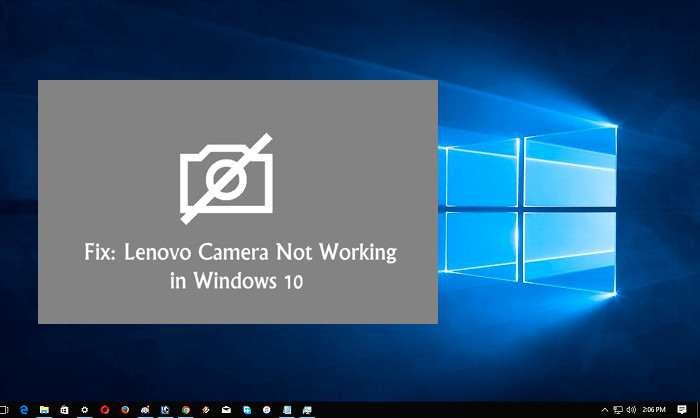 Lenovo is one of the well-known laptop manufacturer and the laptop made by them is used by large community all across the globe. Lots of users complaining that easy camera not working on their Lenovo laptops running Windows 10. Some of the model numbers in which EasyCamera not working are Lenovo Y470, Y471a, Y47op, and Y570. There might be other models too.
According to Lenovo laptop users, when they are trying to use the default camera on their laptops, it is not working. Even in a place of a photo from the camera, they seeing photo with a gray background and sometimes white camera with a cross through it.
Fix: Lenovo Camera Not Working in Windows 10
In case, you're also facing the same issue in which Lenovo camera not working in Windows 10, then you can go through troubleshooting flow to fix the issue.
1. Check if Camera Hardware is broken
In some cases, Lenovo laptop users find out that faulty hardware was causing the issue. You can also give a try to a different application to figure out if it is a hardware problem. Different apps include Facebook Messenger, Skype, Line, Youcam or more.
After doing this quick check, if you find out that you camera hardware is fine, then you can head over to second suggestion.
2. Re-enable cameras from Lenovo Settings
It is also noted that this mysterious issue is happening due to a bug in the Lenovo software and due to this reason camera automatically get disabled and you need to re-enable Lenovo easy cam. Here is how you can do that:
1. Launch Lenovo Settings app using Start menu search bar. In case, you have not installed it already download it from Windows Store.
2. Here you need to click on Camera icon available at the top right side of the window.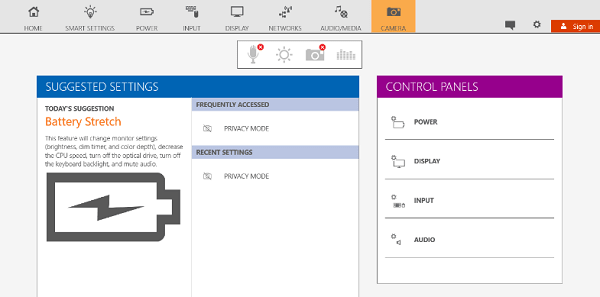 3. Scroll down to Camera settings page until you find Privacy Mode. Here turn off the Turn Privacy Mode.
4. Restart Windows 10 PC and check if this fixes Lenovo easy camera not working in windows 10 issue. If this workaround also fails, then try the next suggestion.
3. Check If Camera is Recognized Correctly
Sometimes due to faulty camera hardware system do not recognize the camera and in result cause the issue on which this whole article is based. So it is very important to find out active imaging device. Here is how you can find out:
Launch Device Manager. For that, make right click on Windows 10 Start button and from the menu click on Device Manager to open it.
Navigate to Imaging Device. If no imaging device appears under it, then it indicates that no camera is configured or camera hardware failure.
In case, you find no imaging device, then it is highly recommended to take your laptop to Lenovo Care Center for more assistance.
In case, you find Lenovo EasyCamera under Imaging device, then try the next suggestion.
4. Check out in Device Manager disabled Camera
Sometimes due to any reason integrated camera get disabled automatically and it causes the issue. So users can fix the issue by re-enabling it. To find out if Camera in Device Manager is disabled or not. You need to:
1. Launch Device Manager by making right click on the Start button.
2. Head over to Imaging device. Here under it, if you're seeing EasyCamera or Integrated camera with down arrow, then it indicates that the camera is disabled.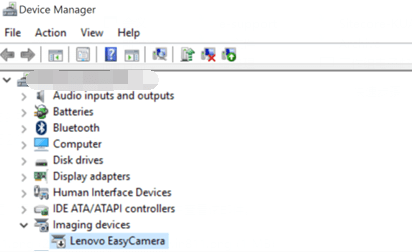 3. You just need to make a right click and select Enable option.
4. Reboot your system and check if this fixes Lenovo laptop camera not working in Windows 10 issue.
In case, it showing yellow exclamation mark instead of down arrow, then you must try the next suggestion
5. Check If Camera Driver Installed Properly or Not
Sometimes users face Lenovo Camera not working in Windows 10 issue when Camera drivers are not installed properly. So it is recommended to check if drivers are installed or not. Here is how you can examine this thing:
1. Launch Device Manager
2. Navigate to the Imaging device. If the detected imaging device showing yellow exclamation mark, then it indicates that proper drivers are not installed for the selected imaging device.
You can make right click on the Imaging devices -> Select Uninstall -> Scan for hardware changes. If yellow mark is still there,
Make a right click on the imaging device -> Select Update Driver Software -> Browse computer for driver software -> Pick from the list of drivers -> Next. This will install the proper camera driver available. If yellow mark is still there,
Launch Settings app -> Updates & Security -> Windows Update -> Check for Update. Here find out if generic camera drivers available from Microsoft or not. If available simply download and install the latest drivers, else visit official driver page of Lenovo and download the Lenovo Easy Camera driver for Windows 10 and install it.
That's it. I'm sure you will definitely fix Lenovo camera not working in Windows 10t issue by following these suggestions. Let know in the comment which suggestion helped you in fixing the issue.