Looking for some of the best free movie streaming sites? The blog post has legal options to that let you watch free movies online available on the internet.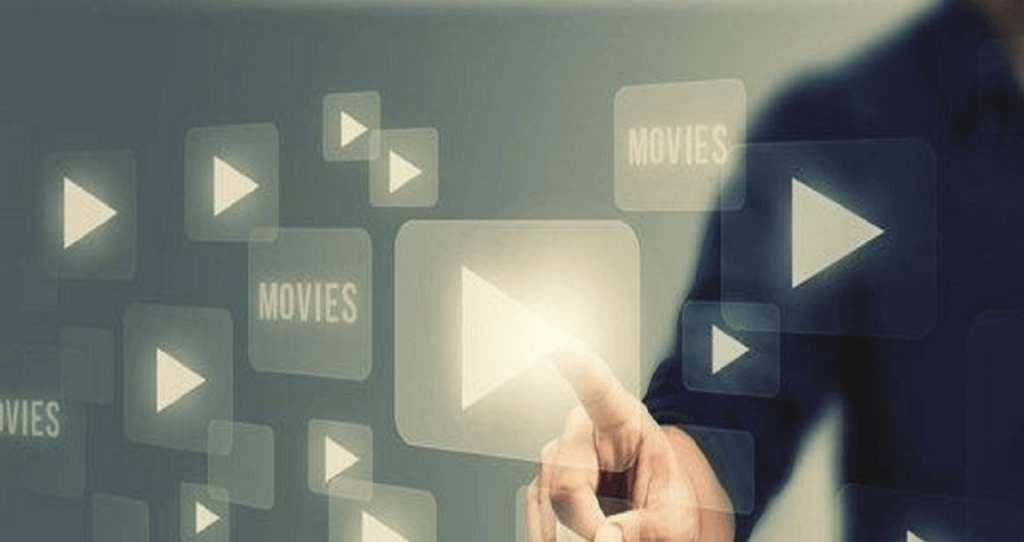 It's not for debate that streaming movies online for free are equivalent to piracy. There is a collection of legal, free streaming content on the internet. No matter if you are looking for TV shows or movies, finding any streaming video is quite possible. All you need to do is look in the right place because not all sites are trustworthy. Some of them stream pirated content as well. Some may be full of malware and viruses.
Best Free Movies Streaming Sites 2021
Let's have a look at the best and free movie streaming websites that are legal. Here goes the first one:
YouTube has also started to offer a good selection of free movies. The only drawback of watching movies on YouTube is that you have to sit through some ads. Even though the film's selection is small initially, it is expected to increase in number along with the quality of the flicks over time.
Feature-length movies have always been available on YouTube. Nonetheless, until recently they have been copyright-infringing uploads which have somehow bypassed the filter or YouTube.
Learn – How to Watch Free Movies on YouTube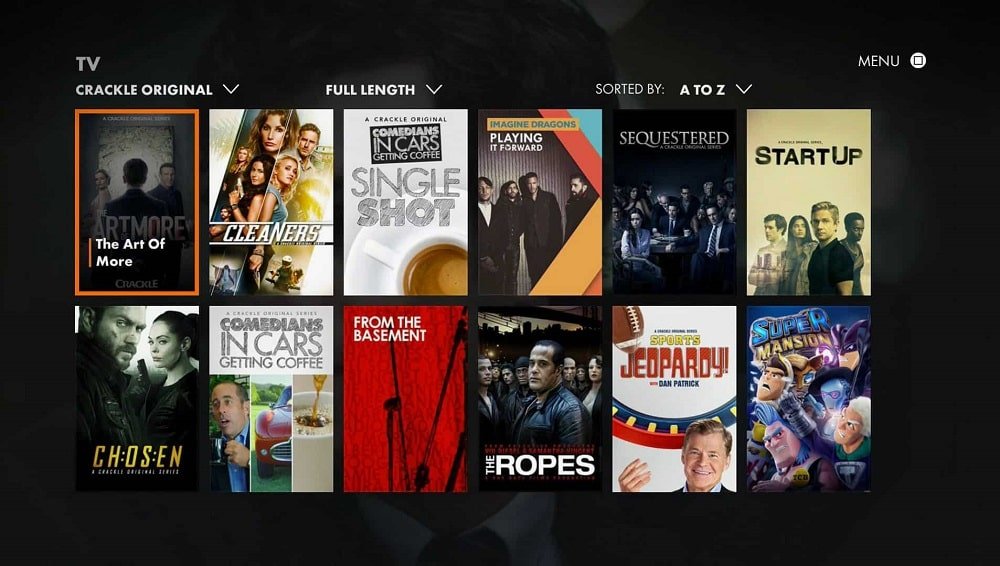 Crackle has a huge collection of TV shows along with free movies. In case you like the older sitcoms, you can get an array of classic TV shows like 'Who's the Boss' and 'All in the Family'.
It offers high- quality original scripted content. Only very few free streaming sites give that. Crackle made a number of original TV shows shoes which include 'Sequestered'and 'Snatch'. This site is also the earliest home of 'Comedians in Cars Getting Coffee' with Jerry Seinfeld.
The good thing about the site is that you require any membership and you can sign up for free. You can pick up the movies and shows from where you left and keep track of the viewing too. On the whole, Crackle is among the highest – quality free streaming website.
SnagFilms is another good online movie streaming website. You can stream and watch some of the best movies onSnagFilms. The conventional layout of the site is good and offers a nice collection of all-time hit movies.
It may not have the most recent releases, but it allows streaming of a lot of movies in HD format without sign-up. It is streaming free and is open to use.
TubiTV has offered good entertainment free of any fee. It consists of amazing contents which makes it a noteworthy site among the best and free movie streaming sites that don't require a account.
The design of the site is nice and clean and is very user-friendly. To have a much better outreach, the developers of this site also allow its access on iOS and Android devices along with Xbox.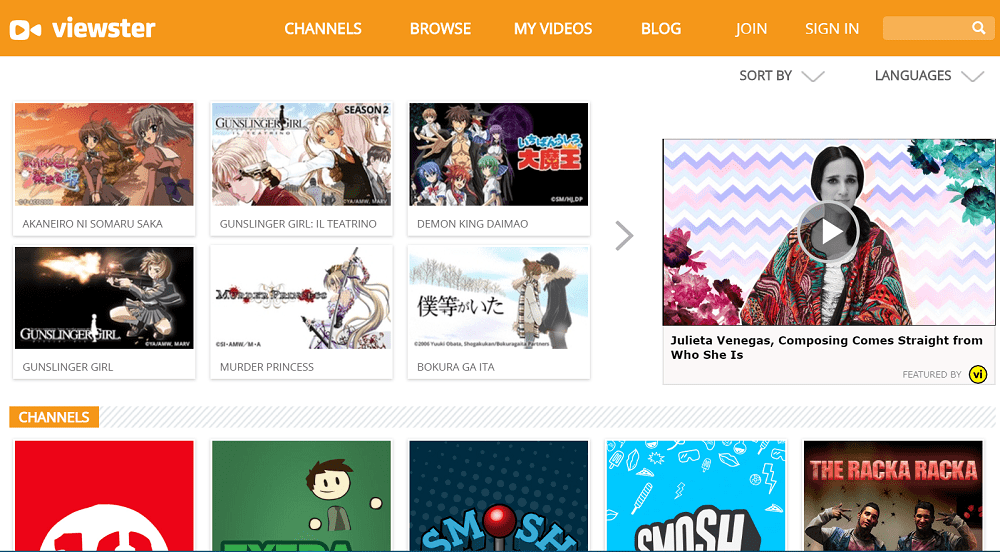 Viewster is a handy video streaming site provides an easy way of finding free movies, TV shows, and trailers. This site doesn't need a sign-up. The films and shows are organized neatly horizontally on the homepage. This site gives a very condensed browsing experience, nonetheless, letting you view the video details such as rating, duration, and synopsis.
You can also get filtered videos site provides different languages- Spanish, French, German or English and by genres. Most of the videos are less than or equivalent to the DVD quality. You can still change the quality (if supported) to 360p or 720p by the HD button located on the bottom of the videos. Ads in every movie are a major drawback, but the buffering is very easy on Viewster.
Yidio basically shows you the movies you can watch for free on various websites. A lot of movies and TV shows of different genres you can watch directly on Yidio too. The video quality onYidio is DVD. Once you register to the site, you can opt to get mail alerts for the shows and movies you have added in your favorites list.
The best thing about this site is its free mobile app for iPhone, Android, iPad touch, iPad, Amazon Kindle, and Windows devices. A lot of content you see on Yidio is hosted on other sites. Still, there are a great number of videos you can directly stream on Yidio. Mostly all web browsers support this site if they have Adobe Flash installed.
Vudu Movies on Us offers thousands of movies in same resolution of 480p to 1080p HDX. You need to sign up on Vudu touse Movies on Us. The site is accessible on almost all the hardware platforms like streaming media players, smart TVs, PCs, iOS & Android devices, game consoles etc.
It also offers a few TV shows as well. There are mainly 20 different categories of genres to watch the movies. It's among the best sites to stream movies on if you have a good internet connection and a big screen.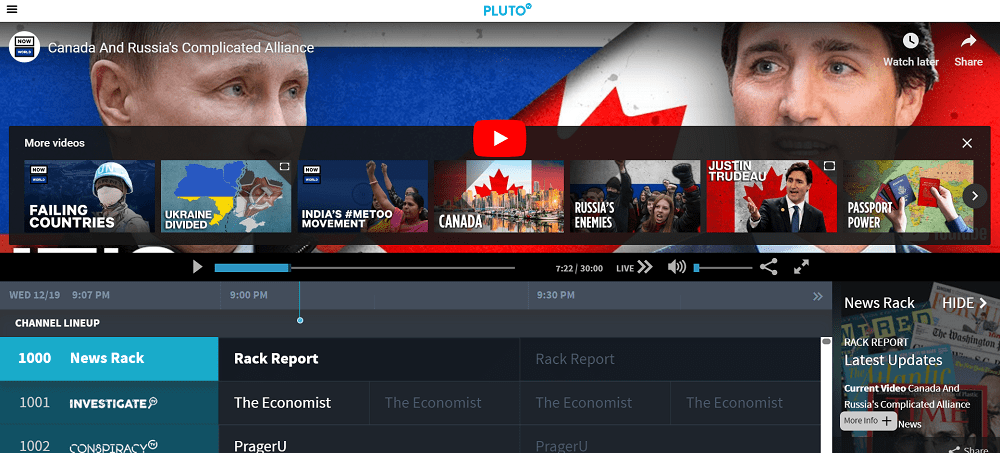 This live-TV streaming site offers free content, primarily curated from what is already available online. There are all categories of channels along with different internet radio stations provided by Dash Radio.
You can stream the service via any web browser, but there are also desktop apps for Mac and Windows computers. It can, however, only be used on 'U.S.' mobile apps for both Android and iOS.
Classic Cinema Online another good site on our list. It has three sections: Serials, Silent films, and billboards. You can find TV shows and full-length films here, along with silent films. Some of the categories have subdivisions like Action, Crime etc. under the 'Drama' Section, for instance.
The older movies are of low quality. Some of the best features of this amazing movie streaming website are that you can also download the movies for free and there are no annoying advertisements. The buffering is comparatively quite easy, just like YouTube. The only drawback with this site is that there is no mobile app for it.
Veoh gives a broad variety of shows, a lot of which you cannot find on any other services. However, some user-generated content is not related to the TV. Among the most compelling factors to choose Veoh is the ease and selection.
You can also create a list of your favorites, rate them and share them with other people through email/blogs/your websites.
Stremio essentially has 3 main features: Search, streaming and libraries. These are further branched out. For example, 'Streaming' offers links to the external sites, live TV and real-time torrent streaming. To use this service, you can log in with your Facebook account, use the Guest Account or simply create a new account.
The playback on Stremio is pretty smooth and there's no lag or stuttering. However, some caching is needed, so you need to have enough disc-space for the media. This service is supported on Windows, Mac OS X, Linux, and even Android.
The Roku Channel brings content from a number of partners together at one destination. Even though you can stream on the web, the best way of watching The Roku Channel is with a Roku TV or a Roku Streaming player.
This service features free movies, live news, comedy specials, and documentaries along with TV shows. The only drawback is that you will have to sit through the advertisements. Also, it may not even have the latest movies and shows which you can probably get from one of the pay services.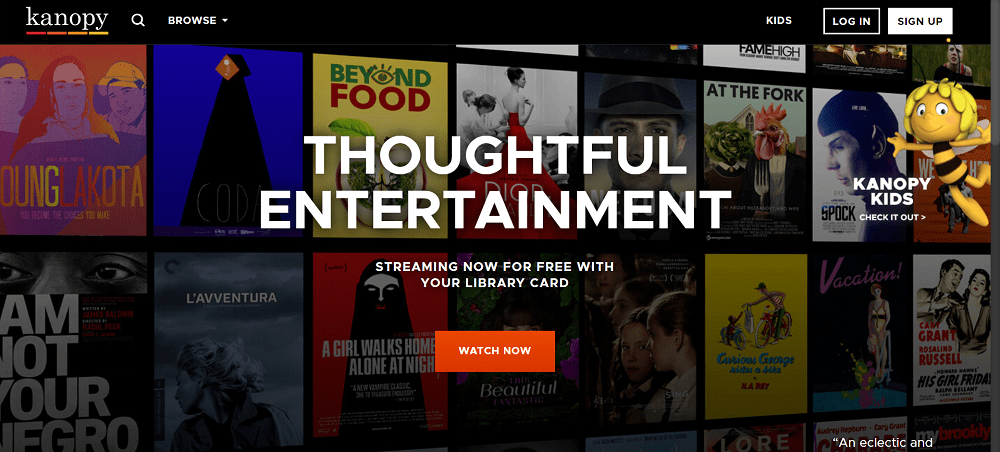 Kanopy is an amazing app for watching free shows, movies, animated books with a library card. It is supported on iPod Touch, iPhone, Android, iPad, and Kindle Fire. This app can also be connected to the TV for streaming the content on any media streaming device.
The users need to be 13+ to create an account. However, there's also a 'Kids' Section' in the app for kids of pre-school age.
Free Movies Cinema has a handful of free movies and TV shows which you can stream for absolutely free and the best thing is that you don't even need to create an account. The movies are categorized according to their genre (Documentary, comedy, action, war, horror etc.) and hence it is very easy to search the one you want to watch. The quality of the videos differs from movie to movie. But a good number of them are available in high quality (1080p) and watching them on full-screen mode can be a great experience!
The key feature of the site is that it also displays subtitles which not many free movies streaming websites offer. There are no annoying ads. Some cons with this service are that the buffering may take a little longer as compared to other free movie streaming websites and it also does not have a mobile app.
Big Five Glories is a website dedicated to the people who love the style and classic movies. This platform is designed in retro- style and has a very user-friendly structure.
Searching the content is easy with titles, the year in which it was made, genre, and by user rating. There is also one special section for the color and silent movies.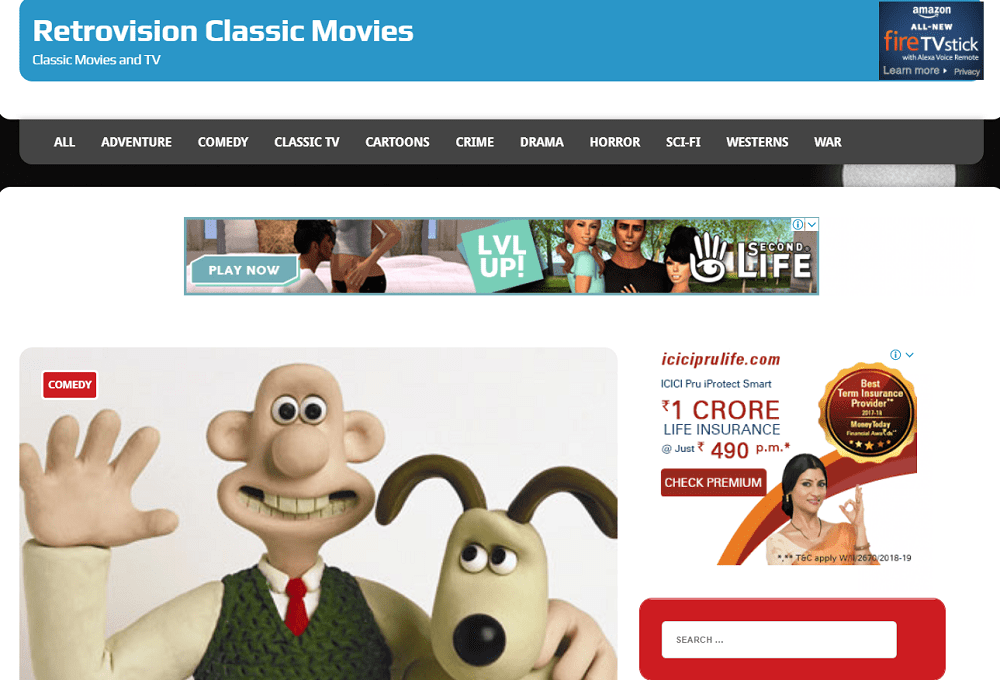 Restrovision is amazing platform does not only let you stream legal, free classic TV shows and movies, but you can also download the films for absolutely no charge! The categories are not consistent which means that there are categories of movies called Crime, Comedy, War, and Drama, among others and there are sub-categories which are part of the film name.
Also, the Video Quality is lower than DVD. There is a full-screen mode button with regular controls like rewinding, forwarding, and volume control. Thankfully, most of the videos are free of ads. Video buffering smooth and faster compared to other movie streaming websites that offer HD films. Even though there is no app, Retrovision has a good mobile website.
Top Documentary Films is an amazing source of finding free documentaries and online movies properly organized according to different genres. There are more than 20 categories like Religion, History, Crime, Science, Psychology, etc. which are helpful in finding particular moves under their genres. Video Quality is high for an option of 720p playback.
Almost all the player options are available, like forwarding, backward, full-screen mode, volume management etc. The best thing about Top Documentary Films is that it is free of annoying ads. Buffering can be an issue while streaming High-Quality movies. Also, unfortunately, there is no mobile app.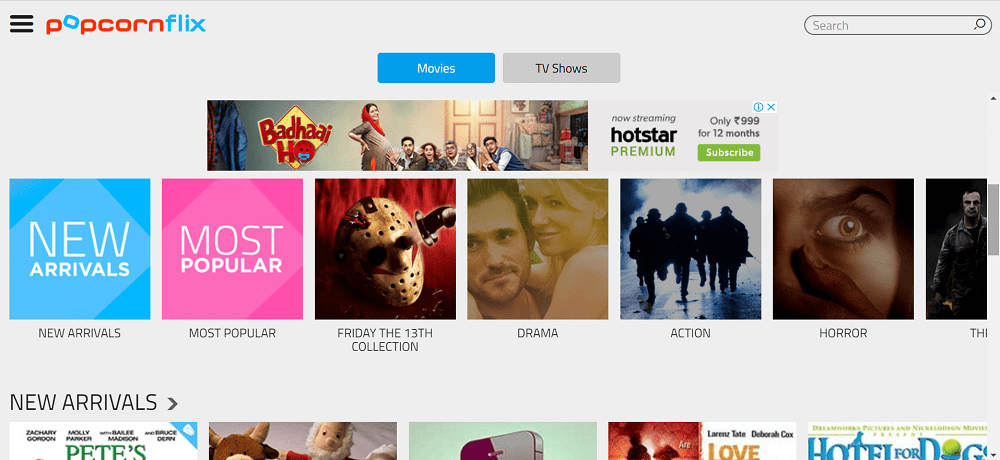 Popcornflix is a completely legal site where you can watch free, full-length movies in both Canada, and the U.S. This service is owned by Screen Media Ventures which is a large independent movie distributor. Popcornflix has a huge collection of free streaming movies Buffering can and common genres like drama, comedy, horror, action, documentaries, romance, foreign films, nostalgia, and family.
There are 2 separate websites- FrightPixand Popcornflix Kids. Not only this, but there's also free movie app available for iPod Touch, iPhone, iPad, Amazon Kindle, Blackberry and Android devices.
If you are among the people who would rather not 'stream' the movies, there are also websites which let you download the movies for free as well. There's everything for everyone.