Discord is best known as a social media platform for gamers. You can find and connect with other gamers over the platform. You can chat with other people on Discord over text, video calls, or voice calls. Discord is available for Android, iOS, macOS, as well as Windows.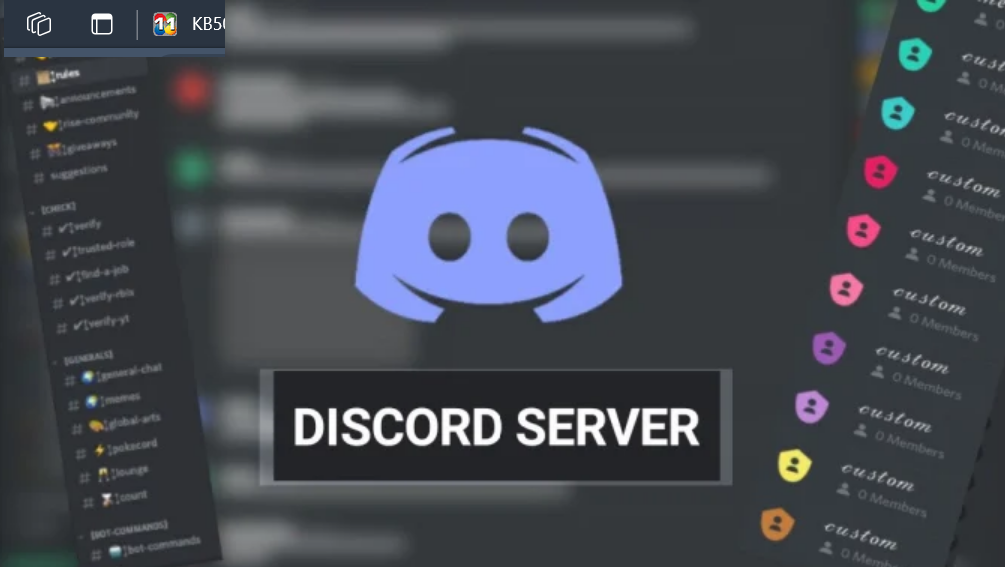 The best part about using Discord is the Discord servers. There are various Discord servers of all categories, such as gaming, music, fashion, fitness, anime, and more. You can join Discord Servers of your preferred categories and connect with like-minded people.
The Best Discord Servers to Join in 2023
But what are some good Discord servers that one can join? This article lists some of the best Discord servers of all categories.
1. Valorant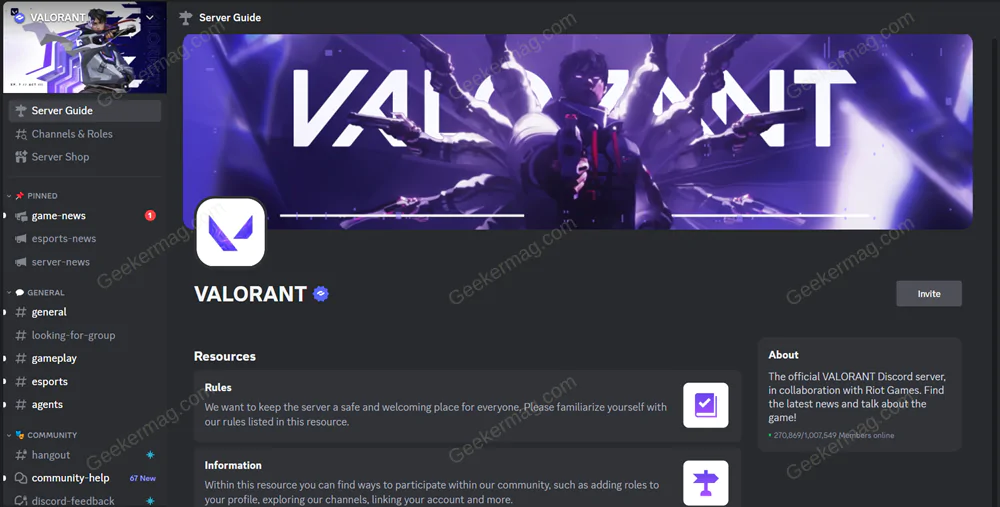 Valorant is one of the most popular games for Windows PC by the Riot Games. This is a 5v5 character-based tactical FPS game with various modes like competitive, unrated, spike rush, deathmatch, team deathmatch, etc. Valorant has an official Discord server that anyone can join to get news about Valorant regarding the upcoming agents, maps, game modes, and events.
There are various channels on this Discord server, like game news, agents, gameplay, community help, and more. You can talk to other Valorant gamers and team up with them. Not only this, but you can also post your fan art and character lineup videos on different maps and let other gamers know what skills you have.
Server Link- https://discord.gg/pk3KMUSu
2. GTA Online
GTA Online is the Discord server for all the GTA fans out there. Though the Discord server is for GTA fans, the major focus of this server is on GTA 5. You can connect with the community of GTA and get insights into the in-game play, ask for tech support, etc.
Apart from the GTA community, you will find the Non-GTA community on the server about Formula One, music, pets, anime, tech, coding, math, and more. There are also premium channels on this server, which you will have to pay for if you want to be a part of them.
Server Link- https://discord.gg/gtao
3. Memeology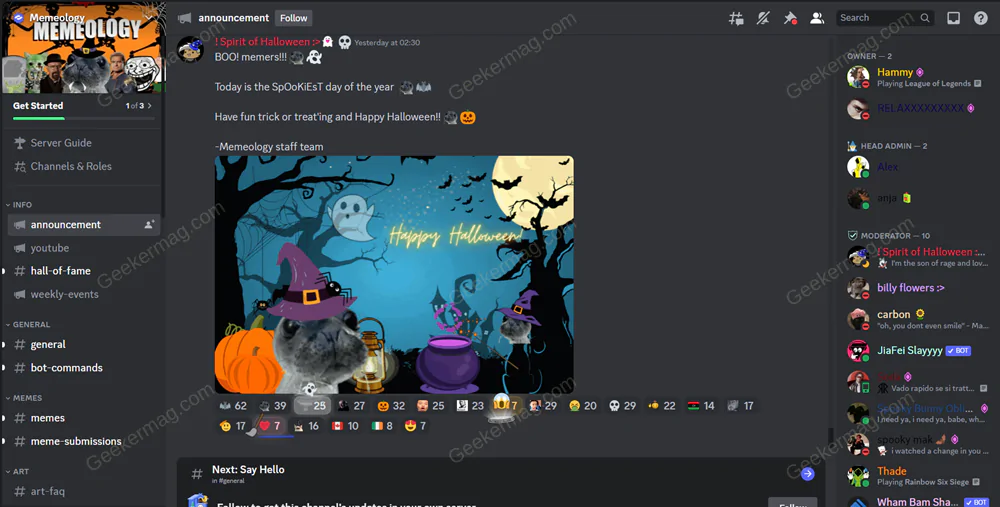 Memeology is one of the biggest Discord servers related to memes. If you are looking for a Discord server for fun but nothing harmful, then you should join this server. People talk about memes, fan art, songs, and a lot more topics on this server.
You can join the server and participate in fun conversations with the other members. You can join the voice talk and even participate in the contest organized on the server. With that being said, Memeology is one of the fastest-growing meme servers that you can find on Discord.
Server Link- https://discord.gg/memes
4. Anime Soul Discord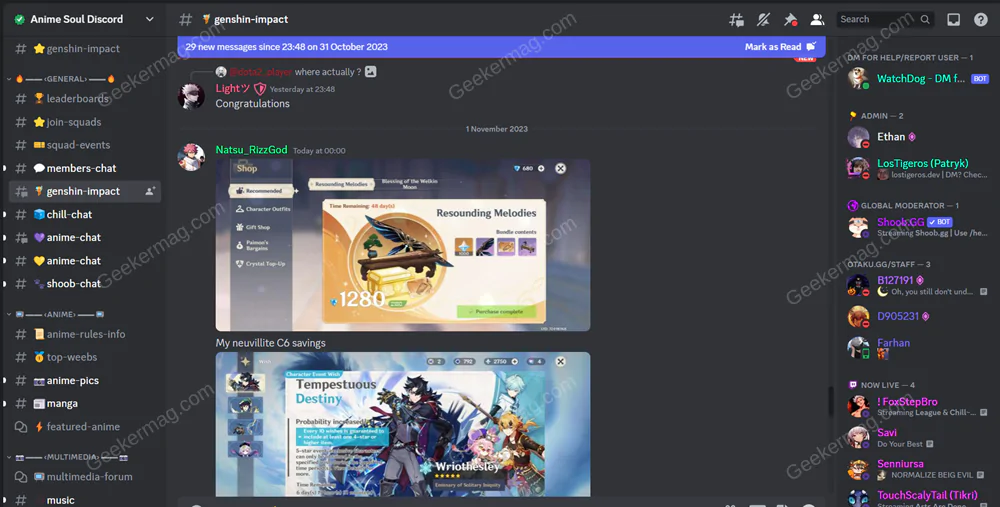 Fan of Anime? Anime Soul Discord is the official partnered Discord server that you can find. You will find channels related to anime and manga on this server. This server has channels for games like Genshin Impact, art, music, events, and more. You can join these channels and talk to other members about the topics.
On the anime channels, you can find anime pics, anime content, manga, and more. You can join voice chat for fun or join the event talk show. The server hosts various events as well as giveaways which anyone can join.
Server Link- https://discord.gg/otaku
5. r/Apple
Are you a member of the Apple ecosystem or willing to buy Apple devices in the near future? If Apple devices interest you, then this server is definitely for you. You can get purchase advice and technical support for the Apple devices on this server.
Not only this, but you can find photos shot from iPhone and memes on this server. There are OS/software-specific channels on this server, like iOS, iPadOS, macOS, VisionOS, WatchOS, TVOS, and Xcode, which you can join to communicate with other members with issues regarding a particular topic.
Server Link- https://discord.gg/apple
6. Study Together
Discord is not only about anime, games, tech, and fun, but there are servers where you can find buddies to study with you. You can connect with other members on this server and discuss academic topics. If you face problems with your studies or cannot complete your homework, then you can ask questions in this group.
There are study group channels on this server which you can join to study with other people. Apart from that, you can also find video call channels where people teach different subjects like Computer science, Biology, Mathematics, etc.
Server Link- https://discord.gg/study
7. Marvel Studios
We recommend this Discord server to all the Marvel fans out there. You will find everything about Marvel on this server, be it the fan content, leaks and rumors, spoilers, discussions about the movie or the series, and whatnot. You can also get to know the future announcements of the series and movies on this server.
There are polls and art competitions about Marvel that everyone on the server can participate in. Apart from Marvel, there are off-topic channels on this server about games, comics, television, etc.
Server Link- https://discord.gg/marvelstudios
8. Game Dev League
Game Development is not an easy job, and you will be stuck with issues many times or will not get the motivation to continue ahead. This is the reason why we recommend joining this channel if you are a game developer. You can connect with other game developers on this server and get your issues resolved.
They have separate channels for Unity and Unreal Engine. Each has an FAQ section, tutorial section, and chats so you can have your query resolved. Also, there's a brainstorming channel on this server where people discuss game designs. You can also show your work on this server and sometimes find clients to work with.
Server Link- https://discord.gg/gamedev
9. Movies & Filmmaking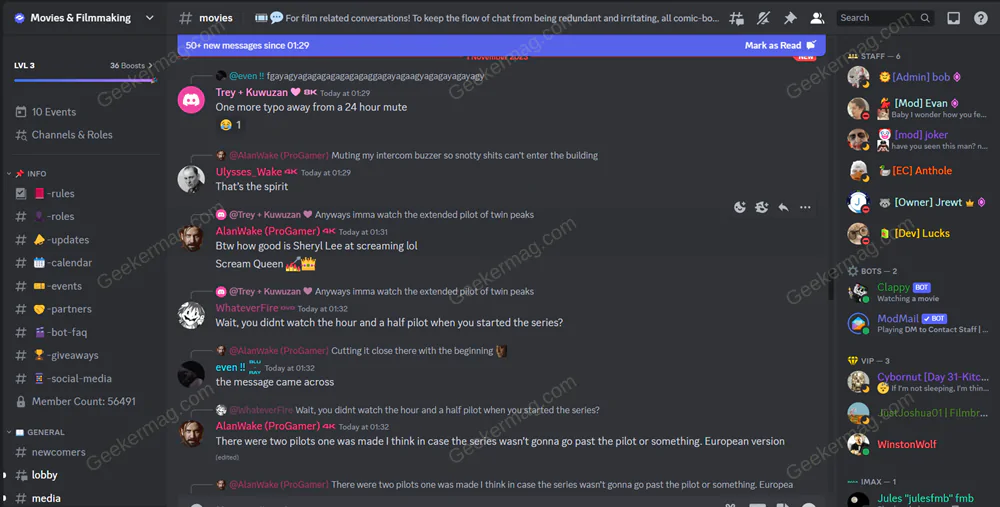 If movies and filmmaking excite you, then this server is for you. This server is best known for events like movie nights, round table discussions, general events, writing prompt competitions, and trivia nights. You can join the community and talk about movies and TV shows with other members.
If you are interested in the filmmaking process, then there's a separate channel for you on this server where you can get to know about filmmaking, screenwriting, cinematography, gear talk, and post-production. You can also share your work here and apply for jobs if anyone is recruiting for certain positions. Apart from this, you can also watch movies on this server. There are genres divided, and you can join the chat for your preferred genre.
Server Link- https://discord.gg/FApn6M4R
10. ChillZone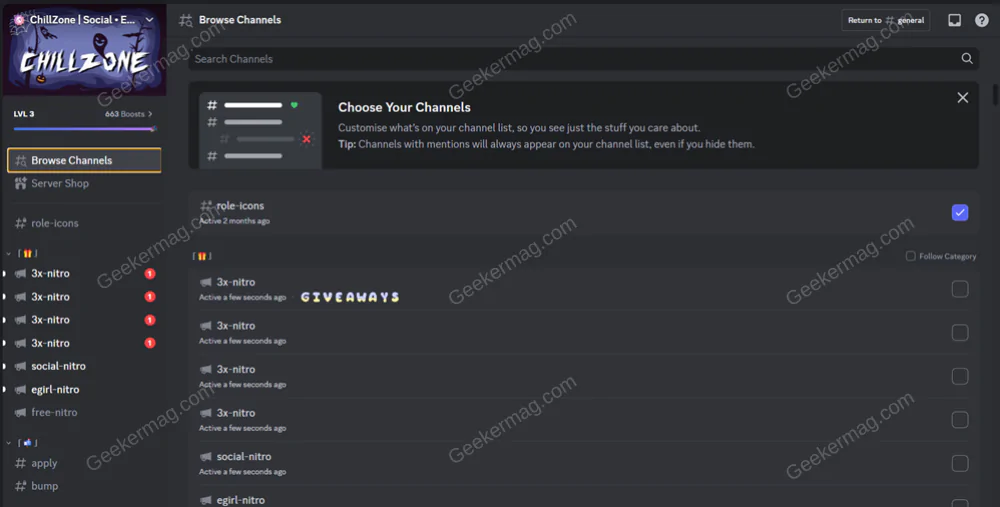 If you are looking for nothing much apart from just some fun time on Discord, then you should join the ChillZone server. This server is all about movies, games, sports, photography, music, and other fun topics. What makes this server exciting are the events that are hosted here.
There are various public voice channels that you can join to have a fun time with other members. You can also participate in competitions and events on this server, make your way to the hall of fame, and get recognized by other members.
Server Link- https://discord.gg/chill
11. /r/AndroidDev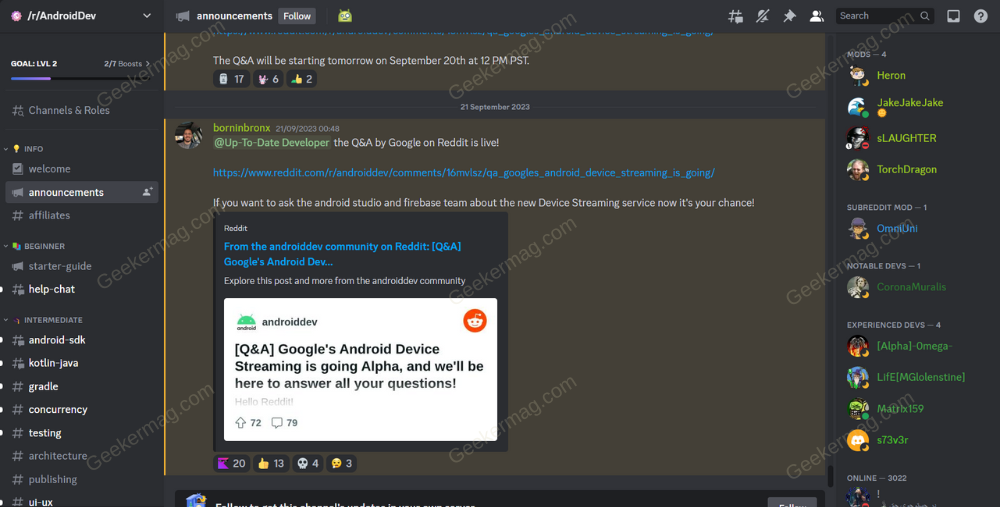 If you are into Android development, then this Discord server is a must-join for you. This Discord server is for Android developers in Kotlin and Java. As you will find other Android Developers on this server, it is the best place to post your doubts and get answers to your queries.
Not only this, but you can get ideas for the design and features of your app from other members of these servers. You can also showcase your work to other members of this server, and who knows, you might end up getting a job based on your work. There's a promotion channel on this server where you can promote your Android app.
Server Link- https://discord.gg/3NVWcrN374
12. Microsoft Community
Microsoft Community server on Discord is all about Microsoft Surface laptops, Windows, and other Microsoft products. You can find individual channels for support of Microsoft products, Minecraft, media, computing, announcements, etc.
Members here often keep posting about the latest announcements from Microsoft, be it for Windows, Minecraft, Surface laptops, or any other. You can even talk to other members and get support for any Microsoft product you own or for buying advice from them.
Server Link- https://discord.gg/microsoft
So these are some of the best discord servers to join in 2023. In the post, I have listed Discord servers of varying niches like tech, games, memes, anime, movies, coding, education, etc. There are many Discord Servers available; all you have to do is search for the topic that excites you the most and join the related servers.
In case, you're aware of any other nifty discord server, then feel free to share in the comments. This will help other readers.
As an independent platform, it takes a lot of effort to create and curate quality content daily. Our content is totally funded by users like you.
Therefore, if you find information on this website useful, we kindly ask for your support in maintaining the longevity of our platform. If each person who benefits from our website contributes, we can secure a brighter future for our website.
Donate on Paypal or Buy us a coffee if you find the information shared in this blog post useful. Mention 'Coffee' in the Subject. So that I can thank you