Are you trying to connect with a lost friend or relative? Or perhaps you're looking for a way to verify the identity of someone who called you on your phone. Who knows? They could be scammers, stalkers, spam callers, or anyone with ill intentions.
If you've tried it with normal search engines without success, you may want to consider using a paid search engine. However, we must admit that no two people-finder platforms are created the same. Some can waste your money and time.
To help out our readers, we decided to create a list of the best people search engines available on the internet and include them in this blog post. Here's the first search engine on our list.
1. Spokeo
Founded in 2006, Spokeo is one of the most popular and reliable people search engines. It has a powerful search algorithm, which pulls a person's information from white pages, public records, social media accounts, and dating profiles if available. All that's needed is the name, phone number, physical address, or email of the person.
The reverse phone lookup service could reveal a wealth of information in a summarized and easy-to-understand report. It is possible to know the personal details, location history, contact details, and family members. The phone number lookup report may also uncover a person's criminal records.
It's incredibly easy to perform a phone number search or email search. What's more, you will receive your detailed report in real-time. And when it comes to affordability, Spokeo has some of the lowest subscription fees you can find on the market today.
2. BeenVerified
BeenVerified works similar to Spokeo, as it allows you to find people using their name, phone number, address, and email. It can swift through white pages, social media, and public records to find matching data. These people search engine is popular for uncovering someone's employment history.
While you can have a free account, you won't get more than the basic details. For a full report revealing someone's criminal records, court records, employment history, financial standing, and more, you'll need to upgrade your account.
3. TruthFinder
TruthFinder is another fantastic background screening service, which provides easy-to-digest reports. It has an easy-to-use interface as well. You can rely on this service to find information like date of birth, dating profiles, criminal records, assets, sex offender status, bankruptcies, and possible relatives or associates.
Unfortunately, the search criterion is limited. Unlike the other previous options, here you can only search a person by their first and last name, although you can narrow it down to city and state.
While the search results are generally accurate, they cannot match the level you'll get with Spokeo or BeenVerified.
4. Intelius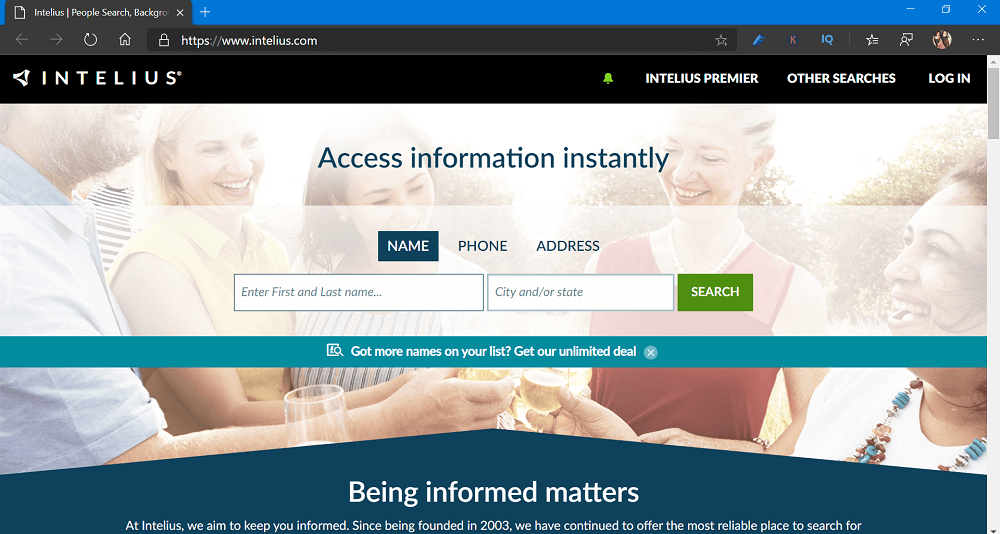 Intelius has an expansive database, allowing you to trace detailed information to a person you're interested in. It accommodates the name, address, and phone number lookup search options. There's no email search feature, though. Also, it does not pull information from private or confidential sources.
With Intelius, you can gather valuable information like name, phone number, past and present addresses, date of birth, and the connection between people and places.
Since this people's search engine has partnered with other background check services, you may be directed to it once you're on those other platforms.
5. People Finder
People Finder is a reliable platform that has been around for over two decades. It is a robust and effective people search platform. Well, the platform is great for reuniting people. It will help you run background checks and find anyone you're looking for based on different details like name, age, phone number, and address. You can opt for reverse phone lookups if you want to identify callers before receiving their calls.
The downside of People Finder is that it does not consider the details of social media accounts.
6. Instant Checkmate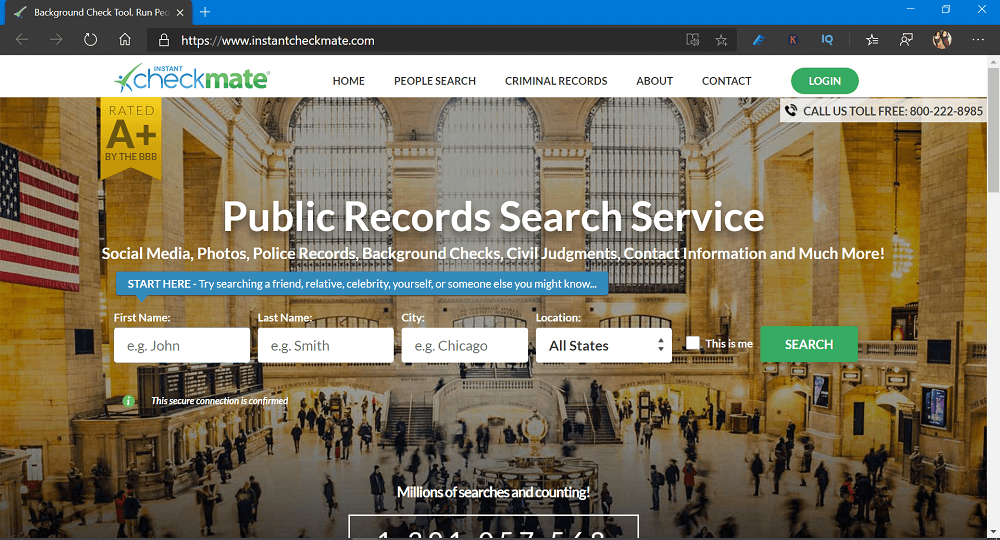 Instant Checkmate is designed with advanced tech features to collect data from online profiles as well as federal and state data sources. It offers comprehensive and neat reports uncovering a person's age, address, location, marital status, and assets. Many users often think this is more of a public record search service, but it can also be used as a people search engine.
However, it doesn't support the options of searching for people by phone number, email address, or physical address. You can only use their first name, last name, and city.
As you see, finding information about people is incredibly easy even when you have a few right details. If you want a people to search engine with decent features at an affordable price, then you cannot go wrong with Spokeo.
Maguire Haigh is a marketing manager for Spokeo. He is interested in the latest technology trends, marketing strategies, and business development. He also prefers traveling, exploring the world,, and meeting new people. Maguire has great experience in creating and editing articles on different topics.
As an independent platform, it takes a lot of effort to create and curate quality content daily. Our content is totally funded by users like you.
Therefore, if you find information on this website useful, we kindly ask for your support in maintaining the longevity of our platform. If each person who benefits from our website contributes, we can secure a brighter future for our website.
Donate on Paypal or Buy us a coffee if you find the information shared in this blog post useful. Mention 'Coffee' in the Subject. So that I can thank you