Sales is a numbers game, and there is no other place with more leads than the world wide web. Pandemics have grown this trend further, as the number of online shoppers reached sixty percent, according to the United Nations. For many salespeople, this change to virtual selling poses a challenge.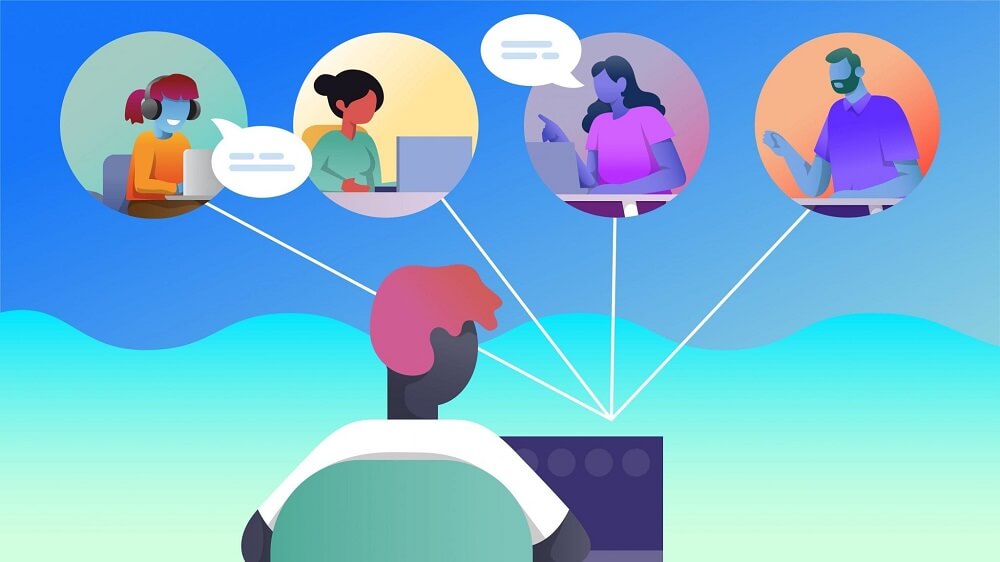 If your training and experience are only with in-person sales, remote selling might seem to limit your abilities. It is true that building rapport is more difficult virtually, but with the right tools and attitude, success can be achieved. We'll list crucial virtual selling tips to make it happen faster.
What are remote sales?
Remote sales (or virtual sales) occur when the salesperson and the buyer are in different locations. Usually, the whole process, from prospecting to following up, takes place over the internet, and the customer never meets the representative. However, many other cases also fall under the umbrella of virtual selling.
Different technologies might enable remote sales and make them more efficient. In the past, most sales took place over the phone, sometimes also including emails or text messages. Nowadays, it's common to carry out sales via social media platforms, e-commerce websites, and with the help of video chat software.
Recently, many companies started implementing a multi-channel approach, where different means of communication are integrated for a seamless customer experience while shopping. In such cases, the sales process can start or finish with the in-person meeting and still be considered, at least partially, remote.
In one form or another, remote sales are here to stay, so it is crucial for businesses to convert the skills of their salespeople to this new mode of selling. That's what our virtual selling tips are all about.
Become an expert in your field
Of course, knowing your product and its unique selling points has always been important in sales. However, when customers can fact-check a representative and look for competitors at any moment, your knowledge of the market becomes even more crucial. No other virtual selling tip will work without being an expert.
The internet has opened up possibilities for many scammers and frauds, so customers are cautious in looking for legitimate information and an expert they can trust. You must know the field and provide additional value to the customer for closing any sale online.
Adjust your tonality
Tonality is how your voice sounds as you deliver a sales pitch to customers. It's nothing new to the sales world, but you might need to re-train yourself if in-person sales were everything you practiced. Even the best salesman sounds differently in text or phone.
If you don't have live video chat solutions, tonality will be all you have to close the deal. It is the first and simplest problem to solve if an otherwise successful representative is underperforming online.
Practice active listening
Active listening is the ability to hear your prospects with complete attention while asking clarifying questions and identifying paint points you can solve. It might be the best way to build rapport, and the virtual environment makes it even more important.
If you won't be spot on with your questions and won't allow the prospects to interact, they are more likely to get disinterested. Studies have shown that around a third of people tend to start multitasking while in work meetings. If you aren't actively listening and making your sales pitch engaging, this number will be even higher.
Most of the research for products or services is on social media. From top-level executives to small buyers – everyone is reading reviews and getting exposed to the newest trends on these platforms. Therefore social selling practices must go together with virtual selling.
Social selling encompasses the use of a brand's social media accounts to engage with customers, build brand loyalty and find leads. Your presence there should be constant and optimized for the highest growth. All other virtual selling tips you use must be aligned with social selling.
Use live video chat
Video chat software for sales is the most recent addition to must-have remote selling tools. It used to be a luxury of brands with tech-savvy customers and a large budget for development. Today, the software is easily implemented and doesn't require many resources.
The recent pandemic and the rise of working from home have made a cultural change where customers expect a live video chat option. A one-to-one video session with a sales representative saves time and enables us to showcase products more fully.
Salespeople struggling with other means of remote selling, such as phone calls, are more likely to succeed with video calls. They have more tools at their disposal. From responding to visual cues, such as facial reactions, to building a more relatable connection. Out of all virtual selling tips, video calls is the biggest game-changer.
Employ sales data
Sales data is all the information from your website, virtual selling tools, or other channels that can improve the performance of your sales team. It can be the client demographics, the effectiveness of your communication channels, the success rate of your sales calls, and much more.
The abundance of sales data provides the possibility to ensure that decisions are based on research. In addition, better quality assurance for your sales team becomes possible. For example, you can review recordings of video calls to see where a salesperson can improve.
Guide the client
Traditional brick-and-mortar stores do not need much explaining. Most of them are similar, and we buy physical products without lengthy explanations. Digital services and products are not the same. With so many different innovations, designs and distractions, the virtual sales process must be a guided experience till the very end.
Conclusion
Our virtual selling tips aim to open up possibilities for the representative to use his abilities in full. By implementing them, remote sales won't make a good salesman perform worse when working online. Without taking this advice seriously, you risk losing great potential and, of course, increased sales.
As an independent platform, it takes a lot of effort to create and curate quality content daily. Our content is totally funded by users like you.
Therefore, if you find information on this website useful, we kindly ask for your support in maintaining the longevity of our platform. If each person who benefits from our website contributes, we can secure a brighter future for our website.
Donate on Paypal or Buy us a coffee if you find the information shared in this blog post useful. Mention 'Coffee' in the Subject. So that I can thank you