Google Chrome is undoubtedly the top-most web browser among its competitors. The advanced features, web-apps, web extensions are few things that make it way ahead from other browsers. After its release by Google in 2008, it quickly rises to the top charts beating Microsoft's Internet Explorer and others, and since then, it never went down in the list.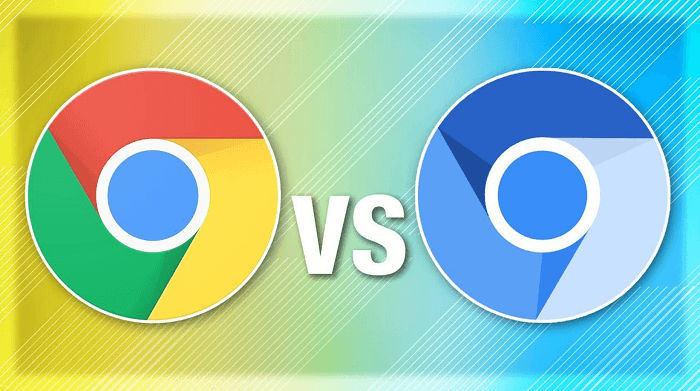 Many people don't know the fact that Chrome is actually based on other open-source web browser known as Chromium, which is also from Google.
In this guide, we would discuss what Chromium is and the difference between Chrome and Chromium.
What is Chromium?
In 2008 when Chrome was introduced, Google also released the source code of the Chromium browser on which Chrome is build-on. It was done to encourage developers to review the underlying code so that Google could improve the Chrome browser.
Google applied the same approach while introducing Chrome OS. They released open-sourced Chromium OS along with the Chrome OS, which they prepare for their Chromebook.
The main difference between Chrome and Chromium is that in Chrome, Google adds many exclusive features like auto-update, which is lacking in Chromium.
Since Chromium is open-source, many cybercriminals alter it and use it as a carrier to release malicious programs.
Let us look more on what Chrome has that Chromium does not.
What Extra Chrome has than Chromium?
Chrome is the modified version of Chromium. Since Chrome is licensed under Google, it adds a number of its own proprietary features to Chrome to make it more advanced and different from Chromium.
Basically, developers at Google take Chromium code and add the following features to it to make it Chrome:
Adobe Flash (PPAPI): Chrome comes with a sandboxed Pepper API(PPAPI) Flash plugin, which Chromium does not have. It automatically updates with the Chrome browser. However, you can manually install it on Chromium if you want.
AAC, H.264, and MP3 Support: Chrome includes the licensed codecs to support the modern media formats for broader access to media files, especially the HTML5 sites that stream H.264 videos. Chromium only consists of the basic free codecs like Opus, Theora, Vorbis, etc.
Error and Crash Reporting: Chrome users have the option of sending crash and error reports to Google, whereas there is no such option for Chromium users.
Google Update: Google includes a background app that ensures that Chrome automatically updates.
Pros and Cons of Chrome
If you are a regular user, the Chrome web browser is best for you. It comes with many advanced features. Also, with frequent auto-updates, it is more stable and safer. As already mentioned, it also supports a wide range of media playback formats and Adobe Flash.
However, it comes with a few drawbacks as well. For providing better browsing experience, Chrome tracks and collects user's browsing data such as history, cookies, and more. However, there is also the option of incognito mode where you can browse the internet anonymously.
Other than that, Chrome also does not allow the use of web extensions from any other sources other than Chrome Web Store. Although, by enabling the developer mode in Chrome, you can use third-party extensions.
Pros and Cons of Chromium
If you are a web developer and want full customization on your browser, you can go for Chromium. It is best for advanced users.
It is also suitable for users who do not want their browsing data to be tracked and shared with Google. There is also no limitation of using only Chrome Web Store extensions. You can install extensions from any source.
Since it is an open-source app, it gets frequent updates. However, these updates need to be manually installed, as there is no option of auto-update in Chromium.
Moreover, unlike Chrome, Chromium does not offer native support to Adobe Flash and licensed media codecs like AAC, H.264, and MP3, as they are not open-source. Without those codecs, the users would not be able to stream the media playback websites such as Netflix or Amazon Prime.
Both Chrome and Chromium have a security sandboxing feature, which is by default enabled on Chrome, but disabled on Chromium.
Chrome vs Chromium
| | | |
| --- | --- | --- |
| S.No | Chrome | Chromium |
| 1. | Monitor and send browsing data, therefore create a privacy concern | Does not monitor and send browsing data, therefore no such privacy concern |
| 2. | Provides more features like automatic updates and others | No such advance features |
| 3. | Supports modern licensed media playback codecs such as: AAC, H.264, and MP3 along with basic, free codecs: Opus, Theora, Vorbis, VP8, VP9, and WAV | Only supports free codecs such as: Opus, Theora, Vorbis, VP8, VP9, and WAV |
| 4. | Security patches are frequently updated and are automatically installed | In Chromium too security patches are updated frequently, but due to no auto-update feature, those patches have to be manually installed |
| 5. | Less prone to crash | More prone to crash |
| 6. | Collects and send crash and error reports | Does not collect and send error reports |
| 7. | Restriction on using third-party web extensions other than from Chrome Web Store | Web extensions can be installed from any source |
| 8. | It is available for free, but is not open-source | It is also available for free and is open-source |
Chrome or Chromium, which one to choose?
As you can observe from this guide, both Chrome and Chromium are strikingly similar; even their logos are almost the same. As the underlying code for both the browser is identical, there would not be much impact on performance. So, it is up to the user which one to go for. If you are more privacy concerned, you can go for Chromium. If you want more features in your browser and that automatically updates itself, you can choose Chrome.
Donate on Paypal or Buy us a coffee or Join Patreon if you find the information shared in this blog post useful. Mention 'Coffee' in the Subject. So that I can thank you.