Microsoft has integrated a special Internet Explorer mode into the new Microsoft's Chromium-based Edge browser.
It sounds strange, but you can launch Internet Explorer inside of the new Microsoft Edge browser. The purpose of integrating Internet Explorer in the browser is to deal with site compatibility and other software issues.
The function is not enabled by default, but with a quick procedure, it is possible to enable the Internet Explorer (IE) Mode in Microsoft Edge Chromium.
Enable Internet Explorer (IE) Mode in Microsoft Edge
1. Launch Microsoft Edge browser.
2. Next, you copy-paste the following address:
edge://flags/#edge-internet-explorer-integration
3. Using the drop-down change the settings from Default to IE Mode and then click on the Relaunch now button to apply the changes.
4. After that, you need to search Microsoft Edge using start menu search and then right click, select Open File Location.
Here, you need to look for Microsoft Edge shortcut and then right click and select Properties.
In the Microsoft Edge Properties dialog box, you need to head over to the Target section. Here, you need to copy-paste  --ie-mode-test just after edge.exe. After making changes this is how it should look like:
Now close everything. At this point, you have successfully enabled IE Mode in Microsoft Edge browser.
Use IE Mode in Edge Browser
To see new Internet Explorer settings, you need to click on the (…) More action icon available on the upper right corner, select More Tools > Show this page with Internet Explorer.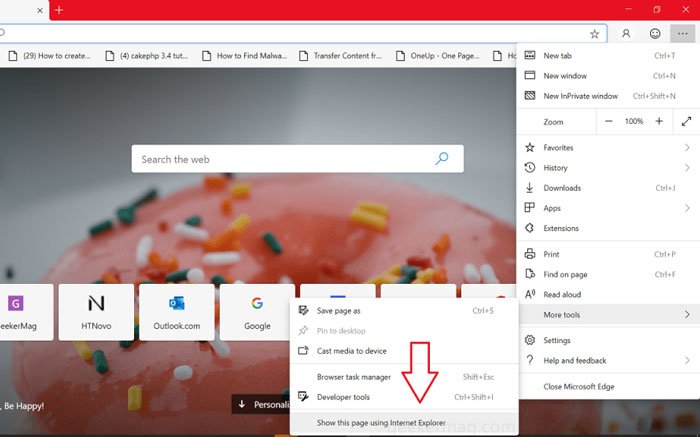 When you open a webpage using Internet Explorer mode, a new tab will open in the Edge browser. Whenever you launch web page using the IE Mode, an Internet Explorer icon will appear in the address bar.
Keep in mind that whenever you launch Microsoft Edge browser, you will see a error message which reads:
You're using an unsupported command-line flag –ie-mode-test. The poses stability and security risks" message"
Ignore this and feature will work flawlessly. It's recommended that you should always use this feature if you want to do some testing.
Note – In case, you're if you try to use this mode and a quick dialog box giving an error message which reads "Can't open this page with Internet Explorer mode", then it seems like your device is not compatible to use this feature or you have to wait for next updates.
You might be interested in reading – How to Use Microsoft Edge Chromium and Edge Legacy Together
Are you going to use Internet Explorer mode in Microsoft Edge Chromium? Do you find IE Mode feature handy? We would like to hear from you in the comments.