Microsoft has integrated a special Internet Explorer mode into the new Microsoft's Chromium-based Edge browser.
It sounds strange, but you can launch Internet Explorer inside of the new Microsoft Edge browser. The purpose of integrating Internet Explorer in the browser is to deal with site compatibility and other software issues.
Earlier, the feature wasn't enabled by default and users have to enable it manually using flags or properties hack. Unfortunately, Microsoft mysteriously removed the feature from the IE Mode from the Edge browser.
Microsoft Edge is taking a step forward to give users the Internet Explorer Mode that makes their browsing convenient. Starting with Microsoft Edge Canary v 86.0.622.38, the company introduced two new options to manage the IE Mode functionality
Let Internet Explorer open sites in Microsoft Edge
When browsing in Internet Explorer you can choose to automatically open sites in Microsoft Edge. The feature is useful when IE tries to render a few websites but fails.
Allow sites to be reloaded in Internet Explorer mode
When browsing in Edge, if a site requires Internet Explorer for compatibility, you can choose to reload it in Internet Explorer mode. The same option when enabled adds a new entry called Explorer mode under More tools in Edge main menu.
You might be interested in reading – Fix – Lenovo Camera not working in Windows 10
Enable and Use Internet Explorer mode in Microsoft Edge (IE Mode)
Open Microsoft Edge browser and then click (…) icon available on the top right and select 'Settings'.
On the left menu, you switch to the 'Default browser'. Click on it. You can directly visit edge://settings/defaultBrowser.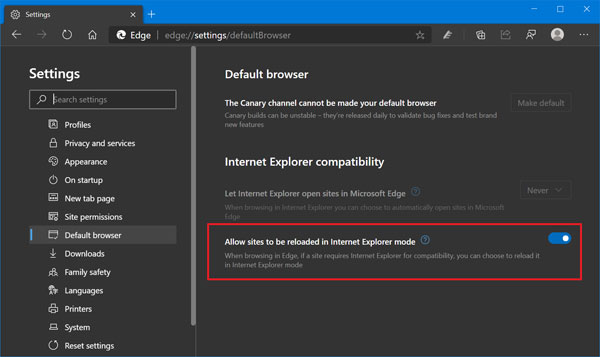 Now toggle the option that is beside 'Allow sites to be reloaded in Internet Explorer mode'. (if it turns blue, its ON)
At this point, you have successfully enabled the Internet Explorer Mode in Edge
Now, navigate to a website that requires Internet Explorer for compatibility and then open Edge main menu by pressing ALT+F, and then select More tools > Reload in Internet Explorer Mode.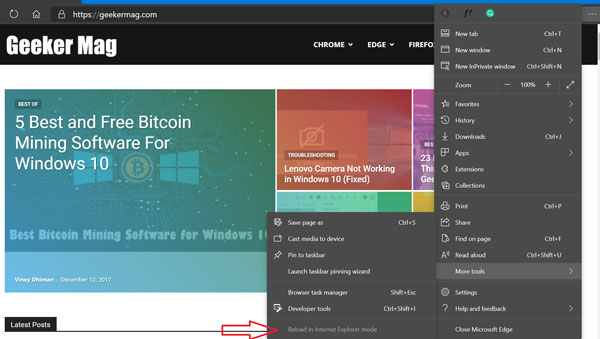 The page will refresh and load the same page in IE Mode to provide Internet Explorer compatibility. Check the following screenshot for an idea:
Once page reloads in an Internet Explorer mode, you will see a bar with a message which reads "You've entered Internet Explorer mode. Most Page works better with Edge". You will also find the IE icon in the information box on the left side of the address bar.
To leave the IE Mode in Edge, click on the Leave button and it will again load the page in Edge browser.
What are your thoughts about Microsoft adding these two options to improve Internet Explorer compatibility in the Edge browser?