Firefox has its own dark theme and if you're using it on Windows 10, then it also supports a system theme, which means if you're using a dark theme on your system, it automatically uses a dark theme.
However, the same is not the case, when you open text documents using the Firefox browser. It's because Firefox doesn't support a dark theme for text documents and displays them with white background.
Starting with Firefox Nightly v87, Mozilla decided to change this experience and added support for dark mode for text documents. With this update, Firefox will display text documents with a dark or black background.
Note: Dark mode support for text document was available in Firefox v86 too, but for us it was not opening document properly; it was only showing background and not texts.
You can check the following screenshot to get an idea: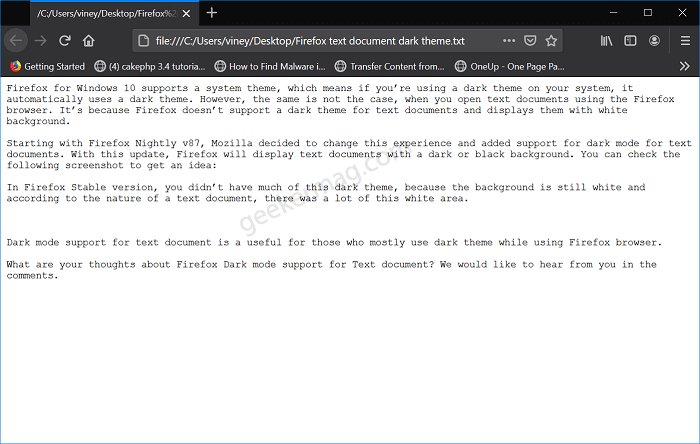 Text Document with White Background in Firefox
Text Document with Dark Background in Firefox Nightly
In Firefox Stable version, you didn't have much of this dark theme, because the background is still white and according to the nature of a text document, there was a lot of this white area.
Dark mode support for text document is a useful for those who mostly use dark theme while using Firefox browser.
What are your thoughts about Firefox Dark mode support for Text document? We would like to hear from you in the comments.