Bored of default light theme of Windows 10? Just switch to Windows 10 Dark theme or mode. The blog post has step by step instructions on how to do that.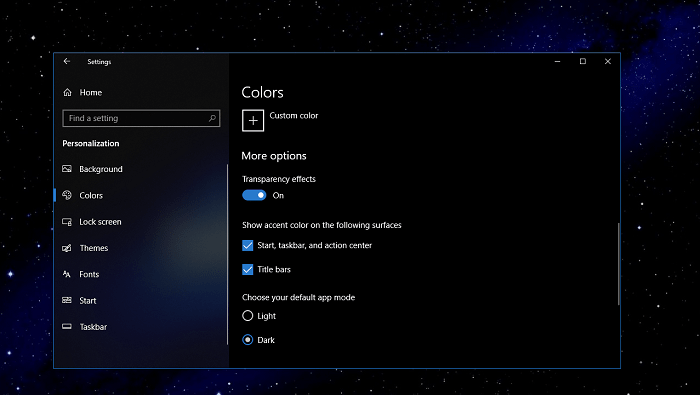 Windows 10 is the latest operating system in the Windows line up. It is the modern and most innovative operating system. It has refined design, useful apps, and various functions that help users in achieving maximum productivity.
Its interface is quite sleek, and with default settings, it comes with light mode or theme. In case, you don't like bright colors on the screen; then it will be hard on your eyes for sure. In this situation, you can switch to Windows 10 dark theme.
How to Enable Windows 10 Dark Theme
Once you enable the dark mode in Windows 10, it not only reduces the pressure on your eyes but it also gives a fresh look. In case, you don't know how to enable Windows 10 dark mode, then here are the steps:
1. Launch the Settings app. For that, you need to press WIN + I keyboard keys.
2. Click on Personalization.
3. Here switch to Color tab.
On the right panel, scroll down until you reach 'Choose your default app mode' and select Dark.
This will instantly switch to the Dark theme. The effect of this dark mode will apply on apps which you download from Windows Store which includes the default Windows 10 mail, Groove music, and Movies & TV apps.
As of writing this blog post, the process to enable dark mode in Microsoft Edge browser and File Explorer is different. You can follow these tutorials for further assistance.
How to Enable Dark Theme in Edge Browser
The Windows 10 Dark Theme is available in the Anniversary Update.
What are your thoughts on the Dark mode in Windows 10? Let me know your thoughts in the comment below!