Are you a serious gamer? Yes! then you would probably know how it feels when your drives have no more storage space and you want more games to have.
It becomes hard to choose what game you should keep and what you delete when you are running out of storage. Or maybe When you play the game your games are not responding well and waiting time is more that also can cause by a slow hard drive.
To avoid such issues you should get an external hard drive that has higher storage space, faster transfer speed, and not get damaged fast, and we are going to discuss what hard drive you can have today to use with the XBOX console.
Things you should check before buying an external Hard Drive
There are few things you should look for before buying an external hard drive whether you are going to use a hard drive to backup your data or just to store games, that are as follows..
Storage Capacity
The main reason behind buying an external hard drive is that we are willing to have more storage space, whether is fast, secure, and accessible remotely but if you don't have enough space as per your requirement it would not be a good buying.
If you are looking for transferring documents, photos, and media from one device to another in that case you can have 500GB to 1 TB hard drive. But If you are looking to store a lot of games or a collection of DVD RIP movies then you may require higher than that You can have driven up to 5 TB easily.
Transfer Speed
When you will have TB's of data to copy from one device to another then it may take several hours to copy if transfer speed is slow for that external drive. And nobody likes that which makes the transfer speed of drive really an important factor to look before buying. For gaming purposes, you really required to have a faster transfer speed drive as a slower one can affect the game responsiveness. USB 3.1 or 3.2 is quite mandatory as all-new gaming consoles and equipment coming up with USB-C.
SSD vs HDD
When you look to buy you'll find hard drive are classified into two categories one is SSD (Solid State Drives) and the other one is HDD( Hard Drive Disk). HDD are slower, cheaper, larger as compare to SDD, whereas SDD compact, faster, expensive. One more major difference between both is HDD can easily be damaged but not SDD so if you are looking for an external hard drive you should prefer SDD over HDD.
Best External Hard Drives for Xbox One & XBOX X
There are more things to watch out before buying an external hard drive such as security measures, compatibility, durability, and portability. And in this topic, we are just discussing hard disks for gaming on XBOX consoles. In that case, these things would not be much required, lets move on to the list of best SDD drives for XBOX gamers…
Seagate Drive designed for XBOX
The First External hard drive on our list is specially designed for XBOX gamers by Seagate. This Seagate drive is capable to store 2TB, can let you store a vast library of your XBOX games in this much storage space you can keep save more than 50 XBOX games.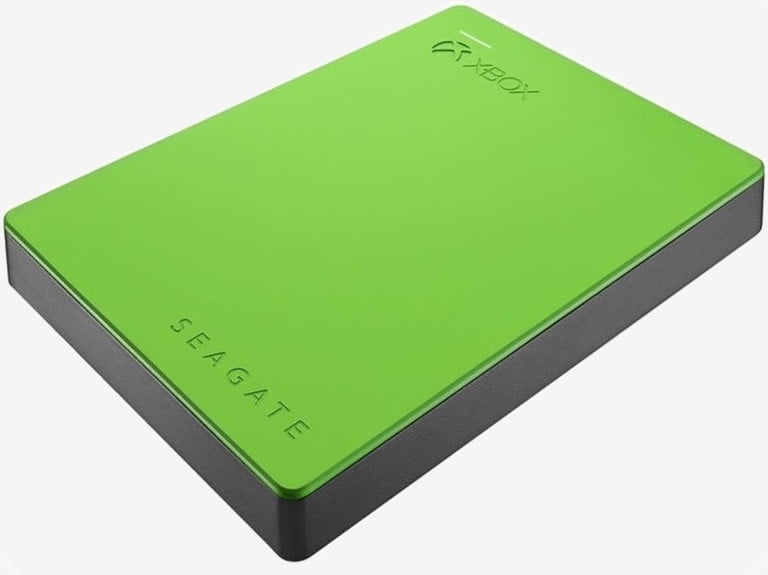 The design is compact and sleek and comes in green with combination of black color, But the drive is HDD, not SDD but still very portable and if you are just going to use this drive with your XBOX console its really fine to have an HDD drive.
Supports USB 3.0 and the data transfer rate is 120 MB/second, with such a transfer rate you would not see any lagging ain game response or waiting time. A similar model with 4TB capacity is also available that can save more than 100 of your XBOX games but that would be a little expensive than this one too.
Thickness of drive is 14.8mm and length x width is 117mm x 80mm and weighs just 170 gram which make it easy to carry as well. Seagate is offering 3 year warranty included with XBOX gamers drive.
Samsung Portable SSD T5
One of the most compact external SSD hard drive with minimalistic top to bottom metal design and rounded edges make it very handy to hold in your palm.
Samsung T5 has a very high data transfer speed of 540 MB/sec that is almost 4.9 times more than any external HDD drive. To attain this level of transfer speed rate all connections and host devices must support USB 3.1 gen 2 with enabled UASP mode.
Samsung T5 Drive is available in alluring blue colors for 500 GB and 250 GB and the Black color is available for 1TB and 2 TB models. Drive is also very impressive in terms of size and weight, as the thickness of this external drive is merely 10.5 mm length and breadth is 57.3mm x 74 mm and weighs just 51 grams.
Moreover, T5 is shock resistance and it can easily handle the shock of a drop from 2 meters and comes with AES 256-bits hardware encryption password protection to secure your data that is optional to use. Not just this Samsung also offering a 3-year warranty on their T5 hard drive.
Adata SD700 External SSD
SD700 by Adata is the most affordable and best performing SSD external drive at this price you could buy.
Being the cheapest it has so many features that you would not get in any other SSD drive such drive is low in power consumption, very Silent, and cool operational. An IP68 with dust and water resistance, and military-grade shockproof durable, and portable external SSD hard drive.
Supports USB 3.2 Gen 1 and capable to read write operation at higher speed with a transfer rate of 440 MB/second. Smaller than average business cards, weigh 70 grams only make this drive the most portable drive so far. SD 700 also compatible with many other platforms including windows, mac os, and android.
SD700 is also available in 256 GB and 512 GB variants and four different colors black, red, yellow, and golden. A 3 Year warranty also included with the drive by the manufacturer.
Sandisk Extreme Pro Portable
But Speed may lower depending on your drive capacity, host device, connection, usage condition, and other factors. Sandisk Extreme Pro supports USB 3.1 Type-A, USB 3.1 Type C hardware interface.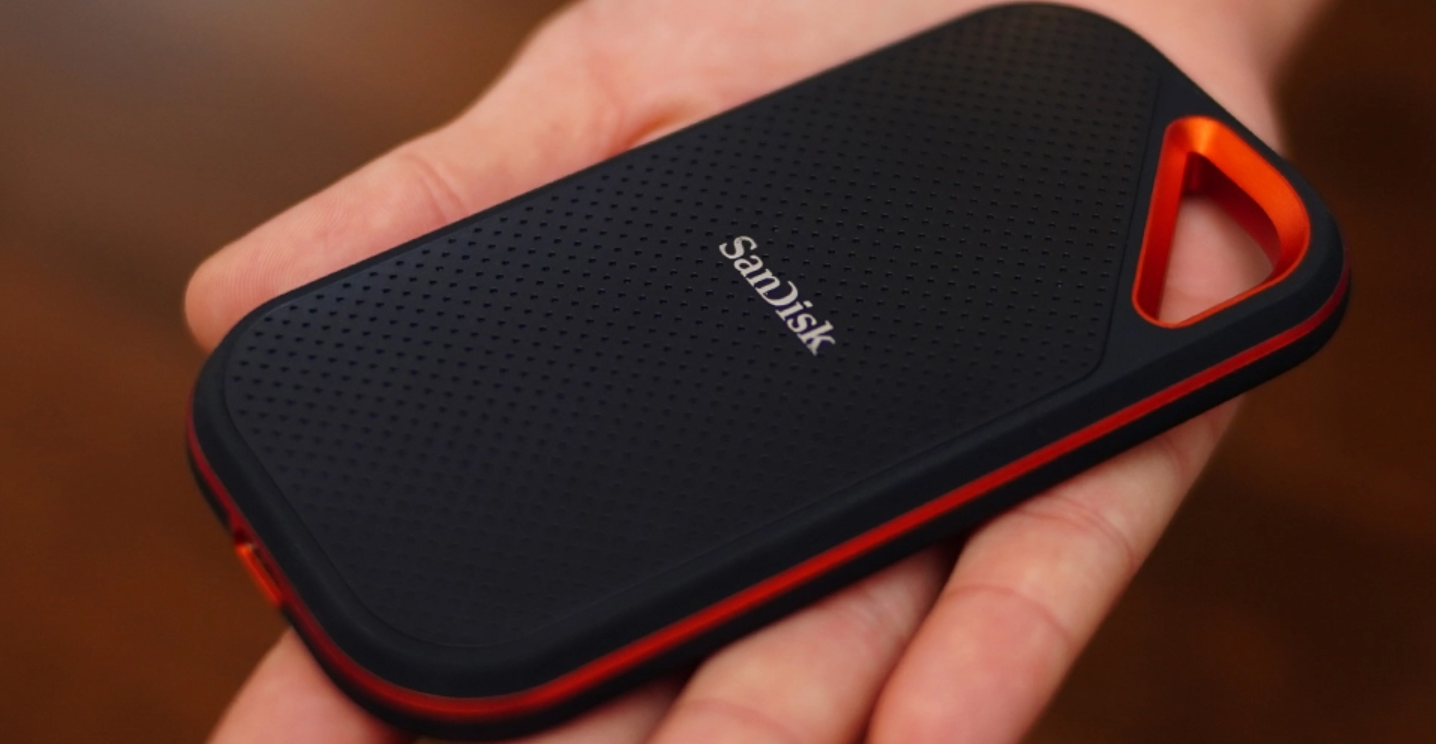 Extreme Pro by Sandisk signifies form its name its a extreme, featured NVMe Technology that made this hard drive lightening fast with data transfer rate of 1050 MB/second.
Drive has an elegant ruggedized design protected by an aluminum body, the drive is IP55 rating water and dust resistant makes it more durable in use, weigh is also light of the extreme pro drive 77 grams.
The drive is also available in 500 GB and 1 TB model. WThe drive is also compatible with PCs and Mac computers with USB Type–C and Type-A connections and USB Type-C cable and Type-A adaptor also included with the extreme pro drive.
Conclusion
When we are looking to buy an external drive for gaming purposes only two things are the most essential one is storage space and the other things are the data transfer rate for the flawless gaming experience.
For Overall performance, Samsung T5 should be the first choice if you are looking to buy an affordable one then go with Adata's SD700. For performing SDD drive you should buy Sandisk's Extreme Pro drive.
Donate on Paypal or Buy us a coffee or Join Patreon if you find the information shared in this blog post useful. Mention 'Coffee' in the Subject. So that I can thank you.