Good news coming for Firefox users, Remember Proton? It's a new user interface for the Firefox browser. The first build of Proton was released back with Firefox v57. Mozilla is now working on updating the browser appearance and if everything goes well users will be able to try the Firefox new UI in 2021 with Firefox v89.
With Firefox proton, Mozilla will bring a modern appearance and nifty features like Tab Grouping, Vertical Tabs, and even more modern features that other popular browsers like Microsoft Edge and Google Chrome already have.
As of writing this blog post, no official screenshot of Firefox Proton UI available to get an idea about how it going to looks, you can check following mockup screenshots about how it going to look likes
Enable New "Proton" Firefox UI refresh
Although it is possible to enable Firefox Proton UI refresh in the Nightly, it does nothing. Here's goes the steps:
Launch Firefox Nightly and type about:config and hit enter.
Here, click on Accept the risk and continue button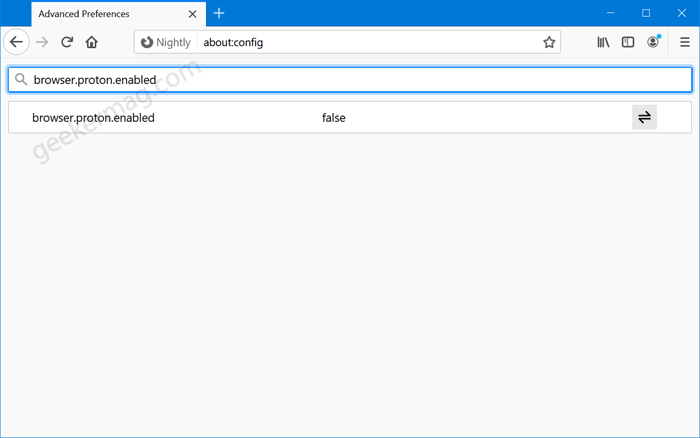 Next, on the Advanced preference page, type browser.proton.enabled, and when the same parameter appears in search results, double-click to set its value to True.
You can also use toggle button to set it value to True or False.
Restart your browser to apply the changes.
Mozilla developers have already started a bug where users can regularly track what changes the browser user interface will get. After checking the name assigned in the dedicated bug and mockup screenshot it seems like the company has plans to update the visual appearance to the following elements of the browser:
The address bar and tab bar
Application menu
Context menus
Infobars
Doorhangers
Modal dialogs
Download manager
New Run Experience
New Tab Page
So what are your thoughts about Firefox Proton refresh? Are you excited to hand-on Firefox Modern UI? We would like to hear from you.
If you find this blog post useful, please share it on Social Media. A quick share will help in growth of this blog. It hardly takes 10 seconds, isn't it?