File sharing is now easier than ever. With the latest technology advancements, people no longer have to wait hours and even days just to share a couple of files over the internet.
However, transferring large files can still be a pain. You should be familiar with the sad feeling that comes when you have to deal with the file size limits in Gmail and high-cost monthly subscription plans offered by most of the cloud storage services on the market.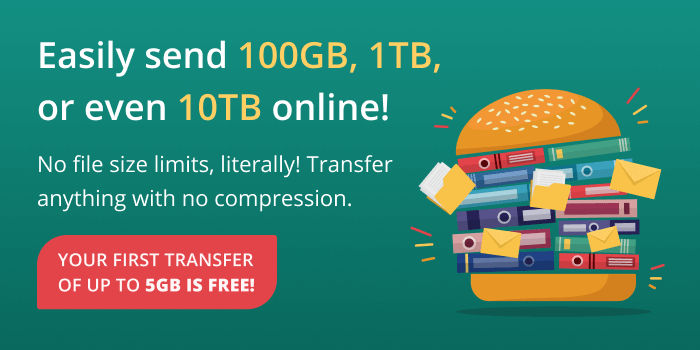 Fortunately, sending files and folders of any size doesn't have to be much of a big deal anymore. The new FileWhopper transfer tool is changing the game by allowing easy, quick, and secure file sharing over the internet.
What Is FileWhopper?
FileWhopper is a simple yet efficient online file transfer platform that allows you to transfer files and folders of any size (1GB, 1TB, and even 10TB) without having to pay for subscription plans.
You can easily transfer files of any format by paying a one-time fee that depends on the file or folder size you need to send.
FileWhopper ensures top security by using a file-encryption and password-protection feature that protects the contents of each transfer. Therefore, it's completely safe to transfer sensitive and confidential data via FileWhopper, and you can be sure that only your target recipient can access the transferred files.
With the platform's multi-threaded technology, recipients can start downloading files on their end while they are still being uploaded on the sender's end.
Unlike cloud storage services that are designed to store your files and folders, FileWhopper focuses on helping people to send large amounts of data.
How Does FileWhopper Work?
Get an Instant Quote
On the FileWhopper homepage, you can select the file or folder you want to send and get an accurate price quote based on the size of the transfer.
Upload Files Using a Tiny Desktop App
To upload your large file or folder in a fast and secure manner, you have to download a tiny desktop app that will automatically delete itself after the upload process is complete.
Share the Download Link and Password with Your Recipient
Once the upload process begins, you will get a personal download link, which you need to copy and share with the recipient. You also need to send the password that protects your transfer to the recipient for him/her to be able to access the download interface. The recipient will also access the download using a tiny desktop app that will auto-delete after the download process is completed.
FileWhopper Transfer Platform Features
No File Size Limits
Whether you have a folder full of HD movies or dozens of video tutorials to send, you can easily transfer large amounts of data to anybody using FileWhopper. You can send files of 1GB, 1TB, and/or even 10TB in size if needed. Since there are no size limits, you can transfer files of any size without having to buy a hard disk, use a file transfer protocol, or resort to other unreliable options.
One-Time Payment Fees
Unlike when using cloud sharing services and other file sharing options, you only need to make a one-time payment to use FileWhopper for any transfer. Once you select a file or folder to send, FileWhopper displays the estimated price for that transfer based on the calculated size.
Reasonable Pricing
As of this writing, for your first transfer of up to 5GB, you don't have to pay anything. Afterwards, subsequent transfers will be charged per transaction based on the pay-as-you-go pricing structure. For example, according to FileWhopper's price estimation slider, a transfer of 10GB will amount to $4.99, and if it's 10TB—you only have to pay $399.99. This also covers temporary cloud storage for up to 14 days.
Multi-Threaded Data Transfer Technology
FileWhopper uses multi-threaded data transfer technology to provide fast upload and download speeds to both senders and recipients. You can rest assured that your data is sent and received at the fastest speed possible. Also, recipients don't have to wait for the upload to be complete before they can start the download process. This technology allows uploads and downloads to happen concurrently.
Data Integrity
Almost everyone hates to restart the upload or download process due to internet connection lag or computer reboots. It's even more frustrating when you're sending a large file. However, this isn't the case with FileWhopper. If your transfer ever gets interrupted, be rest assured that it will resume automatically without any loss in data integrity.
Security
Security is a major concern for everyone, especially if you intend to send sensitive or personal data. Nobody wants to be a victim of identity theft, malware attacks, etc. This is why FileWhopper has up-to-date security measures in place.
FileWhopper ensures double security by encrypting your data with a unique ID and protecting the transfer with a password that you alone have access to. This way, only recipients that you have shared the download link and password with can access your transfer and download the data.
Since the password isn't saved or transferred via FileWhopper's servers, you can be sure that even the platform is unable to make sense of your data. The name and contents of the transfer are encrypted, and only the unique ID is used to identify your transfer on FileWhopper's servers. Even if anyone attempts to intercept your transfer, they will not be even able to see the true name of your file/folder.
How to Make a Transfer Using FileWhopper
To perform a transfer using FileWhopper, take the following steps:
Go to the FileWhopper home page.
Select the "Choose file" option to send a file or the "Choose folder" option to send a folder.
Select your chosen file or folder and click on "Open" to see the price quote for your transfer.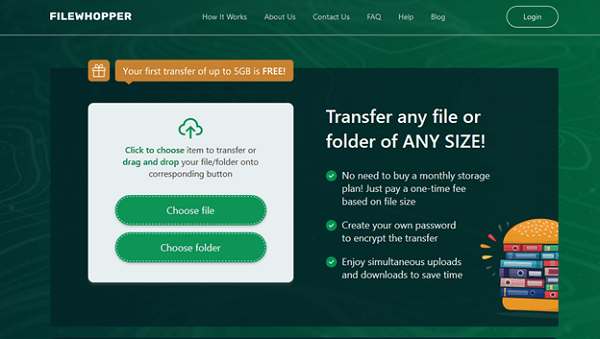 Check and confirm the size of your transfer, then click on "Registration". You can also select any additional service you require at an extra cost.
Type in your name and email address and click on the "REGISTER" option.
Your transfer should be free of charge if your first upload size doesn't exceed 5GB.
If it exceeds the limit, confirm your email address and proceed to make a payment.
Now, download the tiny desktop app and upload your chosen file or folder.
Your transfer will be encrypted with a unique ID and protected with a password. You're free to change the password.
Click on the "PROCEED WITH UPLOAD" option, then copy the download link and password and share them with your recipient.
Conclusion
Although file sharing can make your life much easier, you also need to be sure that your data is well protected. This is because insecure file sharing platforms can put your personal and sensitive data at risk.
If you plan on using any file transfer platform, the easiest way to be assured of the safety of your data is to pay attention to the security features of the application and ask questions.
As you have seen so far, FileWhopper values data privacy. No wonder it ensures top-notch security for every single transfer made via the platform.
If you need to send large files and folders without committing to a subscription, FileWhopper's pay-as-you-go system is the ideal choice for you.
As an independent platform, it takes a lot of effort to create and curate quality content daily. Our content is totally funded by users like you.
Therefore, if you find information on this website useful, we kindly ask for your support in maintaining the longevity of our platform. If each person who benefits from our website contributes, we can secure a brighter future for our website.
Donate on Paypal or Buy us a coffee if you find the information shared in this blog post useful. Mention 'Coffee' in the Subject. So that I can thank you