Right now, there are plenty of options are available for entertainment but every online streaming service charge some amount as monthly subscription whether it's for music like Apple, Spotify, and YouTube.. or it's for watching movies and series online there are services like Amazon Prime, Netflix, and soo on.
We all know it become really competitive and nobody wants to use soo many services at once. It's not even good for your devices to clog them with many applications, not just you need to spend more for each application but they will consume more device RAM and Battery usage will also be more…
So, today we have brought a tutorial for you with the help of this you can transfer and export all your Spotify Music to your Apple Music.
Even I am also personally using Apple Music. Why Apple Music? …because Apple is providing a way better deals than other Spotify Music to its subscribers.
How to Move and Export Spotify Playlist to Apple Music
You can do that easily by three different ways there are many third party services which help you to copy and transfer your Spotify Playlist to your Apple Music account which are as follows…
By Using Soundiiz
By Using TuneMyMusic
By Using SongShift
Export Spotify songs to Apple Music by using Soundiiz
Soundiiz is a web-based application, provides plenty of options regarding what you want to export and transfer from one music streaming service to another including, Apple Music, Spotify, Sound Cloud, Deezer, and many more… You can copy and transfer entire playlists, favorite tracks, albums, or specific artist tracks.. all you can do that with Soundiiz.
How to move all Music data from Spotify
1. Go to this URL https://soundiiz.com/webapp, Open the Soundiiz webapp.
2. You need to signup with Soundiiz by using your Google, Facebook, Apple, or Twitter account.
3. After done with the signup process, login into the dashboard of Soundiiz.
4. From the left Panel of the Interface Click on the 'Platform'.
5. Now, You'll have to select your source service, Choose 'Spotify' as your source service, and then you need to connect your Spotify account by logging in.
6. From the Categories of elements choose and select the desired elements that you want to transfer from Spotify by checking the corresponding box on the left side.
7. As a destination service, Select 'Apple Music' and connect your apple account by logging in.
8. The Proceed to start the transferring process, Although Transfer runs in the background but you can still your real-time batch progression.
Transfer Playlist from Spotify to Apple Music
1. Open the URL https://soundiiz.com/webapp and Log in to the service.
2. From the Library, to move your playlists.. Select Playlist by clicking on "Playlist Tab".
3. You'll have to connect your Spotify account from the left panel of the interface.
4. By checking the corresponding box, select the playlists you want to move to your Apple music account.
5. Then you'll have to click on 'Convert' from the top toolbar.
6. …and as destination service select 'Apple Music', and connect your apple music account with Soundiiz by logging in.
7. Then Proceed for the transfer process, and wait for a minute.
8. Once Process will be complete you will be able to see your Spotify playlists into your Apple Music account.
Import Spotify Playlist to Apple Music Using TuneMyMusic
Another web-based application with the help of that you can import your music from Spotify account to Apple Music Account is Tune My Music, It lets users Copy and Import Spotify playlist and music to Apple Music easily.
It is one of the easiest ways and is a web-based application, regardless of what device or operating system whether you are on android, ios or windows you can easily do that, iOS is not mandatory for this method.
1. Go to the URL https://www.tunemymusic.com, and Open 'Tune My Music'
2. Then, Go to "Let's Start", by clicking on it.
3. Click and select Spotify, After selecting Spotify you need to Login into your Spotify account.
4. Now, You need to agree with there terms by clicking on Agree after that you need to click on "Load from you Spotify Account".
5. Choose and Select your desired Playlist which you want to move.
6. After you'll have to Click on "Next:Select Destination"
7. Select Apple Music as your destination service and log in to your Apple Music account. You need to grant the permission to tune my music to access your apple music playlist and song info, by clicking on 'Allow'.
8. After that, you can start transferring music and playlist by clicking on "Start Moving My Music".
9. You need to wait for a while, Give it a few minutes and the process will be done. That's it!
Transfer Music Playlist from Spotify to Apple Music Using SongShift
No Just web-based application but there are many applications also that are able to transfer playlist between Apple to Spotify or Spotify to Apple Music or any other two or more music streaming services but Songshift is one of the easiest methods.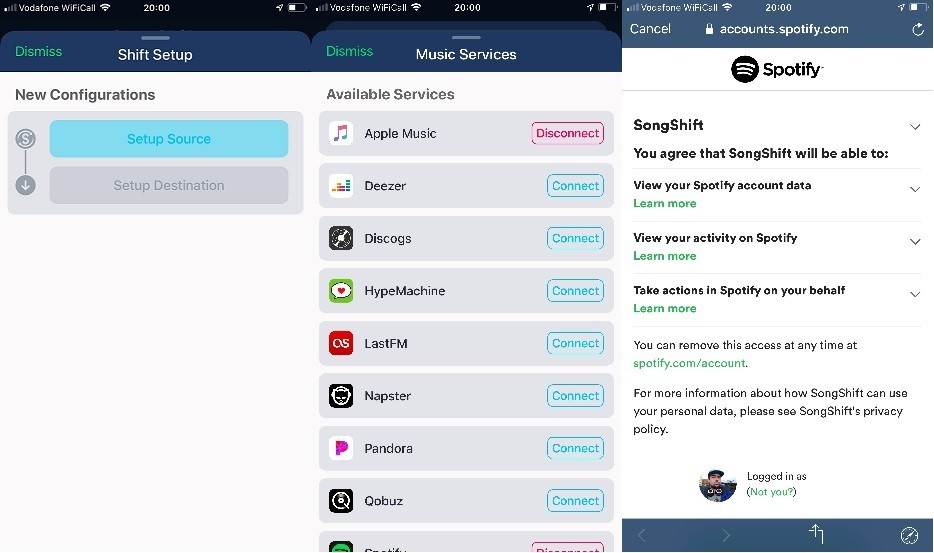 ..but SongShift Has a limitation as well, To move playlist from Spotify to Apple Music you'll require an iOS device.
By Downloading and Installing SongShift on your iOS device you need to connect your both service account with the SongShift application and then you are able to transfer the music and playlist between two of them. The complete Procedure to transfer and export the music from Spotify to Apple Music is as follows.
1. You need to download SongShift App from iTunes and Install the app on your iOS device.
2. Once Installation will be done, Open the Songshift application and then Tap on Spotify.
3. After that, you'll require to Login into your Spotify account, and then Tap on 'Agree'.
4. Next, Select 'Apple Music' as the destination source by tapping on it, then tap on 'Continue'.
5. Now, you'll require to connect Apple Music with SongShift, by Tapping on 'Connect' and then OK.
6. Grant the Access to Songshift application by tapping on 'Connect under Connect iCloud Library'.
7. Continue and log-in to Apple Music Account.
8. Now tap to 'Allow', after that tap on 'Continue'.
9. Next, you'll have to Tap on 'Get Started' after finishing setting up both the accounts with SongShift.
10. Tap on plus Icon, from the bottom of the screen.
11. Then you'll have to tap on Setup Source and Select the Spotify logo and then tap on 'continue'.
12. Select your desired playlist which you wanted to transfer to apple music and after selecting tap on 'Done'.
13. In the last, Tap on 'I'm finished', then wait for a few minutes and let the transfer process be complete, It would not take long just a few minutes.
14. then, Continue and As the Transfer process will be complete your Playlist will be copied to your Apple Music account, You'll be able to see your Spotify playlist in your Apple Music account.
Final Words
As we discussed three different ways of how one can transfer Spotify music and playlist to the Apple music account. Method using Soundiiz and TuneMyMusic is a good way because you don't require any iOS device to do that with any web-based app.
On the other hand, to transfer playlist using Sonshift is way handier than any other web-based application but the only limitation to this method is that you'll require to have an iOS device.
If you face any issue or have any query don't hesitate to ask us by dropping your query in our comment section. Cheers!
If you find this blog post useful, please share it on Social Media. A quick share will help in growth of this blog. It hardly takes 10 seconds, isn't it?