As you try to install Windows on a hard drive, the system may prompt you to pick a drive partitioning standard. That said, you will be provided with two suitable options in the same context: Master Boot Record (MBR) and GUID Partition Table (GPT).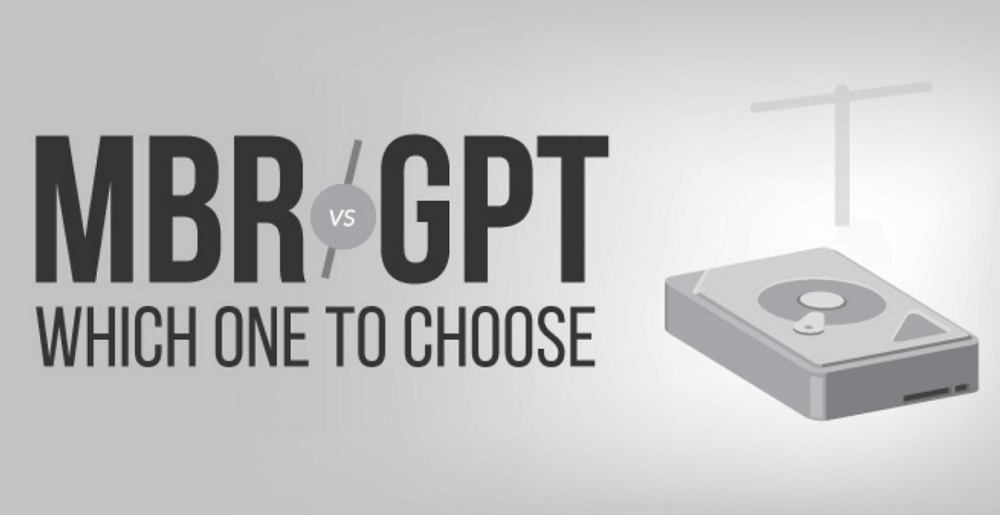 Now, most of the users don't know which of the above-mentioned options are best for their SSD, given the lack of knowledge about the features within the provided alternatives. For all such instances, we recommend you to read this blog till the end.
MBR vs. GPT: Which one is the best?
You got to analyze and evaluate both of these drive partitioning standards on a list of parameters to get the desired answer to this question. To start with, we will look into the number of partitions available in both of the available alternatives.
Available Partition limit
In laymen's terms, partitions are data-storage areas on a hard disc. That said, you must have at least one partition on a hard disc in order to save anything. Even if you are using just one physical drive, you may divide it into partitions and assign each one a separate drive letter.
You are only allowed to create four main partitions. Using logical partitions, however, you can get around this restriction. This further implies that you can easily establish three primary partitions as well as one extended partition. Moreover, Logical partitions can also be created inside this extended partition.
The main drawback is that logical partitions, which are partitions that store Windows operating system data, cannot be used as boot volumes. You could, for example, install two different versions of Windows on two different partitions. Unless you wish to boot multiple operating systems from the same drive, this won't be much of an issue.
The same restriction, however, does not apply to GPT. Without utilizing the logical partition mechanism, you can create up to 128 partitions on a single GPT drive. Moreover, this limit is exclusive to Windows as other operating systems allow for more. Yet, it's quite an improbable situation that you would need more partitions than that.
So, it's your particular requirement for Partitions that confirms the feasibility of MBR or GPT in your specific case.
Available storage capacity
MBR is quite restricted in terms of capacity and this is because of the fact that only 32 bits are available to represent logical sectors. What this means is that MBR can only utilize up to 2TB of storage space. Furthermore, any number greater than that is indicated as unallocated and unused disc space.
GPT on the other hand facilitates 64 bits and that takes its maximum storage size to 9.4ZB. So, on this particular parameter, GPT can be deemed as a clear winner.
Available Recovery options
MBR keeps all of the partition and boot data in one location. This implies that you may risk all of your data in case of a system or file corruption. Moreover, you'll probably discover out the same situation when your system fails to boot. So, we can say that it is very likely that you can recover this data from MBR, although it's not guaranteed.
GPT, on the contrary, performs considerably better in this context. It saves several boot data copies at the starting and ending points of the table headers across many partitions. Hence, the other partitions can be used in case one gets corrupted.
GPT also brings along an error-detection code that checks the partition tables on boot to see if anything is incorrect. GPT may attempt to fix itself if it locates any issues or errors during the same process.
Compatibility
The interface your system supports will determine whether you can use MBR or GPT. Currently, there are two types of available interfaces: BIOS and UEFI. While the former is an older interface, the latter can easily be found in all of the systems manufactured since 2010.
Yet, you can check the compatibility of your system in accordance with MBR or GPT while referring to the below data.
64-bit Windows 10, 8/8.1, 7, and Vista need a UEFI-based system to boot from a GPT drive.
32-bit Windows 10 and 8/8.1 need a UEFI-based system to boot from a GPT drive.
32-bit Windows 7 and Vista aren't compatible with GPT drive.
So, we can easily conclude that while MBR goes well with older operating systems, GPT does the same with newer machines.
MBR vs GPT: Our Verdict!
After evaluating both the drive partitioning standards on the abovementioned parameters, we can conclude GPT more superior to its counterpart. Moreover, if your hard disc is larger than 2TB, GPT is your go-to drive partitioning standard.
GPT is also more resistant to random data and system corruption and provides superior partition management at the same time. Besides, it's reliable and more advanced than MBR. Additionally, MBR is more feasible for older systems.
No matter whether you are opting for MBR or GPT as your preferred drive partitioning standard, you will anyways require a UEFI-based system to get the best out of them. Furthermore, as SSD's are more compatible to the new generation operating systems, using it for an older OS isn't recommended at all.
As an independent platform, it takes a lot of effort to create and curate quality content daily. Our content is totally funded by users like you.
Therefore, if you find information on this website useful, we kindly ask for your support in maintaining the longevity of our platform. If each person who benefits from our website contributes, we can secure a brighter future for our website.
Donate on Paypal or Buy us a coffee if you find the information shared in this blog post useful. Mention 'Coffee' in the Subject. So that I can thank you