What is up with this whole working from the home thing? Suddenly schedules are all messed up, people's cats are now attending meetings, and everyone's in the grocery store in the middle of the day.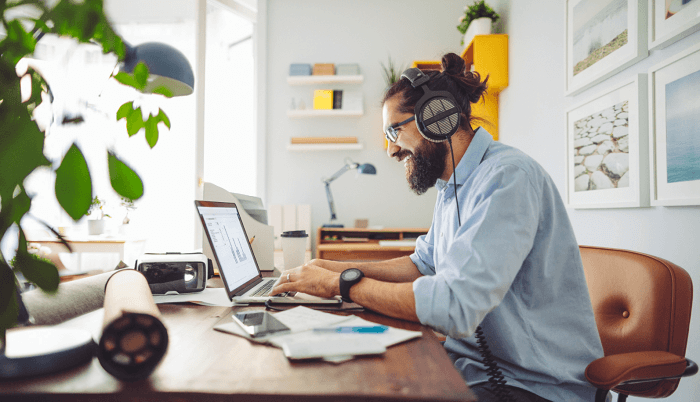 Before the start of this year, few people know what Zoom even was. Now everyone's using it. Just like Zoom makes remote meetings easier, there are plenty of other tools out there that can make working from home (WFH) much better.
Here are 5 of the best apps and tools that every remote worker should know about.
1. Communication Apps
One of the biggest downsides to remote work is that there's no way to have a quick chat at the coffee station. It's easy to feel disengaged and isolated from what's going on in the company. Team chat apps are the best way to counter that disconnect, and they foster better teamwork as well.
Apps like Slack also offer a lot of additional functionality and can integrate seamlessly with other apps too. For example, managers can integrate Asana for project management, HubSpot to streamline customer relationship management, and GitHub to create Slack deployments.
Presentations also play an unprecedented role in remote business communications. Using tools like visually engaging templates for PowerPoint can help build impactful remote presentations enhancing overall remote team communication.
2. Project Management Software
Managers have a tough time keeping track of the tasks everyone's busy working on when they can't just walk over and check-in. Morning check-in meetings via Skype or Teams helps, but it won't replace the office system that was likely in place. Project management software is one of the best ways to compensate for that, as it shows what everyone's busy working on.
Tools like Trello and Asana make it incredibly easy to track projects and assign tasks – and require accountability from each team member. It's also a good way to assign multiple people on projects and makes collaboration much less of a complicated headache. Each tool offers different functionality and features, so it's best to shop around for one that will fit with the team's work style.
3. Security Tools
It's much easier to stay protected with the security systems that are already in place at the office. Working from home takes a bit of extra work, but there are many tools that make this process easier.
Take VPNs, for instance. Virtual private networks have become a necessity since working from home because they do a great job securing network connections. The encryption prohibits outsiders from accessing any data in transit – even when everyone's working remotely. There's also secure cloud-based storage that ensures everyone still has access to the most up to date files without having to send them via email.
Also, you can find good options around this time. Make the most of all those upcoming Cyber Monday subscription deals and get some quality security tools for cheaper.
4. Time Tracking Software
Working remotely doesn't have the structure that an office provides: being able to travel to the office and working there for a set amount of time. This means it can be incredibly hard to stick to a schedule. Some people let distractions like the kids and laundry take over their work time. Others feel like they're constantly at work and forget to set boundaries, ending up in them working a lot of unpaid overtime.
Time tracking apps fix these issues and ensure that everyone is working a fair amount of hours. It also ensures that managers can make sure everyone's putting in the time they're supposed to and are being compensated accordingly.
5. Focus Apps
Face it – staying focused on work at home is a constant uphill battle. There are so many ways to get distracted, other things that need attention, and no manager staring holes in anyone's back. Self-motivation is hard, but it's not impossible. There are a number of tricks and focusing exercises that can help, but for those who want a quick fix, there are apps for focusing.
These apps generally block websites of the user's choosing between certain periods of time and also lets people set timers for when other apps won't work. Some also offer additional features, like motivational tips and encouragement.
Of course, these tools are only as good as the discipline of the person using them. Social media and other online distractions are designed to be addictive, but the apps will help as much as a person is willing to let them.
Conclusion
Each of these tools provides a unique benefit that makes working from home a breeze. That said, the costs of having to download and install dozens of apps can start to rack up, especially for small businesses, so don't forget to make the most out of good deals.
As an independent platform, it takes a lot of effort to create and curate quality content daily. Our content is totally funded by users like you.
Therefore, if you find information on this website useful, we kindly ask for your support in maintaining the longevity of our platform. If each person who benefits from our website contributes, we can secure a brighter future for our website.
Donate on Paypal or Buy us a coffee if you find the information shared in this blog post useful. Mention 'Coffee' in the Subject. So that I can thank you