Want to send large files for free and privately? Firefox Send is worth trying. In this blog post learn, how to use.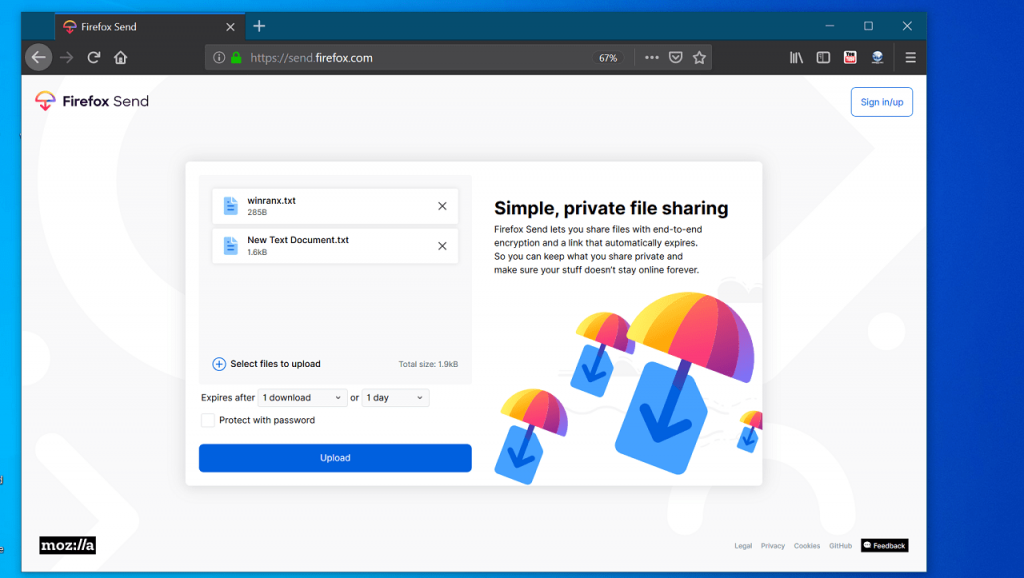 Mozilla has lots of handy products under its umbrella, and Firefox Send recently joined the list.
Firefox Send is a private file sharing service from Mozilla using which users can share large files for free with end-to-end encryption. The link will remain active for seven days, and after that, it will self-destruct automatically and keeps shared files private.
Without creating account on Firefox Send, you can share files upto 1GB and just by creating an account on the service; you can increase the file storage service upto 2.5 GB
It is a part of Mozilla Test Pilot experiment made debut in August 2017.
1. First of all, you need to visit "https://send.firefox.com/."
2. Here on this page, click on the "Select files to upload" button.
This will open the 'Browse' window on the computer and select the files which you want to share.
To Set Expiration, you need to be login into the service. Using it, you can either select after how many uploads or after how many days link will expire. The maximum upload limit is 100 and the maximum number of days is 7.
In case, you want to make the file sharing password protected; then you can also do that.
You need to check the box for "Protect with Password" this will unlock a box where you can enter the password.
3. Once done, click on the Upload button. This will provide you the encrypted file link which you can copy to share it where ever you want.
Note: If you don't create account, then all the files will remain available on the homepage till expiration date. And if you create account, all files will be listed under your account.
This is how to use Firefox Send to share files privately.
Firefox Send is great alternative to email services where you can't upload large attachments. Just upload the link and either add the link in the email or share the link directly.
What are your thoughts about Firefox Send? Find it handy? We would love to read your opinion in the comments.
Donate on Paypal or Buy us a coffee or Join Patreon if you find the information shared in this blog post useful. Mention 'Coffee' in the Subject. So that I can thank you.