Want to enhance the look and performance of your Android phone? The Android launchers in this blog post are worth trying.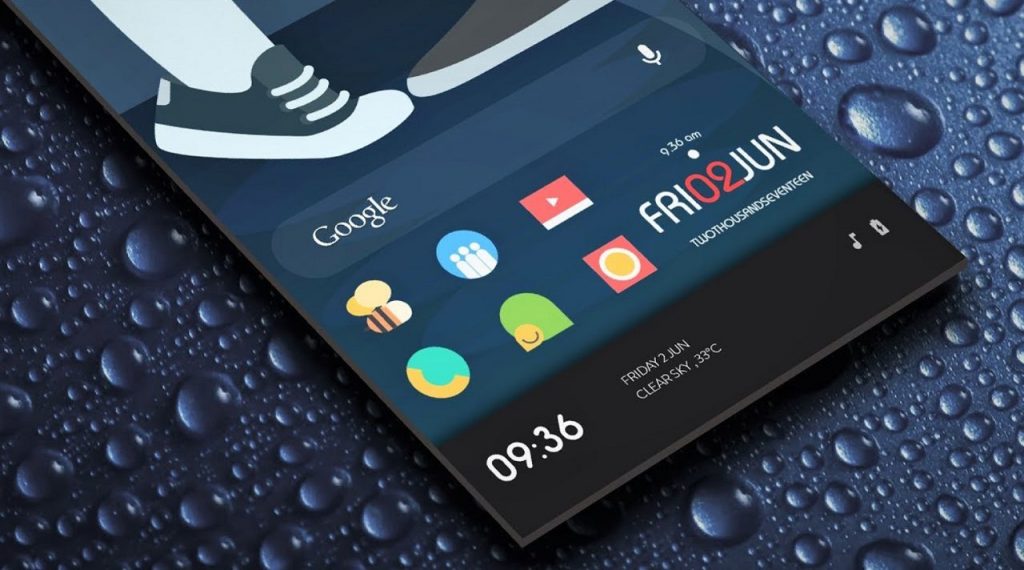 Android launcher comprises of the home screen and catalog of all the applications which are available on your android device. There's a default launcher which is pre-installed in every android phone but you can get any other launcher for android which you can customize as per your needs.
Why someone should go for any third party Android launcher? The answer is really simple. The third-party launchers for Android offer many customizations to suit your requirements.
Fortunately, there are hundreds of homescreen launcher for Android available on Google Play store that users can use to personalize the look of device homescreen.
Best Launchers for Android 2019
To help you out, I decided to write this blog post featuring some the list of the best Android launchers for you. Let's have a look at the first one –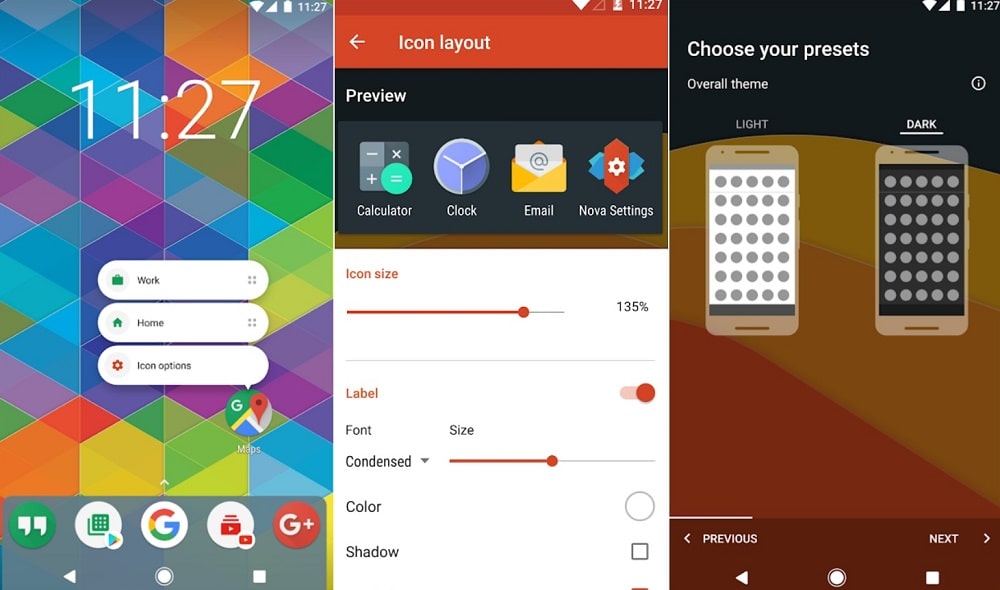 The main features of Nova are that it is very efficient, lightweight and fast. It also supports notification badges and docks customizations so as to show the frequently used applications on the top of the row in the app drawer.
It also gives customization feature for icons and folders, dozens of gestures and a lot more.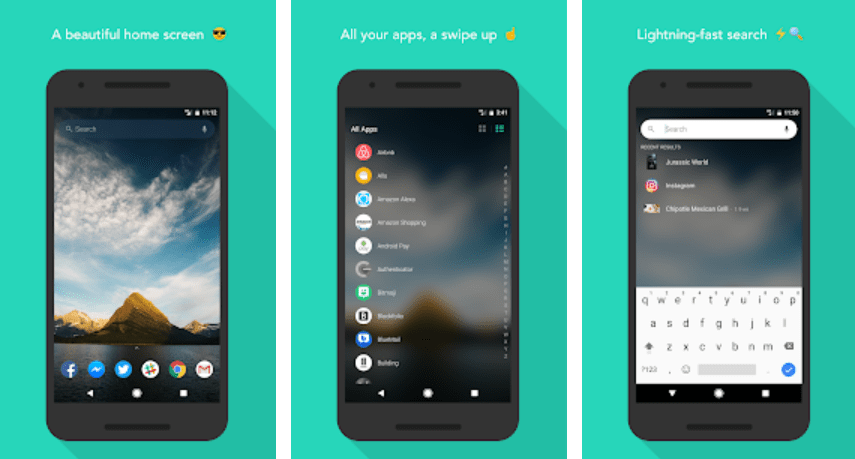 Evie Launcher is among the fastest and smoothest Android Launchers. It comes with a universal search feature which lets you search within the apps from one place. It also offers a wide range of customizations and shortcuts on the home screen.
The only downside of Evie Launcher is that you will not find many gestures in the app.
Buzz Launcher has a unique feature called "Home pack Buzz" which is a home-screen customization service with over 700,000 home screens uploaded & shared by thousands of users. It comes with inbuilt- RAM cleaner and app locker.
There's also an additional feature called "Screen Effects" which is available within the app. It is similar to the live wallpaper but with animation effects like autumn leaves or snowfalls floating on the screen.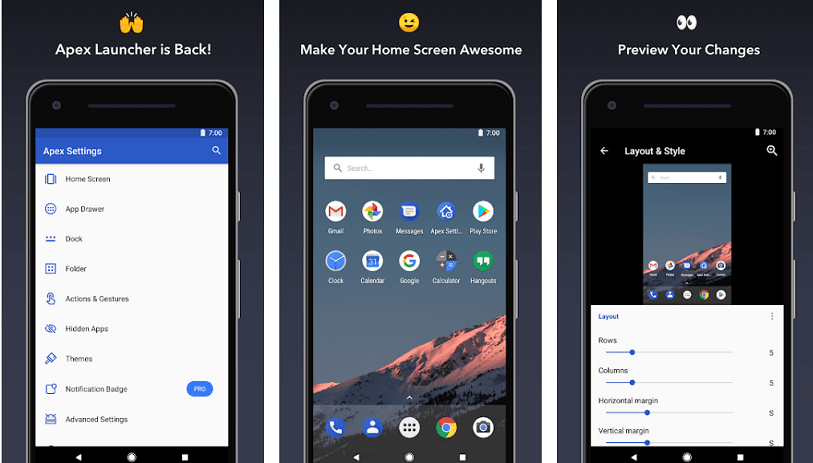 Apex has thousands of themes & icon packs which you can get from the play store. This lightweight launcher is optimized for both tablets as well as smartphones.
Using this launcher upto 9 customizable home screens can be added and you can also hide the apps (which you don't need) in the app drawer.
Smart Launcher 5 is a complete overhaul of the previous versions. It is quicker & simpler. This launcher adapts its colors according to the wallpaper that you set. Not just this, the customization of the widgets is amazing. You can get as many as you want and can resize them.
You can also set PIN for protection on apps.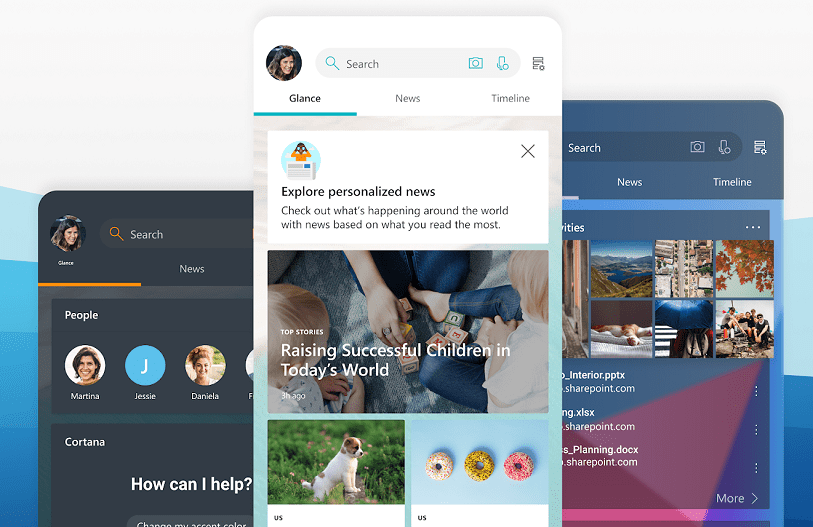 Microsoft Launcher is a fast and elegant Android Launcher which comes with many customizations from the Microsoft. The home screen has panels which resemble the Google Cards and it updates new wallpapers every day from Bing.
Microsoft Launcher is available in many different languages. Just by using Microsoft account, you can also access important documents, calendar, and recent activities in the personalized feed.
ADW Launcher 2 is fast, stable, and easy to use and offers many customizable options. There are app indexing on the app drawer, icon badges, transition animations, launcher shortcuts and a number of other important and useful features.
Since its the improved version of ADW Launcher, most of the features are redeisgned and reprogrammed from scratch.
Google Now Launcher is Google's in-house launcher. This launcher adds Google Now Cards by wiping right on the home screen. Also, Google search bar design is customizable from the home screen itself.
One drawback of this launcher is that there isn't a lot of customization which you can do.
Google's launcher, Pixel comes pre-installed on Google Pixel devices. In case you like the overall feel of the stock Android, this one is a must-have Android Launcher!
Even though it is not customizable as compared to the other launchers, this app is highly intuitive with the suggestions and the Google cards.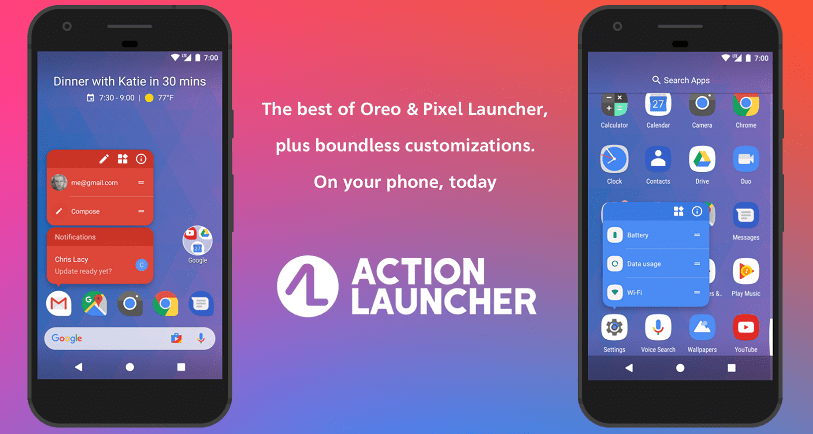 Action Launcher is the quickest launcher. It comes with the watchword- QUICK- Quickpage, Quickdrawer, and Quickbar. This is also the most customizable launcher. It supports the newest versions of Android, which also includes the goodness of Android Pie.
It bring best feature of Android Pie and Pixel launcher to your phone
Pocophone F1 Launcher is a Xiaomi launcher and it is built for speed. There is also an option of searching the apps by color. It is fully featured homescreen launcher app for Android phone.
The launcher app is secure, super fast and designed beautifully. Also it is lightweight as well.
The latest version of Pocophone F1 launcher, version 2.6.0.6 is the most stable. You do not require using the Pocophone F1 for using this launcher.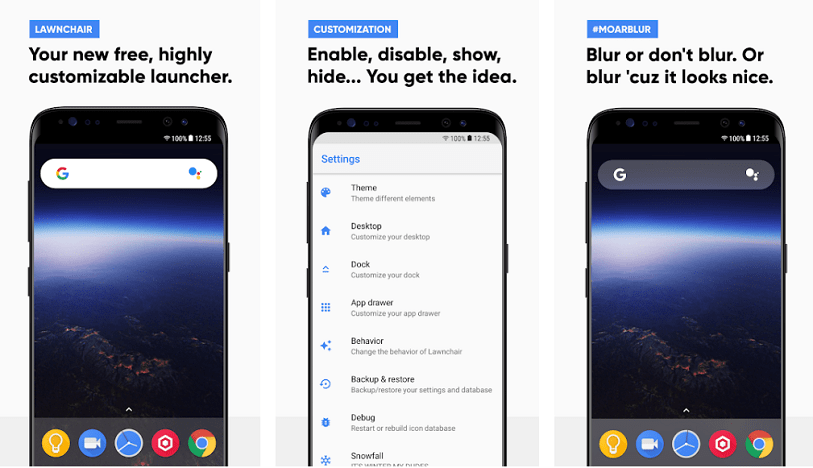 Lawnchair Launcher is among the newer Android Launcher applications. It is an open source project which mimics a great deal of feel and looks of the Pixel Launcher. Some of these features include Android Oreo shortcuts, icon pack support and notification dots, adaptive icons, Google Now integration and many other customizations.
Lawnchair Launcher is also available in beta version. It already works better than most other launchers. Best thing about it is that it is ad- free.
Niagara Launcher is especially for the minimalists. It is even more streamlined than Evie Launcher. You can set 8 frequently used apps on your home screen and if you want to access the complete list of apps, you can use the alphabetized sidebar.
There is no folders, no bloat, and hence, no fuss. It is a super speedy launcher.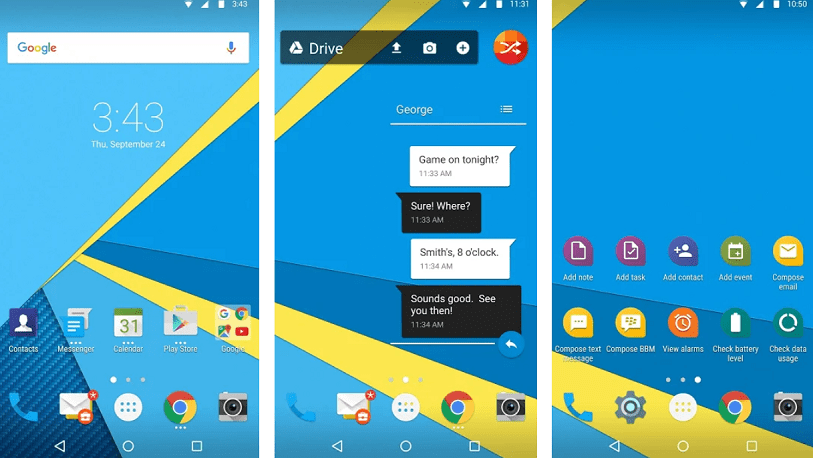 Blackberry Launcher is stable and eases the android newcomers into a number of possibilities available on any android launcher. It is highly customizable and efficient just like most other Android launchers. However, it stands out because of its amazing keyboard shortcuts.
It is a business geared launcher. To get started with BlackBerry Launcher all you need is a BlackBerry Hub+ Serice app.
AIO Launcher is different from other Android launcher apps since it does away with standard home screen. It basically shows the things such as your missed calls and latest SMS, your system info, your media player etc.
The paid version of this app is also inclusive of integration for Telegram along with your regular widgets from the other apps.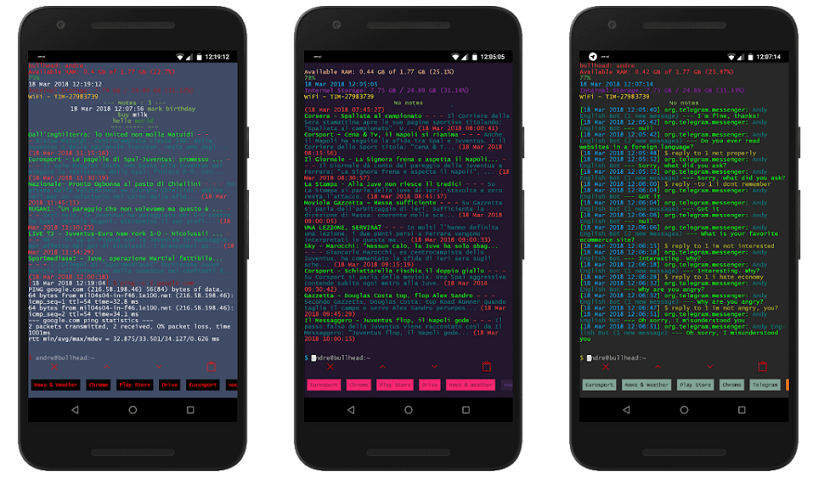 As the name itself suggests, Linux CLI Launcher turns your home screen into Linux Command Line interface. You can interact with either the native android commands or T-UI commands. For instance, for uninstalling any app, you need to type in the command "uninstall app name".
It is the most unique launcher of all times! It is free to download and install.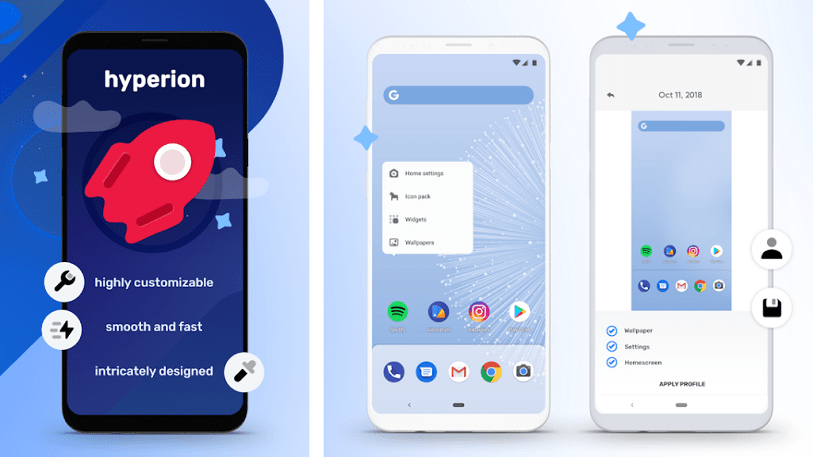 Hyperion Launcher slots in very nicely between the heavier launchers such as Nova and Action and the stock Android experience of the Lawnchair. There are many customization features and also include third party icon support, theming elements, icon shape changer and some other neat stuff.
Hyperion Launcher supports Google Feed as well; however, it requires a separate download.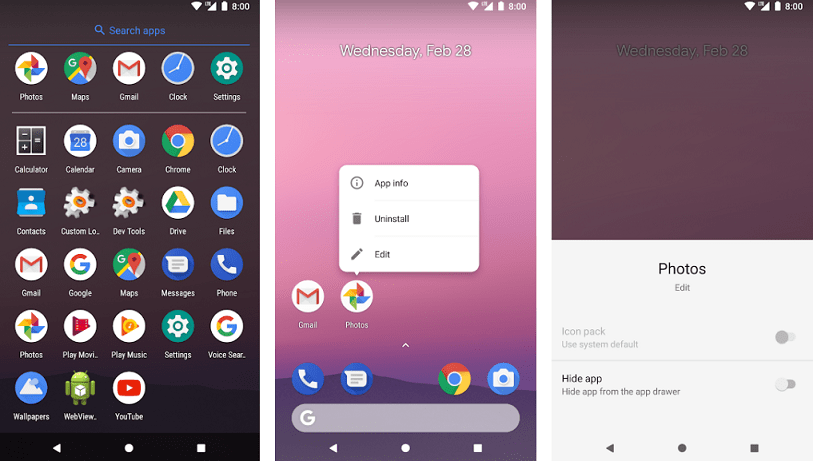 Lean Launcher is a highly customizable, open source and lightweight launcher for Android. Lean Launcher gives a healthy dose of stock Android minimalism.
It supports newer and popular features which include app shortcuts, notification dots, Google Now, Icon shapes, Gesture & Action, and even more accompanied by various customization features
There may be some bugs in the app since it is relatively new.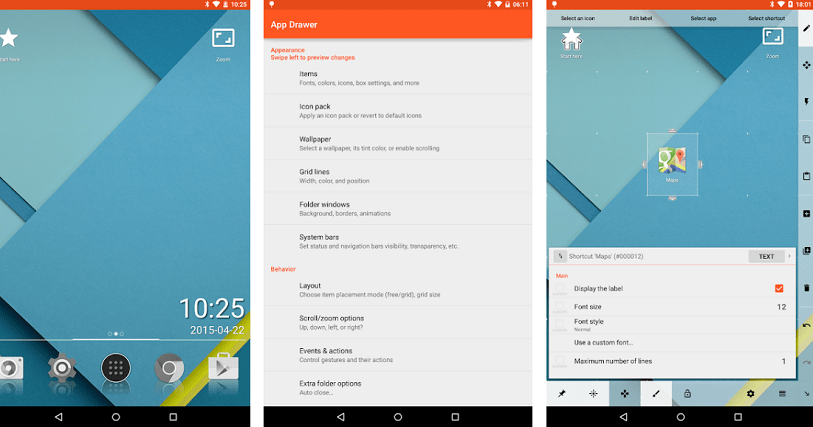 Started with being the minimal, fairly decent launcher, Lightning Launcher has now grown to become the most customizable Android Launcher now. It is still super- lightweight though. You can change anything virtually on your home screen with this launcher.
The most unique feature, however, is its scripting support. You can simply use the JavaScript and make this amazing launcher do all kinds of stuff as per your wish.
TSF Launcher comes with an array of customizations which include full gesture support. The additional features of this launcher includes an unlimited dock bar, 3D animations, batch selection of the things like icons on home screen, the widgets etc.
TSF Launcher is absolutely free to download and use. It also comes with extra plugins which add up the app badges.
Rootless Pixel Launcher 3.5 is absolutely free to download and it gives the stock Android look. This amazing launcher gets updated regularly to fix bugs and add new features. There's also an Android Go version of this launcher which is absolutely good news for the Android budget phone users.
The only drawback of this launcher is that it is available for the users running Android 5.0. Users can also download and install the Rootless Launcher apk staright from the Github.
If you are looking for a clean and fast launcher, ASAP Launcher is the one for you! It uses cards & a slide- up expandable dock for giving a clean launcher experience. There are some swipe gestures with which you can easily access the quick setting toggle, the app drawer, calendar, and contacts.
There are themes available which spice ups the experience of using this launcher. Installation is absolutely free. There is also a paid version as well.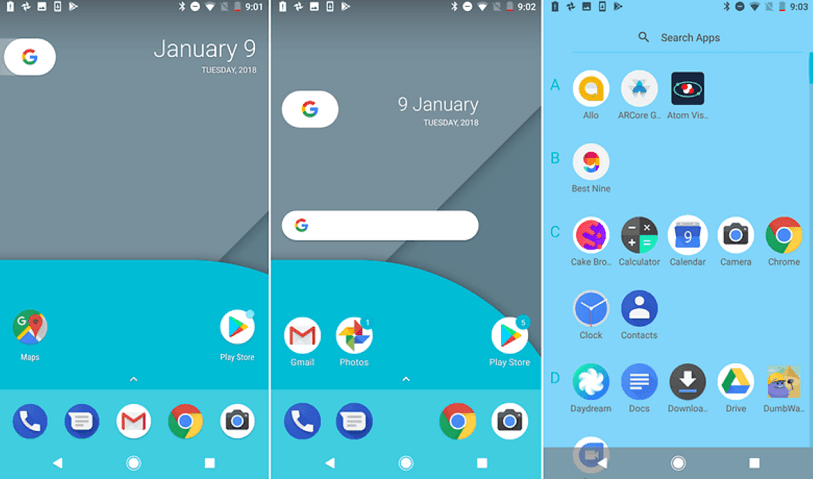 What makes Flick Launcher stand out from other launchers is its capability to have lots of customization options while staying nimble and fast. This launcher is very much inspired by the Google Pixel Launcher. But, it also brings many tweaks of its own.
The most unique feature of this launcher is that it allows the customization of the dock as well. You can modify the number of widgets and icons and can also change the background and the heights.
CM Launcher 3D is among the most popular android launchers if you are a fan of different themes. Installing the themes on this launcher is very easy. CM Launcher 3D also have many other features apart from theming capabilities. There's 3D effect features which incorporates the 3D transitions in the interface.
The only downside of this launcher is that there's no paid version available. So, you will have to deal with a number of ads which appear on the screen.
The most unique feature of Solo launcher is that it lets the users use their photos as the app icons. Isn't it amazing! Other important features which this app has are the universal search, gesture support, built-in cleaner & booster etc.
The only drawback of this app is that there are great deals of ads you have to bear. It is absolutely free to download.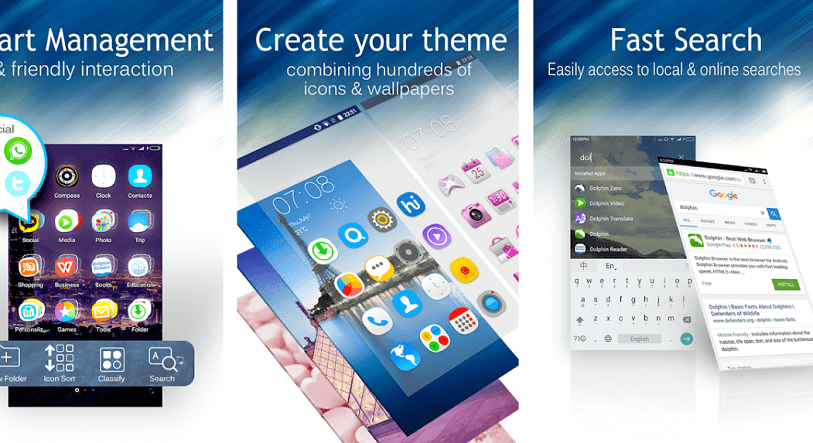 Another pro- theme launcher is the C launcher for Android Devices. There's a theme store which hosts many themes. You can simply download and apply the one you like and give your android device a makeover!
The most appealing feature of all is the animation change according to the theme you use. However, this launcher is very heavy because of all these theming choices and options. There are ads too, but thankfully, not too much.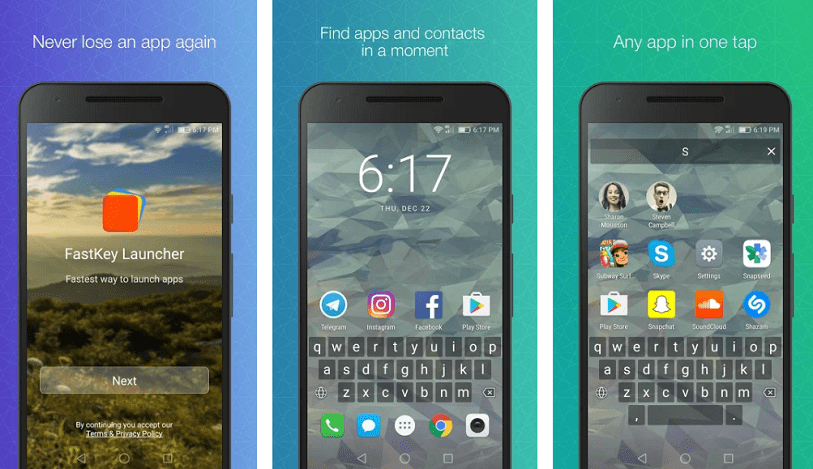 With no- nonsense user interface, FastKey Launcher stands out as being the best launcher for productivity. It comes with permanent keyboard with intuitive and fast search capabilities. You just need to start typing the name of the file/contact/app and it will give you exactly what you are looking for before you even finish typing the full name.
If you're among the people who have no time to waste at all into fancying up things and like to get your work done fast and easily, FastKey is the launcher for you!
DailyDo Productivity Launcher is for the people whose lives revolve around task manager and calendar. This amazing launcher integrates with Todoist and your calendar and gives you access to all the tasks, events and the reminders which only one swipe up on your Home screen.
It comes with a magic plus button which lets you easily create alarms, events, and tasks etc. It also has a handy search bar which makes everything all-the-more easier and organized for you.
The best feature of Lucid Launcher is that rather than bringing the horizontal scrolling homepages, it brings vertical scrolling homepages. There are different swipe gestures that can aid you in easily finding the apps or browsing the web.
You can edit & theme the icons & use unlimited widgets. You can also access your loved- apps on the sidebar with only a few taps.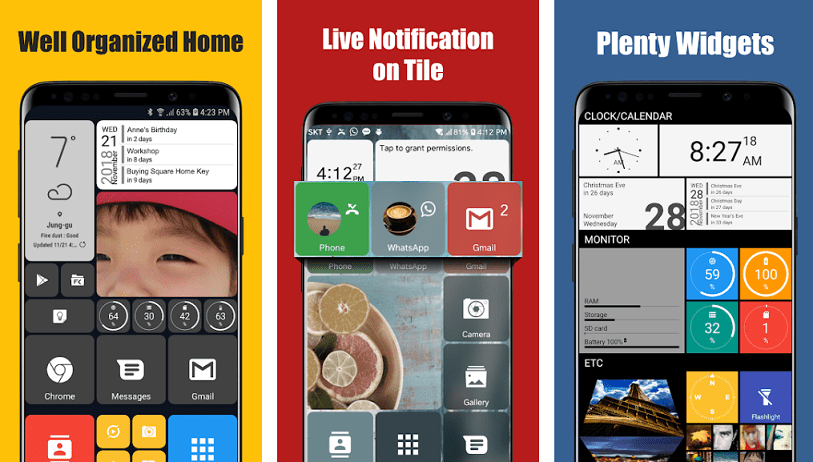 Inspired by Windows 10 mobiles, SquareHome 3 Launcher brings the same resizable square tiles theme. But only the looks are similar to Windows 10 and everything else is very different. You can not only add widgets and apps with the tiles but also the app shortcuts, the divider lines etc.
You can also create shortcut tiles for messages, contacts, camera and even the third party apps.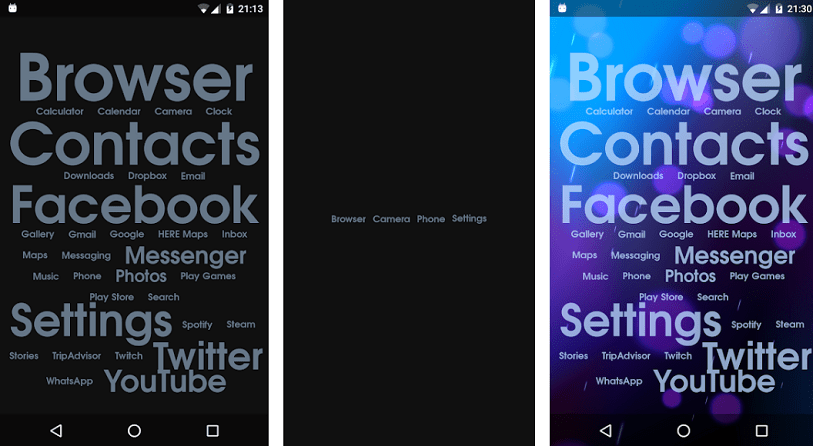 Why ap15 Launcher is the most unique of them all is because it removes everything from your home screen and replaces with text- based application drawer. If you wish to open an app, you just need to tap on the name of the app.
The apps which you use the most will have bigger size name while one the one you don't use as frequently will become smaller with time. You can also customize the background and the color of the text.
Did you find this list useful? Is there any other best Android launcher which I missed to cover in this list? Share your reviews or whatever in your mind in the comment section below and let me know which one is your favorite launcher out of all these and why!