Are you looking for the Best Facebook Games to play? There are lots of places to play games online, and one out of them is Facebook. There are thousands of games from different genres readily available for enthusiastic users with a lot of perfection.
But the question is which are the best Facebook Games to play. Within Facebook's interface, you need to click on the Play Game and start playing it. On the other hand, every Facebook game is so unique and special in many aspects.
Facebook has single-player games accompanied by multiplayer games that allow you to make a few friends on Facebook.
Do you know? How to Play Facebook Instant games? If Yes, then you might love to check our blog post on best Facebook Instant Games
The Best Facebook Games 2022
To help all the Facebook games fan, I decided to create a mega list of Facebook Games featuring all the best Facebook Games of 2022
So without further delay, why don't you start checking the list of best games on Facebook:
Candy Crush Saga is the most delicious puzzle game which you love to play on Facebook. The game is featuring thousands of delicious levels. You're required to solve various puzzles like finding objects, matching similar candies, beating time, defusing candy bombs, and more.
Texas Holdem Poker is a fascinating card game based on game theory and probability. The game has quite a fan base in the world of card games; the game rules are straightforward – there's a pot where all the users put in their virtual money then cards are drawn out randomly by the computer. The order of cards is AKQJ1098765432 with the Ace being of the highest priority.
Social Wars is a popular Facebook game with an Alien and Army theme. In the game, you have to take responsibility and lead the army of the mechs and men in the battle for saving the planet by ending all the battles.
Tetris Battle is a popular and addictive game on Facebook. The game is featuring Battle 2P and Marathon mode you can select the mode according to your desire. The battle 2p more is popular among users as you go live with other players. This makes the game more interesting.
Bejeweled Blitz is a simple game, all you need to do is keep the same kind of jewels in linear form (straight lines or diagonals). The better you do it, the more you score. The game is quite popular.
Candy Crush Saga is another best game on Facebook. In the game, you will enjoy new candies, cool combinations, and exciting game modes brimming with purple soda. Similar to Candy Crush Saga
It is a popular Hidden Objects Facebook Game. In this game, you need to play detective solve criminal cases, and look for hidden objects. Sometimes it shows a disturbing crime scene. Still, the majority of Facebook users enjoy solving cases with perfections.
Coin Master is addictive and one of the best Facebook games which users love to play. In the game, you need to spin, attack, raid, and build on your way to a Viking Empire.
Papa Pear Saga is another title of King. Enter the wacky world of the Papa Pear. In this bouncing Facebook game, you have to light up the bulbs using Papa Pear. You will bounce around fruits, acorns, and chilies. The more you bounce, the more you score.
Country Life is a game very similar to Farmville. It's a virtual simulation of a countryside life where you grow plants, feed cattle, harvest crops, etc. The game has been around for a very long time and still has over 0.1 million monthly users. During its peak, the game had over 10 million users.
Backyard Monster is the popular real-time strategy game on Facebook that revolves entirely around monsters. In the game, you need to build and strengthen the empire, hatch robust monsters and bathe in the blood of enemies.
It is to be noted that in Dragon City, you mustn't expect Godzilla to destroy buildings in its path. It is the most sought-after the game by all age groups. It is an instant hit among players with a lot of perfection.
With great animations, 8 Ball Pool is a level virtual pool game. With a simple style, you get a great chance to play. The social character of this game is very limited.
Monster Legends is the creators of Dragon City on the open market. It is to be remembered that with over 150 monsters readily available, this game comes with new monsters and different abilities. It is well designed for its esteemed players.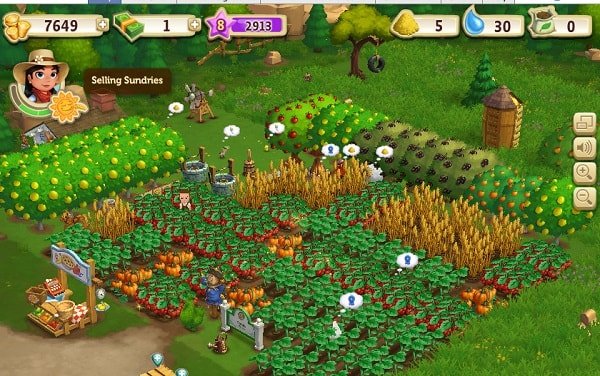 Farm Ville 2 is a popular farming plus simulation game. It comes with more 3D effects and graphics for users with a lot of perfection. You deal with many things related to farming like growing crops, raising animals, etc.
Baseball Heroes is a game primarily based on baseball. In the games, you need to create an unbeatable with your Facebook friends and go against the best teams in the world to win the championships. Whenever the level up you will get reward points to improve your playing skills
Much similar to Bejeweled Blitz, the game is based on how efficiently you place the same diamonds, the more you linearly put them, the more you score and the more experience you gain.
Cafe World is another fantastic game that has been around for a while now. It's a real-world simulation of a café and has been developed by the very famous Zynga. In its first week, it had garnered over 8 million daily users. The game is all about managing your virtual café and serving orders.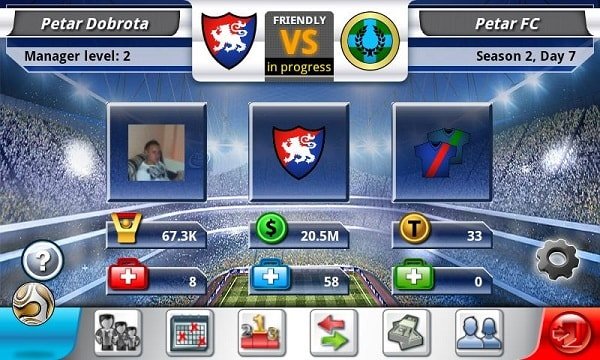 Best Soccer manager another best facebook game available that you will love to play. In the game, you can create your virtual soccer club and compete with your Facebook friends and other players in Champions League, League, Cup, or in friendly matches.
Pearl's Peril is a beautiful hidden object game on Facebook. Why don't you join June and explore the exciting world of 1920, hunt for clues, and solve mysteries?
Throne Rush is a popular RTS game on Facebook. The game features a medieval fantasy world and you have to create your empire, make a mighty army, and then attack the enemies to establish the hold on the Throne.
Farm Town is a countryside virtual simulation game that's very much similar to already available, and much played Farm Ville from the developers at Zynga.
In the game, your job is to save the pets by matching two or more blocks of the same colors to clear different levels. Your puzzle skills will be checked throughout the game so plan the moves thoroughly, create matches and free the pets.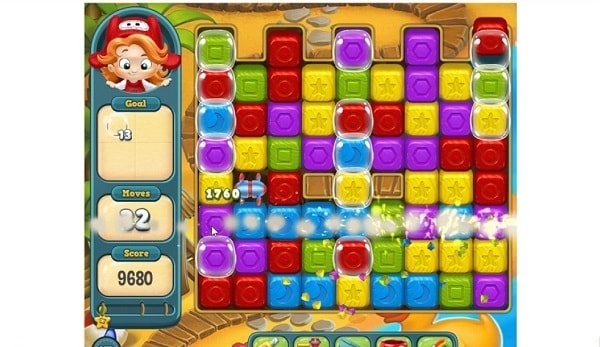 Toy Blast is a highly addictive matching puzzle Facebook game with unique boosts and magic powers. In the game, you have to help Amy in collecting her precious toys. You can do that by collecting two or more same color blocks to complete the level and collect toys.
Trivia Crack is the most downloaded or played Trivia game on Facebook, so that's what sets it apart. If you are up for a tricky game, go for this one – you'll surely love it.
Words With Friends is a crossword type of multiplayer game that you can play with your fellow Facebook friends. This game is recommended for people who want to improve their vocabulary too.
An easy game, instead of an application that lets you create comics that stars you and your friends. The game can bring out the creativity in the kids for sure. So if you have kids, make sure you make them play this game at least once.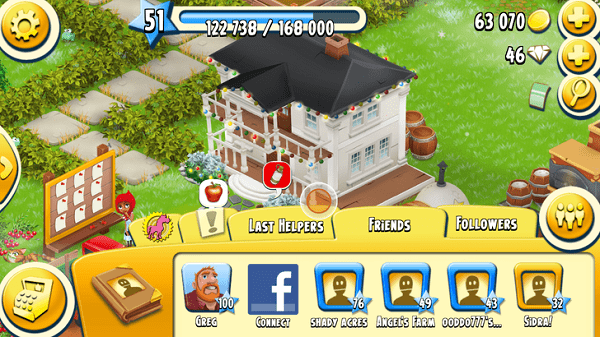 Hay Day is a game similar to Farm Ville or Farm Town that asks you to build a virtual farm and work on it. You can sow and harvest crops, take out benefits from the cattle, etc. This is also a countryside simulation game that you'd surely love to play.
Bubble Witch Saga is another enthusiastic game from King.com. Like any other bubble popping game, the central plot is the same. It is to be remembered that you have to shoot bubbles plus match 3 or more bubbles successfully.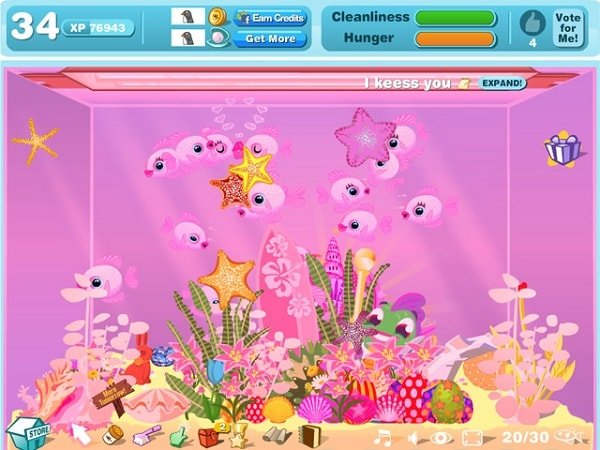 Happy Aquarium is more like a virtual aquarium where you can decorate your aquarium, feed the fishes, and watch them grow. You can control oxygen levels in the water, and do even necessary things like switching off the lights, catching fish to get some coins, etc. The game is total fun.
If you"re a fan of the Angry birds game then try Angry Birds Friends. In the game, you need to compete in weekly tournaments with your Facebook friends and figure out who is the perfect bird flinger. In the game, you will play six pig-packed fresh levels twice a week.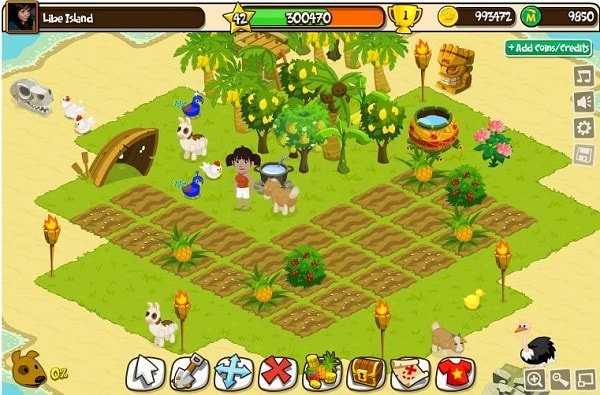 You have your island where you'll have to sow and harvest various crops and cattle. The game is a bit different from other games like Farm Ville or Farm Town because of the island factor; you will see a lot of things different from Farm Ville. The game is total fun to play.
Rancid the Racoon is attempting to destroy the valuable Farm Lands by stealing as many cropsies along the way. In the game, you need to join the Farm Heroes and help them to collect the cropsies and save the day. The game is featuring hundreds of different levels of matching and switching farming fun to explore.
Happy Pets Facebook game is more like a simulation of being a pet owner. You can adopt pets ranging from dogs to cats. The game is quite addictive just like other simulation games available on Facebook.
Social Empires is a gripping game that asks you to make a virtual empire, and you need to tame various takes like dragons, etc., and keep building the empire. The game is fun for those who like strategy games like Age of Empire etc.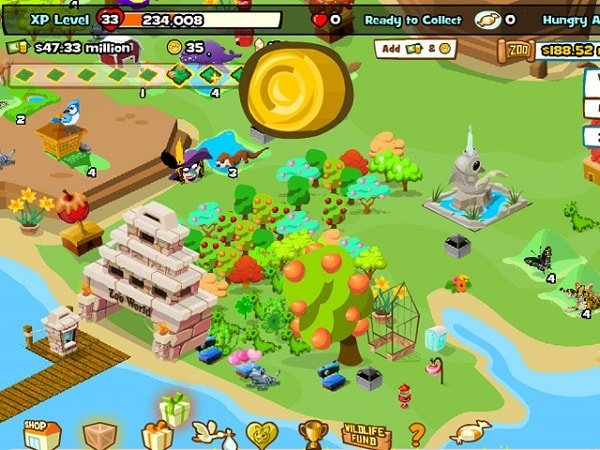 Zoo World is another virtual reality game that is all about administrating the zoo. You can share various items with your friends; you can breed animals etc. The primary goal is to make your zoo bigger and better and work on the levels.
Yellow and loyal minions are ready for one of their toughest challenges. In the games, you have to play as Minion and compete with other users in fast-paced and hilarious difficulties to impress your boss.
Bingo Blitz is a popular free bingo game on Facebook. In the game, the players are required to collect the Elves throughout the game. You can also earn the same by completing a room, leveling up, and can be gifted just by making a trade with friends. You can also purchase Elves from the store.
A great fan of Slot machines? Give Slotmania Slot Machine a try. The best Facebook game that provides you an amazing Video Slot experience that no other game can provide. The game brings the Slot machine of Vega to the right on your Facebook screen. So why don't you join the largest Slot game on Facebook?
MindJolt Games on Facebook is a collection of the best Facebook games that are designed to play with your brain. The games are of various range; some are hard while some are easy – you can surely give them a try. Just jump, fly, avoid obstructions, get bananas, be naughty, and beat your villain to capture the title of Minion of the Year.
You can also play Facebook Status Games with your friends. In the game, the user uploads a funny or tricky question, and friends have to reply to the question in the comments. Guess what? This type of game increases the engagement level to its best. What is your best Facebook Status Game question? Share it in the comments.
These are the Best Facebook game lists worth trying. I have missed various new Facebook Games as it is not possible for me to try all of them. Why don't you help me and share your favorite games on Facebook?
GeekersMag comment section is all yours 🙂
Note: This list of Best Facebook Games 2022 will be updated every month so bookmark this blog post for new games.
As an independent platform, it takes a lot of effort to create and curate quality content daily. Our content is totally funded by users like you.
Therefore, if you find information on this website useful, we kindly ask for your support in maintaining the longevity of our platform. If each person who benefits from our website contributes, we can secure a brighter future for our website.
Donate on Paypal or Buy us a coffee if you find the information shared in this blog post useful. Mention 'Coffee' in the Subject. So that I can thank you