If you want to get rid of some stuff to declutter your house, or buy something but don't want to spend much on brand new products, OfferUp provides a pretty great value. It connects you to potential sellers and/or buyers for the items you need to buy or sell. And that's only the tip of the iceberg.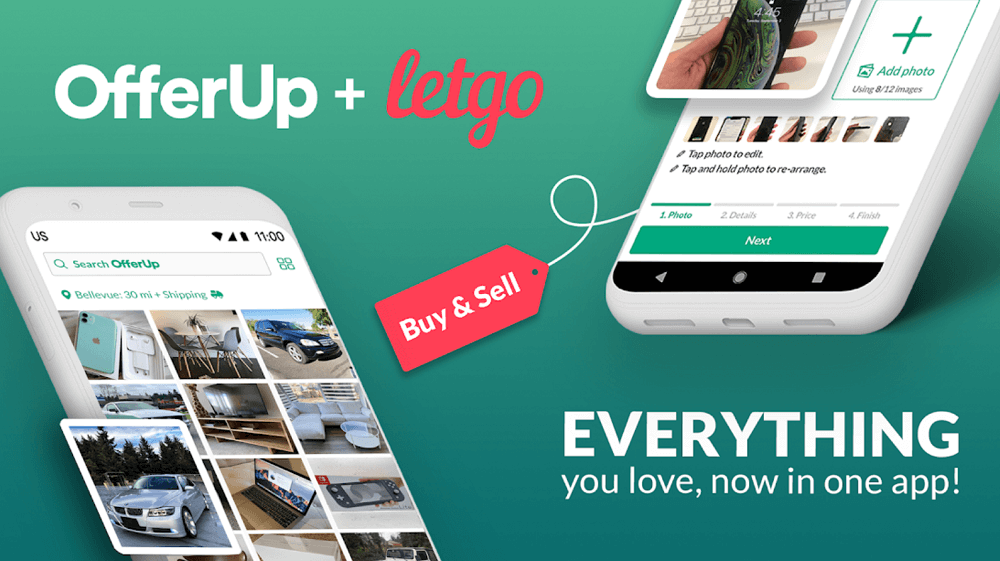 Although it's always good to have an alternative to your favorite apps like OfferUp. Fortunately, there is a slew of additional apps similar to OfferUp that provide the same basic purpose. It will result in greater exposure for you and of your used products.
Best Apps like OfferUp (Alternative)
To help you out, we decided to do some research on the web and manage to create a list of apps similar to OfferUp in this blog post. What is special about these OfferUp alternative apps and websites is that they offer a plethora of options for a surprisingly low price and great exposure to sellers.
So let's start with the first app in our list:
LetGo is without a doubt one of the most popular applications available right now. It is a free classifieds app with more than 100 million active users. The UI is minimal and clutter-free as well. It can auto-fill your advertisement, which allows you to put your stuff up for sale quickly. This is useful if you have a lot of goods to sell but don't have a lot of time to make your advertising seem nice.
You can also use the location filter to verify that all of the items listed are within a driving distance from your house.
This one is more like a trading app, rather than buying or selling. You can trade the things you no longer need, for more useful ones. You will be responsible for covering the shipping costs, which is typically a modest price you can pay to get your items.
You need credits to buy stuff though. If you're short on credits, you have to option to purchase credits since accumulating credits is a pretty time-consuming process. Just take a picture of the thing you want to sell, set up auctions, and put it up for sale.
Mercari is just like the other applications on our list that lets you purchase and sell things locally. It also simplifies the process by providing you with all of the resources you need to promote, deliver, and make withdrawals on the app itself. You may select from a variety of delivery choices.
If you don't receive the product as stated on the list, the app will refund your money, which is pretty unique. Additionally, the app's listing is free, and it only costs you after your transaction is completed.
eBay, under the classifieds section, allows you to look for local sales to locate products that you can pick up from the seller within your desired location. It takes your location into account and offers things that are close to your home. That way, you get to contact the seller and/buyer directly and discuss the goods without having to go through a middleman.
It also has a chat feature to help you communicate with your buyer or seller through the app itself.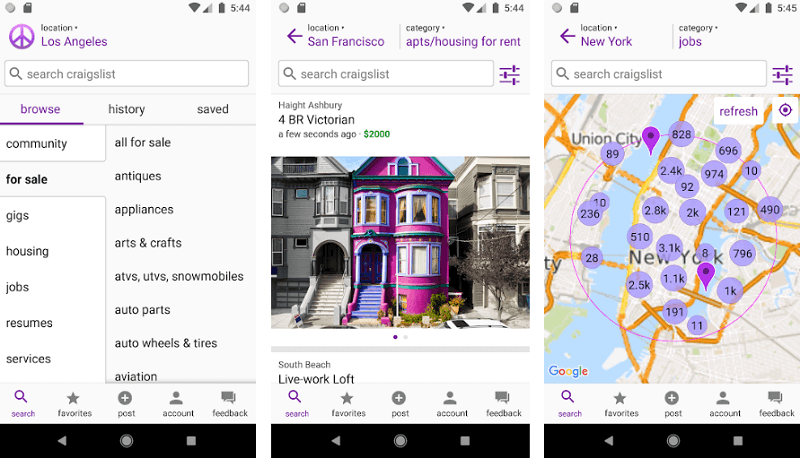 Craigslist is a website where users may post classified advertisements and connect through message boards. It began as a San Francisco-based e-mail list in 1995, then in 1996, it was transformed into a website by the developers. Its global footprint began to expand rapidly in 2000, and it now serves more than 70 nations.
Craigslist is used by millions of individuals to sell goods, and find employment, housing, and other services.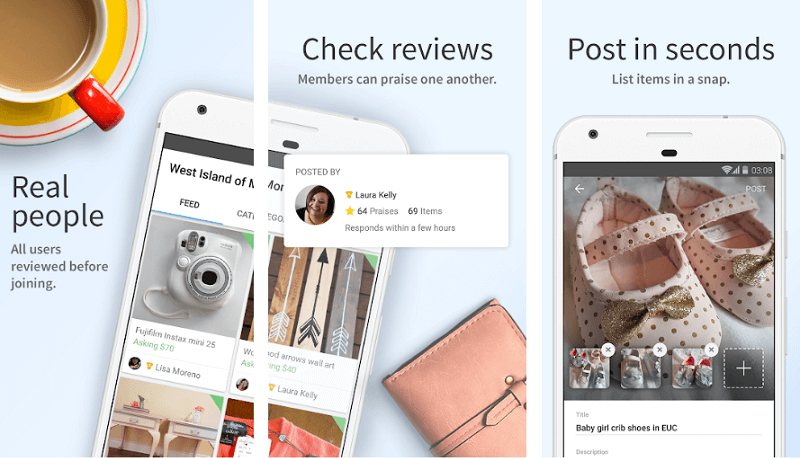 VarageSale is a secure virtual garage that requires everyone to go through a human inspection procedure before buying or selling anything. To continue using this app, every buyer and seller will need to link their Facebook accounts. It allows users to view local advertisements in the newsfeed and customize their purchasing experience.
One thing is for sure, you won't encounter any fraudsters or scammers when buying through this app. If you don't have a Facebook account, you shouldn't use this app, but it's fantastic for those who have and want an added layer of security.
You can find local ads and eventually sell items right immediately. To sell, simply upload a picture and submit a few facts of your item, and it will be available for purchase in moments. You can also boost your listing to get your stuff to the top of the stream and add some extra layers of exposure for your potential buyers, and it's completely free.
The app uses the GPS location of your phone to connect you with a large number of buyers and dealers in your region. It's as simple as sending a text message to make an offer.
Gumtree is one of the UK's oldest classified advertising websites. It allows users to submit ads for free and without any nonsensical advertising. Apart from the fact that you are helping the community and the environment by purchasing used items and recycling, this is a fantastic website.

It has just lately begun to deliver the products to your doorsteps. But if you are unsure about the delivery, you can always choose to inspect the item in person and pay with cash. The website also urges the users to see the items themselves, meet the seller and finally buy the thing.
Shpock is an online marketplace that makes it simple and secure to convert electronics, fashion, and almost anything else that you don't need anymore into cash. It also delivers products to your home through millions of merchants around the country. They quickly accept payments and arrange shipment, all for free.
If you're a seller, listing an item is free. If you're a buyer and prefer to have your item shipped, there's only a modest cost for Buyer Protection for deliveries which guarantees you're insured in case something goes wrong.
Poshmark is a popular social marketplace for new and used clothing. The process of listing is pretty simple. You just need to take a photo of the item you want to sell, add a description, and select the price, and you're done. It allows you and your friends to explore, buy, and even list items together.
When you sell something on Poshmark, you are sent a pre-paid, pre-addressed label that you can stick on the package. You can also have your item picked up for free from your home once it's been packaged. They also provide a protection plan for your products that can come in handy every time you place an order on Poshmark.
In case, Poshmark is your favorite app like OfferUp, then you might be interested in reading our previous post on The Best Sites like Poshmark
Carousell is a fantastic marketplace where you can buy and sell practically anything. This software makes it simple to sell your used things. All you have to do now is click a picture, list, and sell to get started.
You can also post your listings on social media platforms such as Facebook, Instagram, Twitter, Telegram, Whatsapp, and others. They also have a subscription feature that provides you access to a premium suite of tools that will eventually help you manage your business's branding and operations.
Decluttr makes the selling process a lot of fun because the process of selling a product is simple and quick. It mainly focuses on used tech products. To sell, you just need to scan the barcodes on your smartphone, tablet, or console's box, or books and enter the product's data.
It instantly offers you a price. Once your goods get delivered to the consumer, you will be paid immediately.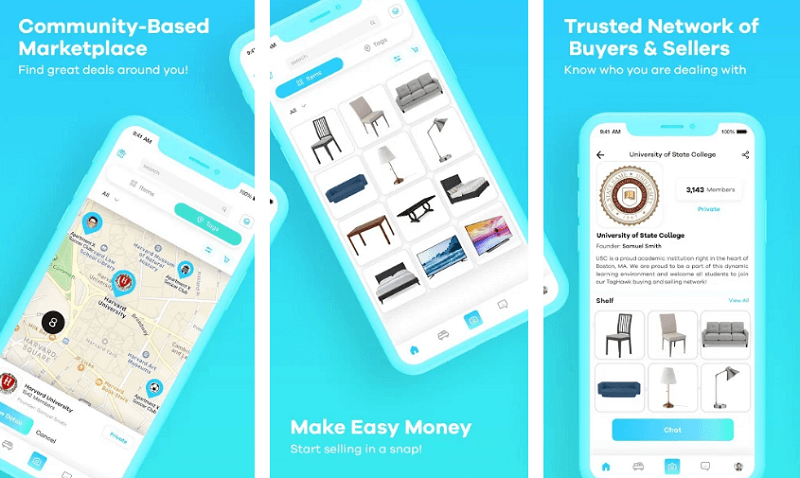 TagHawk is a similar software to OfferUp that allows you to quickly purchase and sell goods in your neighborhood. Local vendors and purchasers in your community, which might be your building, university, neighborhood, club, or interest group, can be found here. You may quickly chat with your vendor through the app itself to arrange a meeting to see the products and buy them in person.
You can filter products based on their category, price, and many more factors. All the purchases made within the app are covered by the app's buyer safeguards, which include cashless payments.
As an independent platform, it takes a lot of effort to create and curate quality content daily. Our content is totally funded by users like you.
Therefore, if you find information on this website useful, we kindly ask for your support in maintaining the longevity of our platform. If each person who benefits from our website contributes, we can secure a brighter future for our website.
Donate on Paypal or Buy us a coffee if you find the information shared in this blog post useful. Mention 'Coffee' in the Subject. So that I can thank you