Replacing your wardrobe can be annoying whilst essential. So, if you are up for the task, why not make money while doing so? Whether you want to sell clothes online or purchase used fashion to strive towards sustainability, Poshmark is the best site that helps in buying and selling fashion.
If you made up to this blog post, then it is possible that you've already used Poshmark and now wondering if sites like Poshmark also exist or not, right? The good thing is the internet is full of Poshmark alternatives.
In addition to monetary gains, Poshmark and websites similar to Poshmark are environmentally friendly. Since the fashion industry stands third amongst polluting industries, consumers must be eco-conscious and opt for brands that do not degrade the environment in the process.
Hence, you can make a difference by purchasing used apparel that appears almost new but does not burn a hole in your pocket while purchasing the same off-mall shelves.
Best Websites like Poshmark
Since the internet is full of websites to buy and sell fashion, we decided to pick some of the best Poshmark alternatives and covered all of them under a singlehood. Why don't you have a look and pick the one that matches your choice?
Poshmark faces stiff competition from ThredUp, the up and engaging resale application to purchase and sell second-hand apparel. It boasts of over 25 thousand brands that offer up to 90% discount.
It shares the design and layout as any other brand website and focuses on products that are often displayed at your nearby malls. The website consists of a payout estimator that provides an estimate of how much your old clothes are worth if you are a seller.
Vinted is one of the biggest online platforms for pre-owned fashion. It consists of a user base of over 25 million. It also has an app that lets you exchange or sell your used clothes with a reasonable 19% fee.
It is one of the best alternatives to Poshmark for sellers since it does not charge any selling fees, letting you keep 100% of your earnings.
Vinted provides better functionality and highlights to boost your shopping experience. The most unique and user-friendly aspect about Vinted is that it allows customers to discover nearby sellers via location channels, helping you avail of the best deals in your neighborhood and spare delivery expenses.
Tradesy is quite similar to Poshmark but it primarily focuses on luxury and designer fashion items. They even provide a 99.7% guarantee of authenticity on all products.
Tradesy is your go-to place if you want to revamp your wardrobe with luxury and class but are not equipped with the money to do so. Thanks to their ever-expanding userbase, Tradesy boasts of incredibly low-price tags all the while contributing towards a sustainable environment.
All the products on the Tradesy are the same as displayed and are verified by an expert team before shipping. Hence, Tradesy provides its services throughout the globe to those who can buy and sell a great many items every month.
Depop earns its fame not just for being a reselling platform but also for being a social media networking that allows consumers to follow the shops and brands they prefer.
While this makes it similar to Poshmark, Depop also offers a distinct shopping experience by letting you view what your friends are buying and selling. Such an aesthetic has proven effective for Depop, allowing them to connect customers who share the same sense of fashion and support creative influencers simultaneously.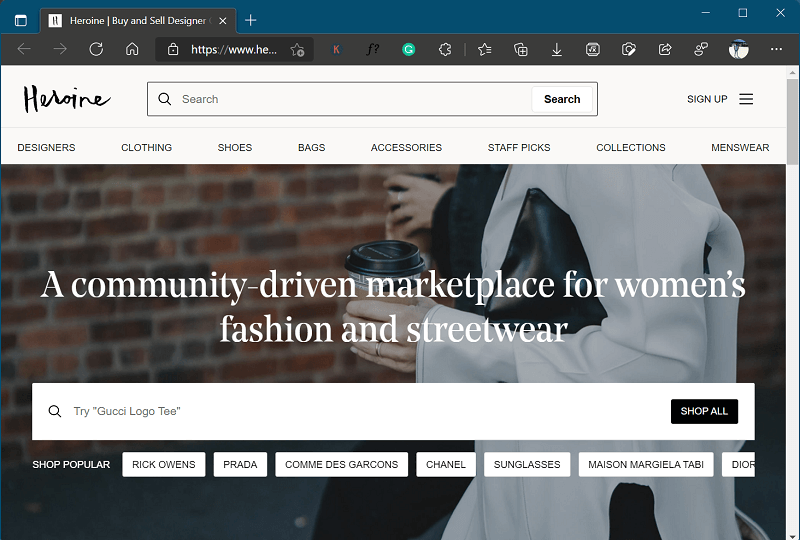 Restricted to the female population, Heroine is a great site for women to improve and explore fashion knowledge. Heroine doubles as a reselling platform as well as an engaging community that promotes interaction among its users.
The procedure to purchase and sell items on Heroine is user-friendly. It helps customers to sell their used apparel, providing cash before moving on to buy a piece of clothing you prefer, all at the same site.
Last but not the least, Heroine provides a robust community for fashion lovers to linger longer than they hoped to.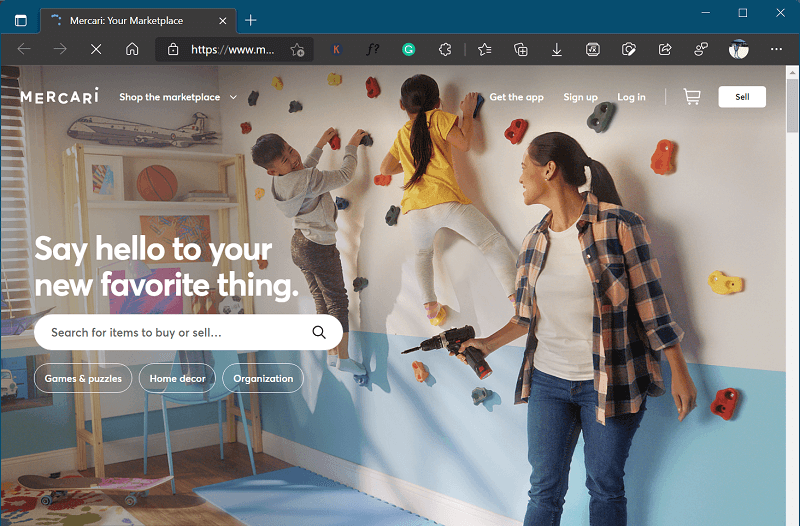 Mercari is the best platform on this list that provides hassle-free and quick services for purchasing or selling used apparel, right from your cell phone or tablet.
Mercari provides unmatched ease at reselling second-hand clothing making it rightfully earn the tag of "The Selling App". Although it is an effective store for pre-owned apparel, luxury and designer items are often paired with huge discounts on Mercari.
The most distinct feature of Mercari is that it provides the choice of easy installments to its userbase and the customer confirms it is as stated. While items can be listed for free, there exists a reasonable 10% selling charge, provided it hosts an enormous network.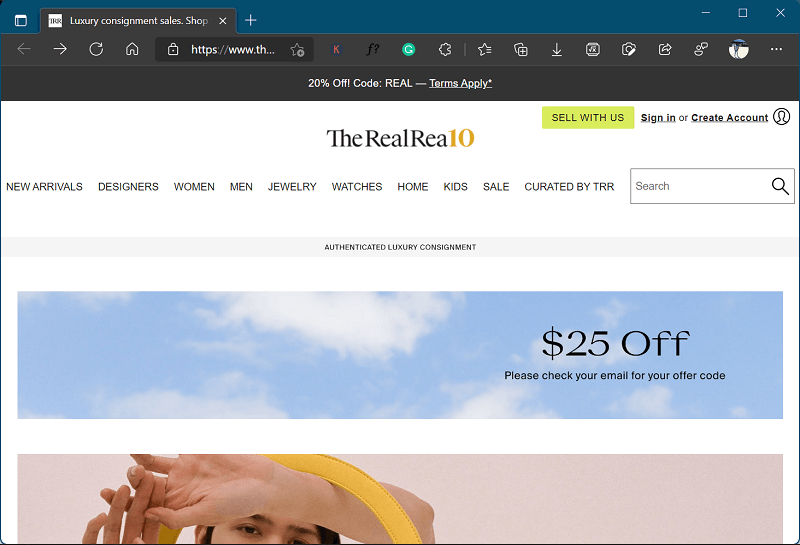 RealReal started as a crude but promising start-up. Now, it has gone on to revolutionize the fashion industry and proved to be a strong pillar in educating emerging fashionistas about the up-and-coming age of fashion.
If you are looking to purchase designer items, The RealReal is the most reliable place for you to look because of its rigorous authentication process managed by their experts.
They boast of a diverse inventory expanding each day with curated adornments, artwork, and verified luxury. Sellers are allowed to keep 85% of their total earnings that are likely to be sold within three days of going live.
Quite a counterpart to Heroine, Grailed limits itself to menswear. It is geared with all that a platform needs for purchasing, selling, and exploring trendy used men's apparel with ease.
A distinct feature of this website is that every single piece of clothing undergoes a strict authentication procedure that makes sure that item can not be found anywhere else.
It is a growing platform for men's apparel, exceptionally curated to provide second-hand branded wear at incredibly cheap prices.
Vestiaire Collective is your one-stop shop if you are looking to purchase and sell pre-owned jewelry and other luxury goods.
Selling your items is quite an easy process here. All you need to do is upload photos and a description of your item of luxury which will be uploaded on the site soon. Once you find a seller for your product, it will once again undergo a review for authenticity before shipping to the buyer.
The commissions that a seller earns on Vestiaire Collective are based on the value of the product listed. Usually, it comes around 18-34%.
ASOS is known for its youth-focused new fashion collection but it is less known for the fact that where small-time sellers can list their products to be put up for sale.
Serving as an alternative to other design apps, ASOS offers several updated features which make it unique. Catering to the fickle needs of the youth, ASOS features a robust search bar, more than 850 brands to choose from, and a wide spectrum of accessories, both new and pre-owned.
There exists a 10% commission that ASOS extracts from sellers from the overall sale. It poses more as a high-quality thrift shop than a reselling platform.
Although Etsy does not primarily focus on vintage clothing resellers, it provides a great and expansive market for all kinds of pre-owned goods.
Etsy is best known for purchasing and selling handmade and antique goods which encompass a gigantic range of apparel, from footwear to jewelry. It boasts of a huge 29 million client userbase along with additional features like direct contact with retailers.
Seller expenses on Etsy are quite cheap: $0.20 per listing, 3% processing, and 5% transaction fee.
eBay needs no mention as it precedes its reputation. While it is a dynamic market for sellers to sell almost anything at all, eBay is infamous for its unauthenticity.
If you know what you are looking down to the specific details, eBay is a great platform with tons of options to choose from.
So, what are you waiting for? Dive into your clogged wardrobe and sort your treasured tees or vintage pullovers or those skinny jeans that do not fit anymore. Make a few bucks and buy yourself that dress you have been eyeing for long with this great opportunity!
As an independent platform, it takes a lot of effort to create and curate quality content daily. Our content is totally funded by users like you.
Therefore, if you find information on this website useful, we kindly ask for your support in maintaining the longevity of our platform. If each person who benefits from our website contributes, we can secure a brighter future for our website.
Donate on Paypal or Buy us a coffee if you find the information shared in this blog post useful. Mention 'Coffee' in the Subject. So that I can thank you