Snapchat is a multimedia messaging app that allows users to share photos, videos and send messages directly to contacts. Snapchat was the first to introduce 'stories' in the social media space, even before Instagram stories, which has grown more popular now.
The most unique feature of the app has got to be the 'Snaps' or the photos or videos you share. They are self-destructive i.e., they are made available to the receiver for only a short period of time.
The concept of Snaps or Self vanishing pictures has become so popular that other app developers included the same feature in their apps too.
Best Snapchat Alternatives
Regardless of Snapchat's rising fame, users always keep looking for different alternatives or similar apps as the filter rage shows no signs of dying out anytime soon.
Since there are lots of apps like Snapchats available on the web. We decided to cover some of the best Snapchat alternatives curated for you. Let's start with the first one:
1. Instagram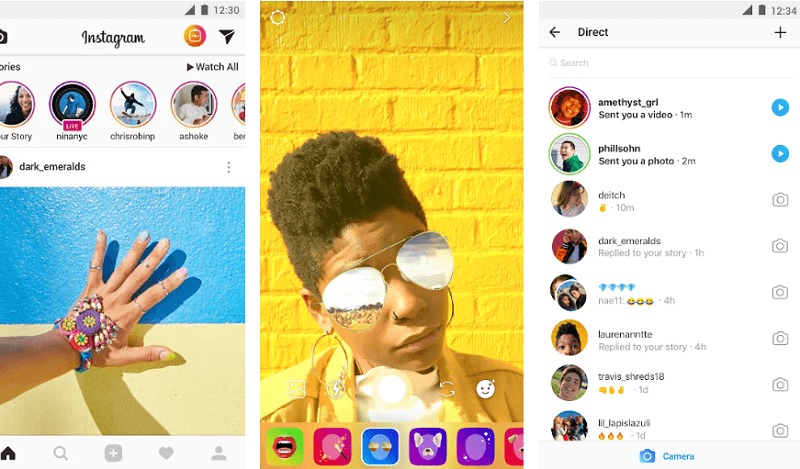 Although it started as just a photo and video sharing app, Instagram today is one of the most used social media. It has introduced various new features in recent years, making it the Swiss knife of social media.
Unlike Snapchat, Instagram allows profiles to follow and message each other. One can also tag profiles, locations as well as brands in stories and posts. Users can like messages or posts uploaded by other users which form the explore and the home timeline.
Despite Instagram becoming a mainstream app, it still provides the quickest access to face filters and a user base cultivated for years.
2. Messenger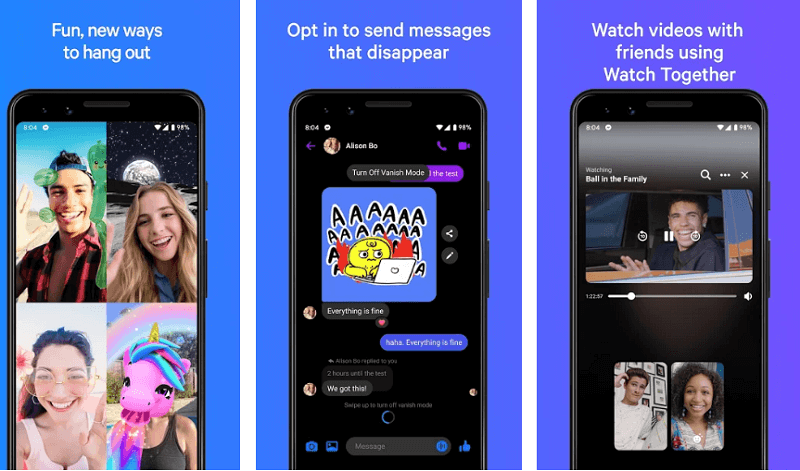 Facebook, after observing Snapchat since its launch, realized that it has to find a new way to keep its users engaged lest Snapchat should inherit its whole user base.
Facebook's popularity was on the decline while Snapchat just thrived. So, when Facebook offered a buyout to Snapchat and the latter refused, Facebook went ahead anyways and adapted Snapchat-like features into Messenger, its native messaging app.
Messenger users soon got hooked to face filters, 3D masks, and special effects which went through massive upgrades over the years. The "My Day" feature, was renamed to Facebook Stories a few months after its release.
3. TikTok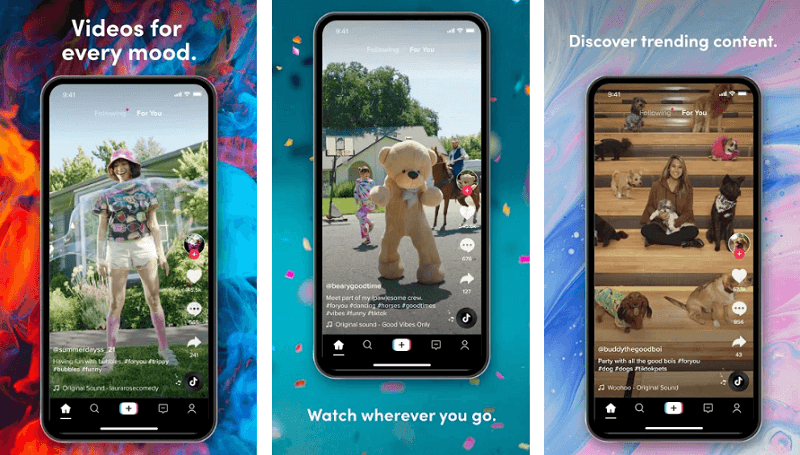 The ever-growing popularity of TikTok is simply bewildering, but it is not surprising either.
The building craze for short videos is evident in today's netizens. TikTok held tight of this opportunity and launched a platform that went on to become the ultimate space to create and share short videos, with global reach.
TikTok is also infamous for being a place where 'people hop and dance' but it is simply not true as ordinary people also seem to enjoy the very content. TikTok may not be the best alternative to Snapchat, but it is just as fun to use.
4. Sweet Face Camera
As mentioned earlier, Snapchat paved the way for "face filter" to fame. If you are someone who uses Snapchat just for its filters, Sweet Face Camera is a great alternative for you. If you are not convinced of its name, it should be noted that it boasts 100 million users currently.
Sweet Face Camera makes it way easy to capture selfies and adorn them with unique filters, beauty effects, and stickers. You would never need to worry about running out of choices because it offers an endless row of special effects and filters. You can even create GIFs through Sweet Snap.
5. B612
You can't miss B612 when it comes to filter and beauty effects. It's one of the most popular apps that turn photos into works of art.
B612 contains 1,500 unique stickers using facial recognition technology, which lets the app turn your face into a cute animal or edit it into any shape or size. It also provides accurate real-time beauty effects for you to achieve that great contoured skin or that perfectly chiseled face.
Furthermore, B612 hosts a ton of filters to choose from. Regardless of your need, you are sure to find something that suits both your landscape sceneries and a fun selfie. Moreover, the app lets you create music videos via their in-built library of exciting tunes.
6. Bigo Live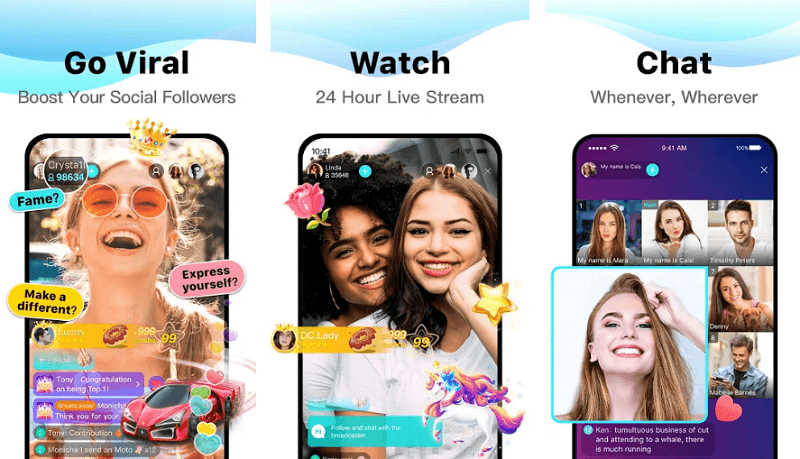 It is a certain truth that no matter how many apps you come across, it will always have one or more features missing. Bigo Live seems to be an exception.
It is packed with so many things, it might just be the next big thing. Bigo Live is mostly focused on live-streaming by users to share their daily life happenings, talents, and interests on a platform of global scale.
Boasting over 200 million users, Bigo Live is one of the most widely used live-streaming platforms at the moment. If you discover and go through all its features, you will realize it is vastly similar to Snapchat. It has also earned quite a name among gamers as a platform to flex their skills.
7. Wickr Me
Wickr Me is similar to Snapchat but it comes with an added tone of privacy.
Although it is nowhere near Snapchat or WhatsApp or Messenger in terms of popularity it certainly is ahead with its privacy features. You do not even need to provide your mobile number or your email address to use this app and your contacts are not stashed on their servers.
Wickr Me allows users to send and receive encrypted texts and multimedia content. If you are a fan of Snapchat's self-destructive snaps, this app will impress you with its shredder function. Filters, stickers, and graffiti are available but the choices aren't as wide as in Snapchat.
8. Marco Polo
Marco Polo is severely underrated among messaging apps. It makes texting and video-chatting fun and easy by implementing social features to provide an experience you would want your family and friends to have. One of the best aspects about this app is that they don't give out user data for advertisement revenue. If privacy is a must for you, you should give this app a try.
Marco Polo allows you to send video messages which the receiver can view at a later time. Of course, you can still have regular video calls for real-time interaction. It should be noted that the video messages do not get deleted after 24 hours as they do in Snapchat.
9. SNOW
If AR beauty makeup is your deal, then look no further than SNOW.
Amassing a 200 million user base throughout the world, it packs powerful yet user-friendly features. SNOW provides access to thousands of stickers, but what makes it especially unique is its ability to detect your perfect shot through AR-driven makeup and beauty effects.
The diverse effects enable you to highlight notable moments of your day, experiment on new looks with different makeups, and create visually engaging photos with its built-in editing tools. It also comes with a video editing tool to make your videos even more appealing for your social media feed.
10. YouCam Perfect
YouCam Perfect is your one-stop app. It has a user base of 300 million people. It works as both a camera and a photo editor. YouCam Perfect gives provides all you will need to create share-worthy images. From fun stickers and camera filters to user-friendly photo effects and beauty effects, YouCam Perfect is hard to beat.
You may have to learn how to use each feature to its fullest, but once you do, you'll be amazed at how easily you can turn a dull image into something exciting. YouCam Perfect Premium is a paid membership that unlocks even more face filters, stickers, and beauty effects.
11. Cluster
The cluster allows you to create private rooms where you can share your memories with your family and friends. It has a very similar interface to Instagram. You can also create any number of albums with your downloaded photos.
You can also provide a name to the group you lead. You can use the Cluster app on almost every operating system such as Windows, Android, and iOS. The app also has so many positive reviews and it's also featured by TechCrunch and NYTimes.
12. Clip chat
Clip chat, like Snapchat, allows you to send photographs that disappear with a simple touch.
Clip chat has a sleek user interface and is much simpler than Snapchat. If you send a picture via Clipchat, the receiver receives a blurred preview first. If he chooses to click on it, the picture turns transparent to be viewed. Video-sharing is the default share in Clipchat.
Clip chat is high on privacy too. It informs you if anybody tries to screenshot a picture you sent them. It is a simple instant messenger that gives you a volatile messaging experience.
Although it is not plausible for any of the above apps to include every feature of Snapchat, the perfect alternative for you doesn't necessarily have to combine all the best features. The summary of each app listed above makes sure you find no difficulty in finding the right fit for your needs. Snapchat may not work for you but if you give all of the above a shot, you are bound to find what suits you the most.
As an independent platform, it takes a lot of effort to create and curate quality content daily. Our content is totally funded by users like you.
Therefore, if you find information on this website useful, we kindly ask for your support in maintaining the longevity of our platform. If each person who benefits from our website contributes, we can secure a brighter future for our website.
Donate on Paypal or Buy us a coffee if you find the information shared in this blog post useful. Mention 'Coffee' in the Subject. So that I can thank you