Image search engines have enabled the common Internet user to reach a new standard of Internet use. What previously was achieved through verbal narration, is now possible "visually" using an image search engine.
Moreover, it does not just make online shopping more convenient or optimizes workflow; Human face identification has now been made possible by the same technology.
With the advent of facial recognition, governments and secret services are identifying individuals by using publicly available photos, videos, and social media uploads.
The whole game has been revolutionized since the inception of Artificial Intelligence. Currently, machine learning and algorithms are actively used to trace accurate photos in a matter of a few seconds.
Best Facial Image Search Engines
If you made up to this blog post, then it is possible that you're interested in using Facial Image Search Engine, right? Fortunately, there are lots of nifty options available on the web and to help you out we decided to cover all of them in this post.
Let's start with the first one:
1. Google Image Search
Google is an established name right now and synonym of a search engine. You are sure to recognize Google on this list, if not the others.
That is a monopoly Google has on the internet. Google Images is a testimony of the same. All you need to do is visit the Google Images site, select the camera icon and upload an image. It's that easy.
Google will rummage the web and produce effective results. Once it receives visual data, Google creates a mathematical model and displays the most similar result images.
2. PicTriev: Face Recognition
PicTriev leaps a step further by searching for faces similar to the source but is limited to lookalike celebrities. Once you add the URL or upload an image, the search engine delivers matching celebrity pictures published throughout the internet.
In addition to this, PicTriev enables you to compare the similarity of two faces or calculate how much of the two faces look alike. The picture is free for public use and is mostly used to dig up celebrity counterparts or doppelgangers.
3. TinEye: Reverse Image Search
TinEye works best for face searches. Once you upload your source image, TinEye greets you with a list of all the sites that have the target image uploaded on their page.
Although its algorithms are not bothered about image results, it produces URL links to all the websites that feature the target image you have uploaded. Hence, TinEye aptly suits the purpose of facial recognition.
Moreover, you can search for any image that's been posted online. TinEye is reputed to be one of the earliest image search engines.
PimEyes provides accurate facial recognition results by analyzing millions of websites. It maintains privacy by not storing your search images.
Photos with multiple faces can be uploaded too. It identifies all the faces and lets you choose the ones you involve in the search. Each result shown has its percentage of similarity.
In addition, the analysis continues after particular searches once it discovers other similar pictures show up afterward and send you an email notification for the same. Another feature of PimEyes is that it can identify modified photos if they have been color corrected or cropped.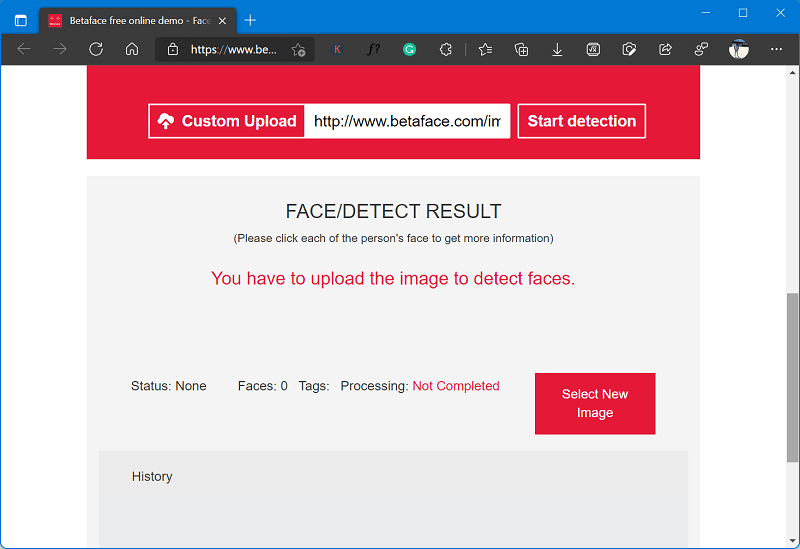 Betaface proves to be a good fit for professionals and businesses. While its services are not free, it lets you try its demo version for free.
Once you upload a photo, Betaface produces results in the form of matching images along with speculations about additional features such as age, the appearance of evening stubble, level of appeal, and more.
It also provides comparison data against celebrity icons or Wikipedia details, enabling you to create a database through its results.
Yandex is essentially the Russian alternative to Google. Yet, it performs facial recognition better than Google itself. Upon uploading a picture, it will run a trace and present you with the listings of all similar images with their URLs linked as well.
Yandex applies a method called content-based image retrieval to produce effectively better reverse image searches. However, it displays images only with similar visual phrases. Hence, it reduces the search time by focusing on what is relevant instead of searching the whole internet.
Yandex has a downside: often the number of results is innumerable thereby making it difficult to find exactly what you are looking for amongst the results displayed.
Bing is a famous search engine unanimously claimed to be Google's competitor. Since it's renaming to Microsoft Bing, it has upgraded its reverse image search algorithm.
Bing provides more organized results under two tabs: Similar pages and Pages with this. Although the procedure is more or less the same, Bing has been found to provide less accurate results than Google.
One feature that renders Bing unique is its people filter, which lets you shortlist your results by choosing how the image has been shot. Bing is publicly available for free of cost.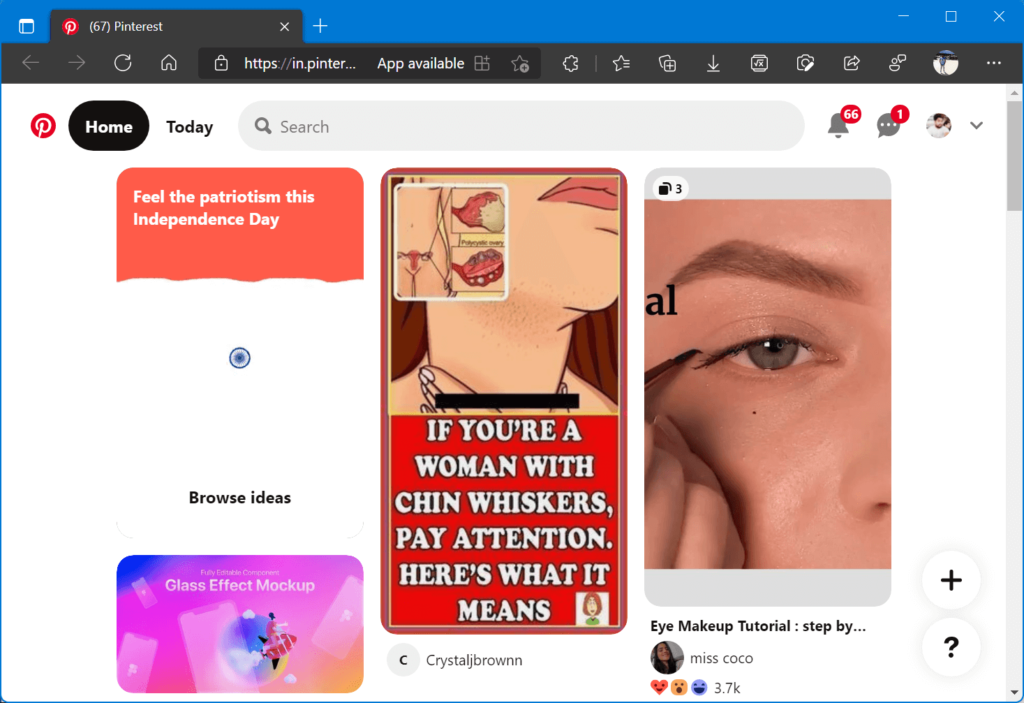 Pinterest is chiefly a social media platform with a user base in millions who upload images of their interests on their "boards" as "pins" for others to discover.
Quite naturally, Pinterest makes one hell of an image search engine to all kinds of recognitions and identifications, especially facial. However, you will need an account to use Pinterest.
Once you upload a pin on your created board, all you need to do is click on the magnifying glass icon next to the image, as Pinterest searches its database and listing images similar to your pin. The application as well as the site lets you use it free of cost.
Social Catfish has an appealing user interface and produces effective results not just in the form of images but also as names, phone numbers, emails, and other such parameters.
Social Catfish employs metadata to perform facial recognition while scanning numerous social media profiles. Its database includes social giants such as Facebook, Instagram, Twitter, forums, and other such social networking platforms.
Its database is formed by data and information not just from social networks but also from dating platforms and scammer databases. However, you can avail of its services only via a full subscription that offers a 5-day trial period during signup.
Berify proclaims its mission statement as "to help you find stolen images and videos", armed with a proprietary reverse image algorithm that searches beyond the publicly available database. Besides its algorithm, Berify adds to its results with data from Google, Bing, Yandex, and more so.
You can upload your images or videos from several platforms; no restrictions exist whatsoever while using Berify. It also provides updates via email alerts if new results pop up within its algorithm.
How Normal Am I is an AI-powered platform that judges your face and reveals results as predictions of age, beauty index number, gender, and body mass index.
How Normal Am I is more of a discretionary tool when it comes to facial recognition. While it does employ reverse image search, it can only scan your face and produce results as such.
Another feature of this facial recognition service is that it is secure and does not store your data in any cloud.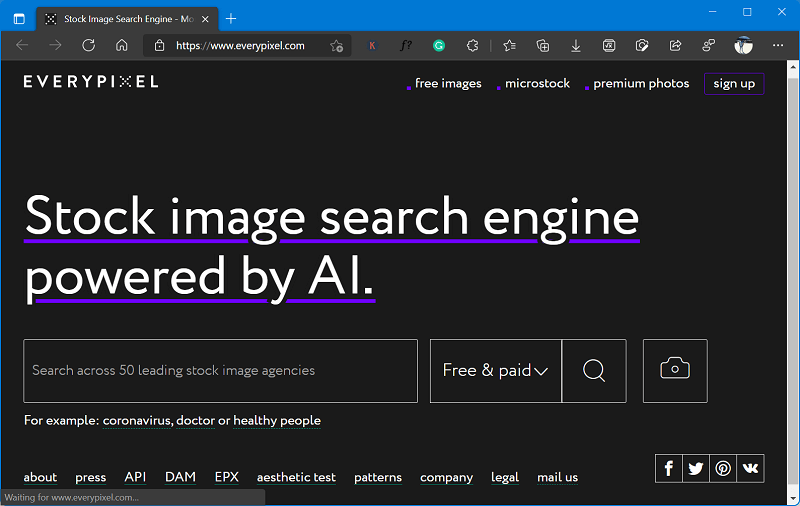 EveryPixel is a stock image reverse engine driven by AI that analyses and processes your image to let you find out if your image is a good shot.
If the image you upload is a pretty great shot, it will display a message "chance that this image is awesome" along with a percentage rate to validate the message.
EveryPixel's neural network algorithm features auto-tagging, which makes it a good tool for facial recognition. Once you upload a face, it provides you with URLs that have similar images tagged along.
Talkwalker Image Recognition is particularly useful to discover brands that are present in the image uploaded, even if the alt-text of the image has no linked reference to the brand. It helps brands explore and establish their consumer niche.
Furthermore, Talkwalker lets you discover what other brands the consumer avails of along with your product so that you can collaborate with them in the future to launch your products.
Although Talkwalker does not primarily focus on facial recognition, nevertheless it serves as a great reverse image search engine with access to giant social media giant databases such as Instagram and Facebook.
Talkwalker provides additional information about objects and scenes in the images uploaded, thus making it produce more effective results.
These are some of the Best Facial Image Search Engines worth trying. If you know any other suggestions that we miss to cover in this post, then feel free to share in the comments.
As an independent platform, it takes a lot of effort to create and curate quality content daily. Our content is totally funded by users like you.
Therefore, if you find information on this website useful, we kindly ask for your support in maintaining the longevity of our platform. If each person who benefits from our website contributes, we can secure a brighter future for our website.
Donate on Paypal or Buy us a coffee if you find the information shared in this blog post useful. Mention 'Coffee' in the Subject. So that I can thank you