The nicest thing that has occurred to iMessage in recent years is that Apple has provided the option to add contacts to iMessage and play games with them.
This post will show you how to play and add contacts to your iMessage, as well as the best iMessage games available.
How to get Games from iMessage
The new iOS UI differs slightly from its predecessors. However, the steps remain the same for iOS 10 and above. Whereas, older versions of iOS are incompatible with iMessage games.
Access the App Store within iMessage, follow these steps:
Start a new conversation.
Next to the iMessage text box, tap on the App icon.
Tap the grid symbol in the lower-left area of the screen in the applications menu.
Select the Store icon from the menu.
You should see a list of iMessage-compatible apps, games, and labels. Find the game you want using the search function, then tap Get to install it.
Best iMessage Games to Play and Challenge Your Friends
We've gathered the finest messaging games for you to play with your friends and coworkers to waste time and fight boredom.
But before, you might want to learn how to play any game on message with someone, which we explained step by step below…
How to play iMessage Games with your Friend
After the game has been downloaded, you can find it at the bottom of the list of programs. Do the following to challenge and play with your friends in iMessage:
Start a conversation with the person you want to play the game with and challenge. Next to the text box area, you'll find an Apps icon, Tap on it.
In the applications menu, tap the grid symbol in the lower-left corner of the screen.
After scrolling through your apps, tap the game you want to play. Then tap Create a game.
You can start playing right away. When your turn is done, your companion receives a message when his turn is up informing him that it is now his turn.
1. Qiktionary
Qiktionary requires you to answer a four-letter hidden word by thinking up your own four-letter word.
You can change it as many times as you like, but you must input the word. Because the game does not allow random letters, you cannot enter them. If you don't have a large vocabulary, it will be more challenging, but it will be enjoyable to challenge your friend.
Download Qiktionary (Free)
2. Cobi Arrows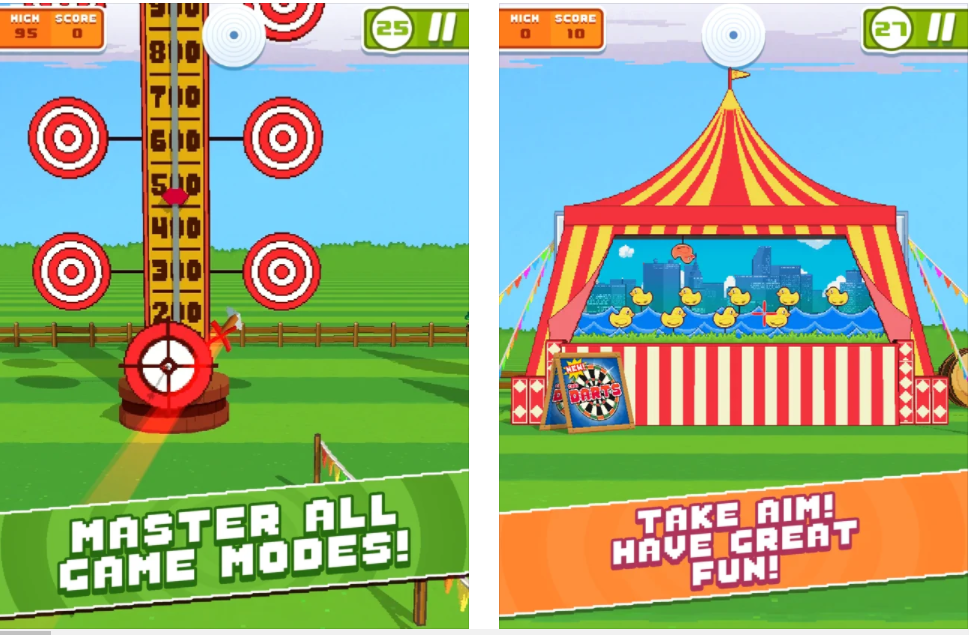 If you prefer arcade-style iMessage games, you should check out Cobi Arrows. It's a straightforward game in which each participant has thirty seconds to shoot arrows at a target. The game's mechanics are solid, but there is a steep learning curve to mastering aiming.
You will fall in love with this game if you have excellent aiming skills and have quick reflexes. It's free to download from the App Store, but you can spend money on the game's in-app purchases to unlock a few of additional game modes.
Download Cobi Arrows (Free)
3. Tic-Tac-Toe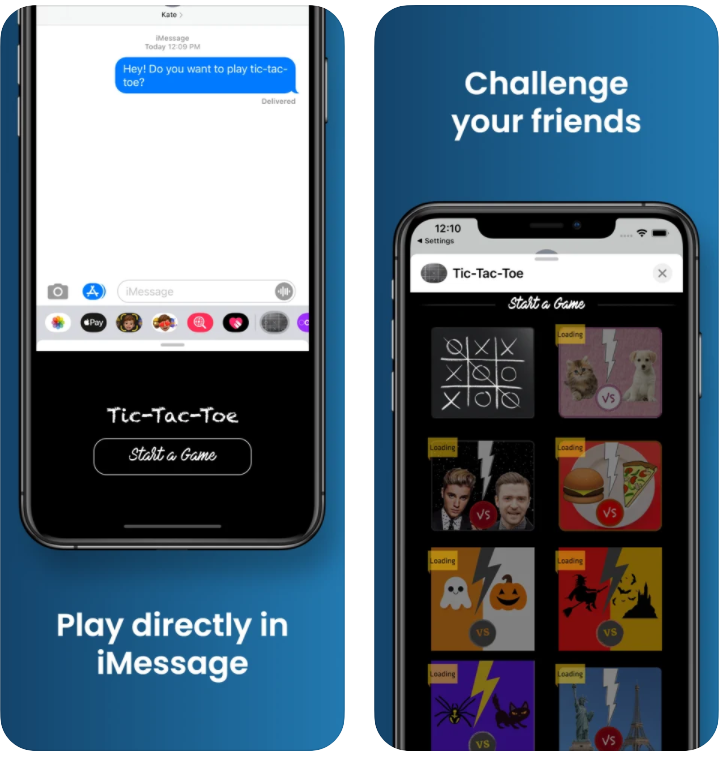 Everyone at one point played tic tac toe in their life, It is a game in which two players take turns using X and O to fill up the gaps in the 3×3 grid.
To win the game, line up three of their markers in a horizontal, vertical, or diagonal row. It's a fun way to kill some boredom with your friends and co-workers on iMessage.
In this game, you can acquire some extra entertaining packages and combinations by in-app purchase.
Download Tic Tac Toe (Free)
4. Four in a Row
Four in a Row is a game similar to tic tac tow, but instead of three items, you need to sort four.
In this game, you must first select a color before arranging colored discs on a vertically 7×6 grid.
It is a strategy battle game for those who like cognitively defeating their friends in a game.
Download Four in a Row (Free)
5. Tayasui Sketches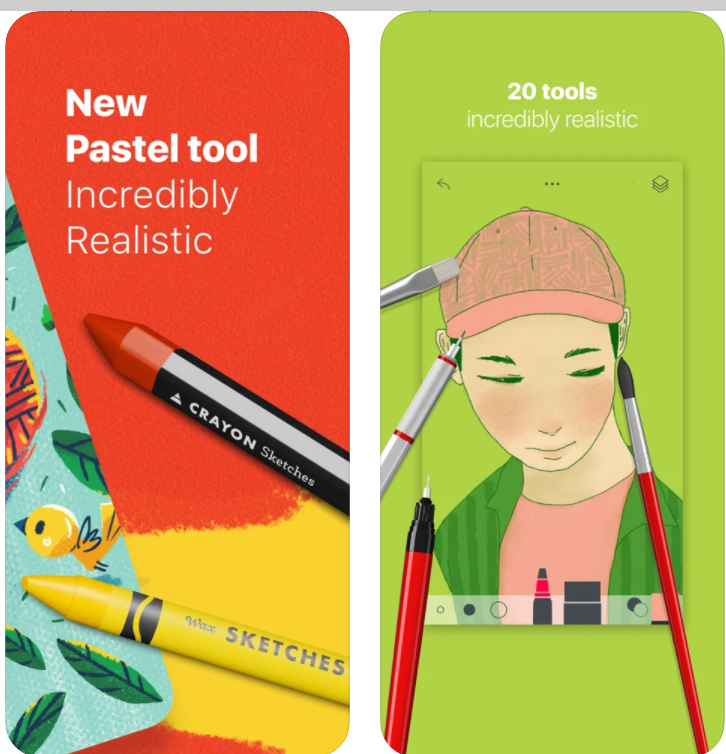 Tayasui Sketches is not a game, but it is a good alternative if you don't want to talk to anyone but yet want to spend some time.
It is a subtle and flexible drawing tool available in iMessage. It is the ideal toolkit for creating one-of-a-kind pieces of art or doodle over an existing photograph.
You can do amazing things with Tayasui if you utilize iMessage on the iPad Pro.
Download Tayasui Sketches (Free)
6. True True Lie
Everyone has played or heard of this game, Truth Truth Lie. It is a fun game that may be played with only one person.
You must make three assertions about yourself, and the other person must determine which of them is untrue.
It is also possible to play this game with a group of people over iMessage, making it one of the finest games to play.
Download True True Lie (Free)
7. Game Pigeon
Game Pigeon features a plethora of various traditional games to play, such as chess, basketball, darts, mini-golf, 8-ball, and many more…
In addition to games, you can set and personalize your avatar's appearance. The only reason pigeon is on our list is that one single app is bringing more than 20 games for you iMessage at once for free.
Download Game Pigeon (Free), Premium also available for $4.99
8. Let's Puck it!
This is an interesting turn-based air hockey game. Choose the best from the list offered for the best or create your own, but if you lose, you will have to face the consequences.
Your goal is to earn as much money as possible by any means possible, and the game offers special boosters.
Download Let's Puck it (Free) In-app Purchase options are available.
9. Trivia Crack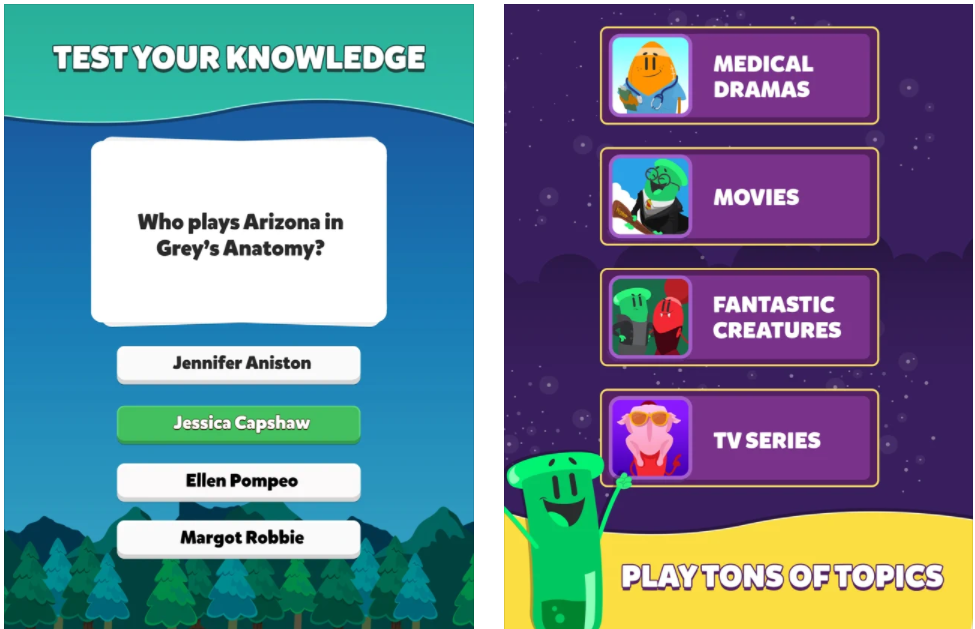 Trivia Crack is a trivia game on this list, as it is one of the most interactive and fun games to play. This game has hundreds of different questions to answer, while playing you can chat with your opponents as well.
Also, the game supports more than 20 different languages if you are not a native English speaker, and the game doesn't have ads to annoy you and the game is free.
Download Trivia Crack (Free) In-app Purchase options are available.
As an independent platform, it takes a lot of effort to create and curate quality content daily. Our content is totally funded by users like you.
Therefore, if you find information on this website useful, we kindly ask for your support in maintaining the longevity of our platform. If each person who benefits from our website contributes, we can secure a brighter future for our website.
Donate on Paypal or Buy us a coffee if you find the information shared in this blog post useful. Mention 'Coffee' in the Subject. So that I can thank you