Presentations reside at the epicenter of all businesses regardless of their scale! When we talk about startups, presentations play a sumptuous role in daily meetings, investor pitches, client conferences, quarterly reviews, and other professional settings.
There is no denying that life at a startup moves rapidly and when time is of the essence, raising capital for a group of investors is a cumbersome job!
Today, we will explore some out-of-the-box PowerPoint templates that help articulate a compelling business story.
BMC or Business Model Canvas is a popular tool that allows entrepreneurs to capture, design, visualize and reinvent the business model. Today, not just startups but giants such as Mastercard, Adobe & Microsoft leverage BMC to zero down on the business model, perform cost analysis, understand revenue sources, identify content distribution channels and achieve business success while delivering the unique value proposition.
When it comes to empowering your startup's strategic management, the intuitive and professionally-designed Business Model Canvas template can do wonders for you! You can use the template to project your business' global vision and highlight critical aspects such as Value Proposition, Customer Relationships, Revenue Streams, Key Partners, Cost Structure, Distribution Channels, and more.
Empower your audience to get all the information they need at a glance with the One-Page Business Plan template. The template is a blessing in disguise since it saves huge time for your professional audience. Not only do they have to spend less time understanding your business, but they are also more likely to retain information for longer durations.
The One-Page Business Plan template allows entrepreneurs to showcase their entire business concept while setting themselves apart from the crowd. Most venture capitalists and evangelists are keen to understand how an innovative idea solves a particular problem! The 2-slide template can help you plot key goals, projections & timelines hassle-free.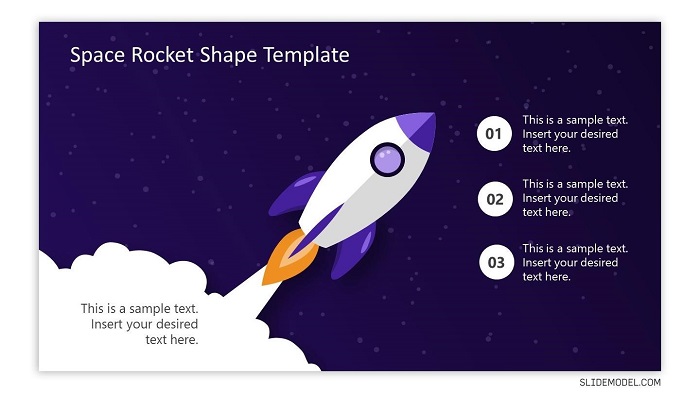 Deliver a captivating and powerful message with the help of graphic metaphors prepacked with the Space Rocket Shape template and engage with your audience like never before. When it comes to business events such as new product or service launches, the Space Rocket Shape template is an ideal pick of entrepreneurs. The template helps you precisely plot down business models, analysis, strategy, market projections, and other business metrics.
The 3-slide template allows presenters to focus more on drafting quality content rather than worrying about the slide design. The pixel-perfect template features 100% customization, thus allowing entrepreneurs to unleash their creativity, build slides that can inform, inspire and bring the audience aboard. Not just that, the template comes ready with compelling clipart icons & high-grade vector graphics.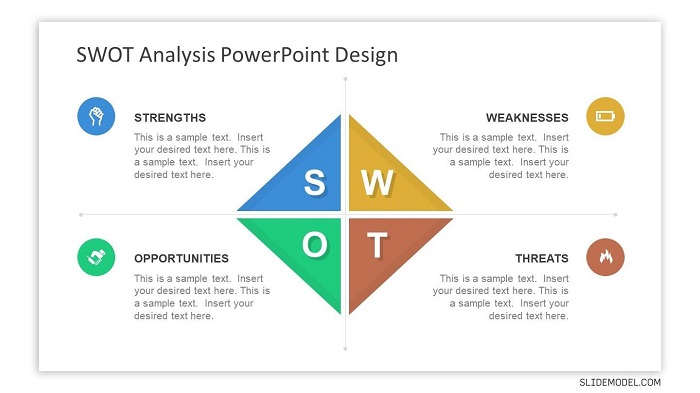 SWOT is one of the most popular analysis techniques used by businesses of all scales & startups are no exception. Companies do SWOT or Strength, Weakness, Opportunity, and Threat analysis to determine their current position before diving into a new strategy for launching a product. Startups can leverage SWOT analysis to measure their strength and prepare for the future.
SWOT analysis templates can help you perform in-depth business analysis during a meeting. You can entice all the stakeholders during a meeting, perform business analysis on a granular level and determine areas to focus on & draft parallel actionable steps.
Hence, SWOT templates can help you determine the business direction, guide team growth, position yourself in the market as well as discover mediums to capitalize on the business's strengths.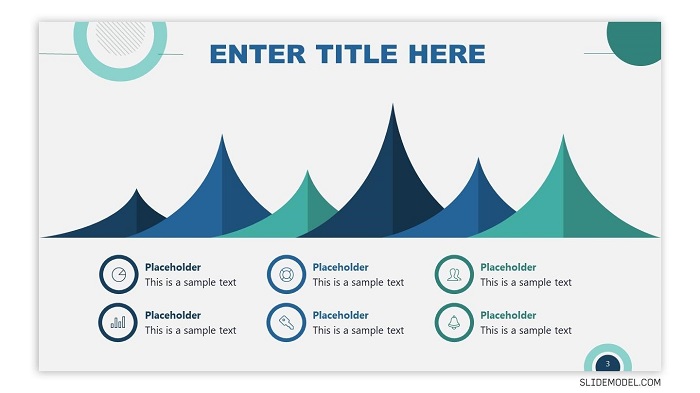 Are you meeting a potential investor soon? Do you have a quick time window to pitch? The Formal Elevator Pitch template is a perfect pick to sell your idea or product while making the experience memorable and enriching from the investors' point of view. When you only have as low as half a minute to seal a deal, creating your perfect investor pitch deck takes much more than a couple of slides.
The Formal Elevator Pitch template lucidly helps you project who you are, what do you do, what problem you intend to solve, what makes you different and includes a call-to-action as well. In times where investors meet hundreds of potential entrepreneurs daily, it doesn't matter how unique your idea is if your pitch deck is bland. Hence, the ready-to-use elevator pitch template can help you draw a line between a sealed deal and a missed opportunity.
Today, big data is driving the 21st century. Wherever you can set your eyes, you'd notice data being utilized constantly to innovate, analyze, derive strategies, and set trends. Most startup presentations are driven by data that plays an imperative role in decision-making while generating the big picture.
Startups can significantly boost engagement of their data-driven presentations and make it easy for the audience to deduce patterns and trends with an effective Open Startup Dashboard template. Presenters can equip their startup presentations with technical acumen & provide much-needed insights in an audience-friendly manner.
The End Line:
Presentations are a paramount part of your startup ecosystem. It doesn't matter whether you have got an investor meet, crowdfunding event, stakeholder conference coming up, being able to effectively capture & bolster your company's voice and presenting the same to the patrons is critical. The above ready-to-use templates can boost your presentation endeavors and help you entice the audience like never before.
As an independent platform, it takes a lot of effort to create and curate quality content daily. Our content is totally funded by users like you.
Therefore, if you find information on this website useful, we kindly ask for your support in maintaining the longevity of our platform. If each person who benefits from our website contributes, we can secure a brighter future for our website.
Donate on Paypal or Buy us a coffee if you find the information shared in this blog post useful. Mention 'Coffee' in the Subject. So that I can thank you