Calendars determine the "when" of our lives. Calendars are the ultimate journals for time management. They keep track of days gone by and allow us to organize plans for the future.
Given their importance, calendars have been digitalized and incorporated into smartphones since the beginning. These digital calendar apps can be controlled across various devices, allowing on-the-go changes and reminders.
iPhone users will be familiar with the default IOS Calendar App, but the AppStore is flooded with third-party calendar apps. This is because different people have different uses for calendars. It is important to know which are the Best Calendar Apps for iPhones.
Some people may not use calendars at all(like me).
Some people may only check the festivals(yes it's possible) and important days in the month and year.
And then some very organized people maintain comprehensive calendars for every day of their lives(sounds exhausting).
As a result, numerous calendar apps cater to the specific needs of the diverse customer base. These have different features intended for different targeted users.
Best Calendar Apps for iPad & iPhone
We have compiled a list of the top calendar apps for iPhones, covering their features and utilities:
Apple Calendar is the default IOS calendar that comes pre-installed with the devices. It has great seamless integration across all other Apple devices. You can import calendars from different applications quickly and easily.
Apple is famous for its easy-to-navigate and clean-looking design. Apple Calendar is very systematic yet organize. You can schedule events on certain times of days, set reminders for appointments, and receive alerts for the same.
The preferences offered by Apple Calendar are also vast and convenient. You can select how you want your calendar to look like, color-code different events and alerts, select the start of your day and how many days you want to see, among many many more options.
You can send invitations to other people, and maintain separate calendars for different areas of your life – business, family, personal, etc.
BusyCal is a paid calendar app available only on the iPhone and iPad. It costs $4.99. Similar to Apple Calendar, BusyCal has a very clean and easy-to-navigate user interface, but with the addition of natural language input.
It has numerous integration advantages, including other calendar apps, Apple Calendars, syncing across multiple devices, and even with the Apple Reminder's App.
You can personalize the app to your likings. It also has several viewing options like travel time, time zones, attendees, etc. It also serves as a good alert app since you can track your to-do tasks.
You also get live weather updates and extensive location services including maps and travel time alerts and recommendations.
Calendars 5 is one of the top-rated calendar apps for iPhone. Costing $29.99, Calendars 5 boasts a user-friendly interface, fantastic task management, integration options, etc. It also offers natural language input.
You can organize your tasks and events easily with Calendars 5. Integration with Reminders and other calendar apps is also possible. You get tons of options for customization and it can even suggest frequently typed locations and information with its AI.
Calendars 5 can also show locations in scheduled events in Apple Maps. It is overall a great application for calendars, and it gets the job done.
Calendars: Planner & Reminders was also developed by Readdle Technologies Ltd., the ones who developed Calendar 5. This app is completely free with some in-app purchases. It is great for organizations thanks to its user-friendly interface and design.
Calendars: Planner & Reminders make adding events to your calendar extremely quick and easy. It offers the drag & drops feature which makes it easy to edit events and tasks on the go.
It boasts quick syncing with Apple Calendar and Google Calendar. It offers special keyboards and features to edit the calendar offline and online. You can sync up the changes once you come online the next time.
Choiceworks Calendar stands out from the rest of the calendar apps due to its visual interface. It is a picture-based calendar app focused primarily on teaching children. Containing 275 pre-loaded images for easy customization, this app helps children learn about time and task management from an early age.
Choiceworks Calendar is heavily loaded with customizable options for photos, videos, and audio. Events and tasks can be represented using photos, videos, or audio. This makes for personalized integration of tasks and events.
You can also add your photos, videos, and audio. You can share calendars with other users of the app. Costing $9.99, Choiceworks Calendar is a unique visual calendar that has helped children and their guardians alike.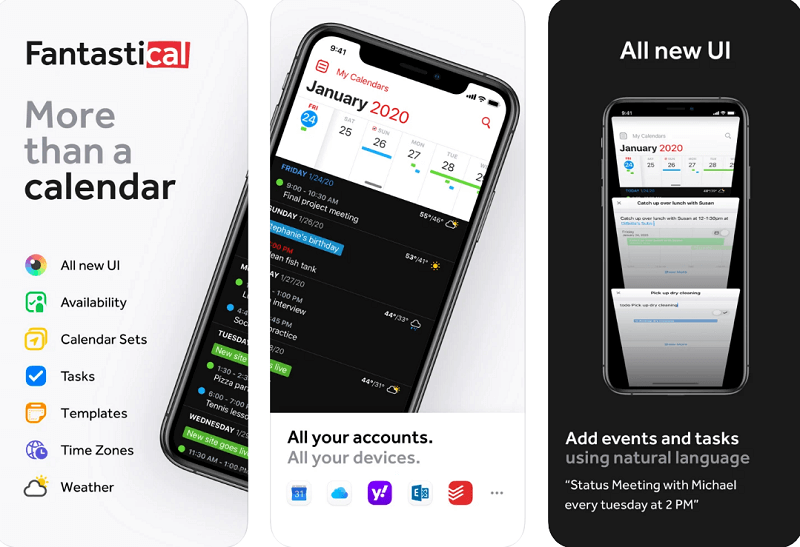 Fantastical 2 is easily one of the most popular calendar apps. It excels at natural language input, better than any other app. It has an extremely attractive design and UI. It is highly rated and regarded as one of the best overall calendar apps on iPhones.
Fantastical gives users a plethora of features and options. It neatly organizes all of your events and tasks, allowing you to always prioritize the urgent ones.
With the premium subscription, you get lots of features unavailable on most other apps. You can sync your account with other calendars, get alerts, choose templates, color design, etc.
You can schedule meetings with other people and get on-call with them with a tap of a button. You can subscribe to calendars of your liking that shall keep track of your preferences.
It is an all-rounder calendar application that takes care of your every need. It is the reason why it is highly regarded among power users.
Google Calendar needs no introduction. It is a high-quality calendar application that is relied upon by millions of users around the world. The integration features it offers are world-class, and the variety of convenient features it provides are unrivaled.
It has a very beautiful UI, that comes packed with functionality and utility. Faster than most applications, with Google Calendar you can easily add events, schedule appointments, and set reminders directly from Gmail.
Google Calendar's smart suggestions help you in adding tasks and events quickly and easily. You can schedule video calls, send invitations, and accept them all from the app. You can also quickly create events on the fly.
You can sync up your calendar across multiple devices thanks to the seamless integration and syncing features. Google Calendar is a fantastic application and we highly recommend it.
Informant 5 Calendar is great for organizations. It offers organization customization, syncing up features, planning options, viewing options, and many more.
You can choose from a variety of options for the visual presentation of your calendar. Adding events and tasks is extremely easy and can be done through Siri. You can schedule appointments and make plans easily from the app.
With a premium subscription, you get access to more features like email integration, syncing options, weather integration, etc. You can have a comprehensive view showing weather, events, priorities, etc. in a template of your choice.
Microsoft Outlook combines emailing and calendar software in one place. There are separate tabs for the two, but the integration makes them seem like one.
With Microsoft Outlook Calendar, you can filter out the important tasks and events from the noise. You can easily edit and add events and make appointments. You can share your schedules with other people for convenience in making plans.
You can look for locations, contacts, events, etc. all in one place and sync up your account across different devices. Designed by Microsoft, this calendar application is a good fit for many people.
Planner Pro is an extremely versatile calendar application. It can be tailored to fit the needs of almost every user very easily. It has a very attractive design and user-friendly interface with considerable customization options.
Thanks to its impeccable integration, you can make edits, add events and tasks, and set reminders very quickly. You can also take notes directly from the app(in IOS 13 and above).
You can easily sync this calendar with the Apple Calendar and set tasks and projects with daily, weekly, and monthly reminders and alerts. Planner Pro – Daily Calendar always lets you stay on top of your schedule with its outstanding interface.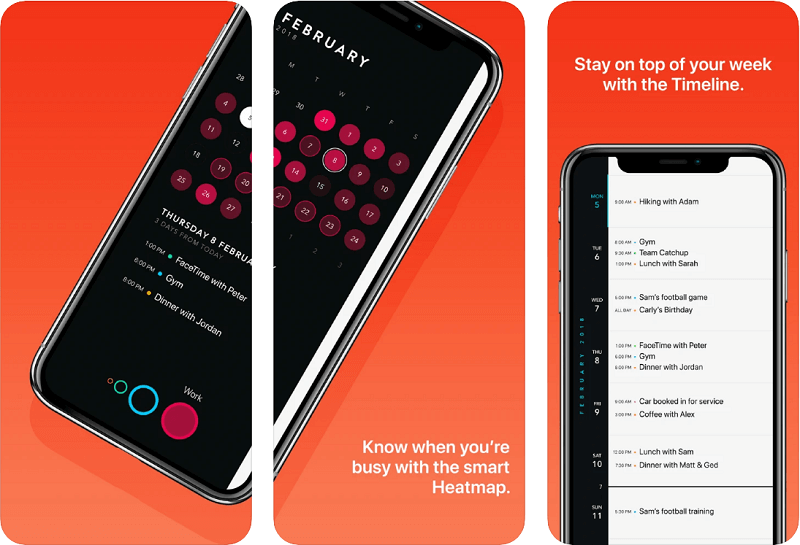 We highly recommend Timepage in terms of design. It is extremely neat and uncluttered, and the color combinations used are very attractive and easy on the eye. You can easily make changes to your calendar and view your schedule in your preferred time frame.
It also grants you personalization options. Its intuitive design lets you know when you have a busy schedule and when you're free. It also has integration in weather, contacts, and maps.
You can view travel time, weather conditions, and receive helpful alerts about your schedule. You can search for events easily from the device spotlight menu. Its integration allows calendars from iPhone, Google, Outlook, etc.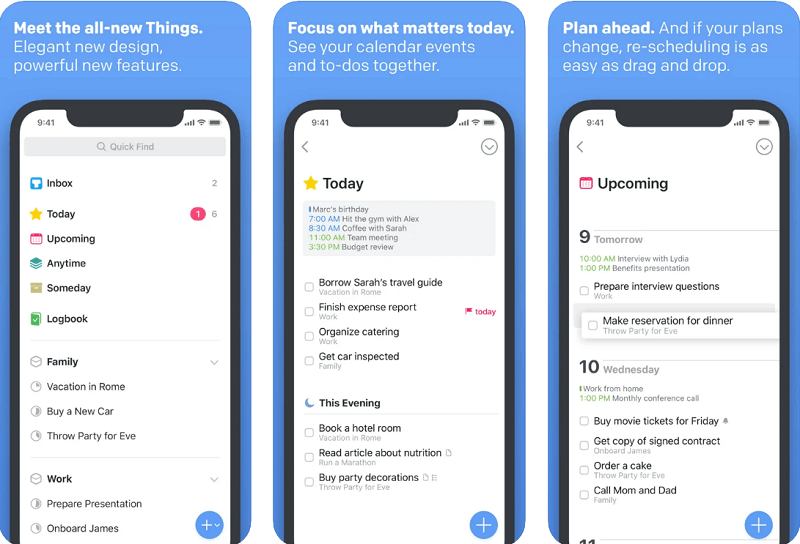 Things 3 is an excellent planning and time management application for iPhone. Although this one is not primarily a calendar app, it functions exactly like so.
You organize plans, tasks, events, appointments, and other things that need your attention neatly and view them all in one place. All of the things will be chronologically listed, allowing you to focus on what is urgent.
You can keep track of tasks and projects, take notes, add plans and events, set reminders, timely alerts, and so much more. It also provides calendar integration in case you want everything in that format.
Since it was made for iPhones, it offers deep integrations capabilities, from emails to website links. You can personalize the interface, set reminders with Siri, use shortcuts, etc. It costs $9.99
WeekCal is another great calendar app for iPhones. It offers tons of customization options and a wide range of features. It is great for managing and keeping everything organized.
You can easily add events and tasks with drag & drop. There are options for different views of the calendar according to the time frame. You can also add custom calendars for sports, media, weather, etc.
With tons of integration capabilities, WeekCal can import different calendars from the calendar store and still keep them neatly organized. It is fast to sync up with updates and offers many design interface customization options.
Conclusion
Staying organized means staying in control of your life. With the help of these top-rated calendar apps for iPhone, you can stay on top of your schedule. We recommend you carefully read through each of the applications and choose the one that suits you best.
Calendar apps are becoming more and more intuitive with cleaner UIs. By choosing a good calendar app for your iPhone, you will manage your time and schedule easily. Time management has never been easier with these apps.
As an independent platform, it takes a lot of effort to create and curate quality content daily. Our content is totally funded by users like you.
Therefore, if you find information on this website useful, we kindly ask for your support in maintaining the longevity of our platform. If each person who benefits from our website contributes, we can secure a brighter future for our website.
Donate on Paypal or Buy us a coffee if you find the information shared in this blog post useful. Mention 'Coffee' in the Subject. So that I can thank you