Starting with Microsoft Edge v88, the company is testing the Startup boost feature that will improve the startup experience of the Edge browser.
So the question is how is it going to improve the Edge startup experience right? The feature when enabled will run a set of Microsoft Edge core processes in the background with low priority. As a result, the browser will launch quickly whenever you relaunch it, run it after login to your device or open it from the taskbar, start menu, or from links embedded in other applications.
Enable Startup Boost feature in Microsoft Edge
In case, you find Edge Startup Boost feature interesting and want to try it, then first you have enable it. Here's how you can do that:
Update Microsoft Edge to latest version i.e. 88.0.705.50 or above.
Next, you need click on the Ellipse (…) icon and select Settings.
On the Settings page, you need to switch to the System tab. You can directly reach the same settings page by visiting this address: edge://settings/system.
Here on the right side move the slider for Startup Boost to ON position. Doing this instantly shows you a notification in the notification center with a message like shown in the following screenshot: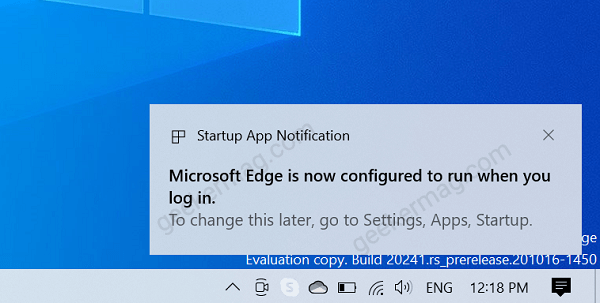 The message confirms that Startup Boost feature is running.
Right now Startup Boost feature is only available for devices with all versions of Windows
According to the Microsoft Edge Tech community post, the Edge Startup Boost feature is under development and the Microsoft Dev team is looking for feedback from you. In case, you have enabled Startup Boost feature in Edge, then you can share feedback.
For that, again visit the System setting page of the Edge browser. Here, you can thumb up or down visible right to the Startup boost option.
Are you going to try Microsoft Edge Startup boost feature? Do you find any difference after enabling it? Feel free to share your opinion in the comments.