Earlier, Microsoft showcased the Vertical Tab feature accompanied by other features and give users a reason why they should switch to the Edge browser. At that time, most of the features discussed by Microsoft were upcoming feature lists.
Vertical Tabs feature is now working in the latest version of Microsoft Edge Canary. The feature was available behind the flags for a long time, but now the company pushed the feature under controlled feature rollouts.
Update 05/08/2020 – Starting with Microsoft Edge Canary, the company introduced a flag called "Recently closed tabs in the vertical tabstrip" "edge://flags/#edge-vertical-tabs-recently-closed" for Vertical Tab with the description "Enables the list of recently closed tabs view in the vertical tabstrip – Mac, Windows".
As of writing this blog post, the working is not functional at least for me.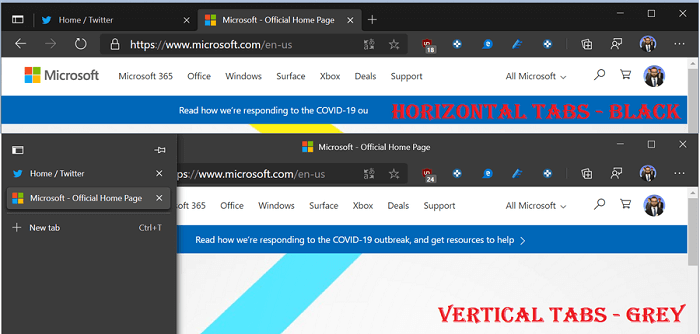 The information was first showcased by Alumia on Twitter, and the same information was confirmed by Software engineer working on Microsoft Edge that Vertical tabs feature is coming soon in Edge Canary.
Some users suggested that users can enable Vertical tabs features by enabling two flags called "Enable Fullscreen dropdown" and "Enable Swipe to ShyUI".
Later, Levopeva on Twitter demonstrated Vertical Tabs feature in action by disabling the two flags discussed above confirms that Microsoft is doing A/B testing of the feature rolling out the feature in waves.
As of writing this blog post, there's no way to enable vertical tabs feature in Microsoft Edge and it possible that in upcoming updates, the company will add it. In the mean time, all we can do is wait.
Why don't you check, if you're lucky enough to get the Vertical Tabs feature in Microsoft Edge Canary? If Yes, let us know your thoughts in the comments.
If you find this blog post useful, please share it on Social Media. A quick share will help in growth of this blog. It hardly takes 10 seconds, isn't it?