Earlier, Microsoft showcased the Vertical Tab feature accompanied by other features and give users a reason why they should switch to the Edge browser. At that time, most of the features discussed by Microsoft were upcoming feature lists.
Earlier, Microsoft was testing the Vertical Tabs feature of the Edge browser with limited users under controlled feature rollout. There was no flag or setting available in the browser to enable Vertical Tabs feature in Edge.
FYI Vertical Tab feature allows users to move tabs to a vertical list on the side to more easily scan, identify, switch between and manage tabs when there are many open
Enable Vertical Tabs in Microsoft Edge v88
Starting with Microsoft Edge v88.0.705.50, the company finally added Vertical tabs" feature flag that means every user who wants to try this robust feature can enable it. Here's how you can do that:
Launch the browser and visit this flag address: edge://flags/#edge-vertical-tabs, here's using the Vertical Tabs drop-down change the settings from Default to Enabled.
Click Restart button to apply the changes.
You have successfully enabled the Vertical Tab feature in Edge browser. After doing this if you launch the browser, you will start seeing Vertical Tab icon available on the upper right corner edge tab strip.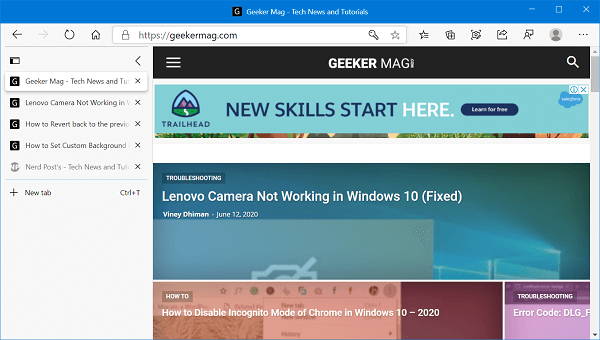 Clicking the icon will turn on Vertical tab and you will start seeing all the active tabs in on the left pane. From the tab, you can:
See titles and access controls like mute and close,
Reorder your tabs
Drag and drop to rearrange tabs
Collapse the pane if you want to focus on a particular page
You can check vertical tab feature in action:
The purpose of adding Vertical tabs feature in Microsoft Edge is to offer users more streamlines navigation experience.
Some users might not find the Vertical tabs feature and due to this reason want to hide Vertical tabs button from the menu? Fortunately, it is possible and you can check our blog post on how to hide Vertical tabs in Edge.
Why don't you check, if you're lucky enough to get the Vertical Tabs feature in Microsoft Edge? If Yes, let us know your thoughts in the comments.
If you find this blog post useful, please share it on Social Media. A quick share will help in growth of this blog. It hardly takes 10 seconds, isn't it?