Whenever you opt to run the particular application in Windows 11 with administrator rights, User Control Account (UAC) dialog box appears with two options; Yes and NO. If you click Yes, your selected program, opens with admin rights. While clicking the NO option won't open the apps.
User Control Account's prompt purpose is to block the automatic installation of unauthorized apps and prevent inadvertent changes to system settings. So overall it plays a very vital role in the proper functioning of Windows 11.
Some users report that whenever the UAC dialog box appears Yes button is missing and due to this reason they are unable to run programs with admin rights.
Fix – Yes Button Missing or Grayed out in UAC Prompt in Windows 11
In case, you're facing the same issue on Windows 11 PC, then here's what you need to do to restore the Yes button in the UAC dialog box:
First of all, you need to boot into safe mode in Windows 11 PC.
In Safe mode, you need to press CTRL + SHIFT + ESC to launch Task Manager.
Click on the File > Run new task. This will launch Run dialog box with administrator rights.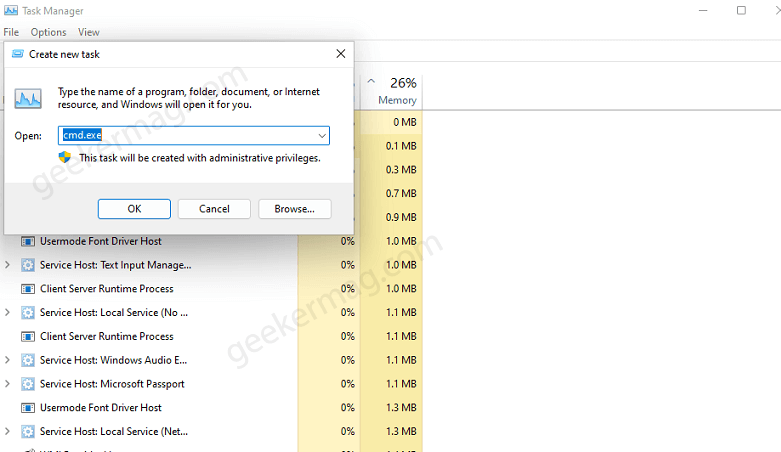 Here, you need to type cmd.exe and click OK.
In the Command window, you need to execute: net localgroup Administrators <user>/add and hit enter.
In the above command, you need to replace user with the user account name. In my case it geekermag so the full command will look like this: net localgroup Administrators geekermag/add
Once the command is executed successfully, you need to reboot your computer. This will exit the same mode and boot in regular Windows 11 mode. Check out this if unable to exit safe mode in Windows 11 PC
Let us know if this method helps in fixing the issue or not. If you know any other solution that helps in fixingYes Button missing in User Control Account (UAC) Prompt in Windows 11
Please do not hesitate to Contact me on Twitter if you want assistance with issue related to Windows 11, Windows 10, and Edge browser. I will try my best to assist you ASAP. (Follow me first and then PM your issue on Twitter)

Buy us a coffee if you find information shared in this blog post useful. Mention 'Coffee' in Subject. So that I can thank you