Battle Royal and First Person Shooting games are addictive and really fun to play, Many of us love to play PUBG or similar games like PUBG but last week Indian Gov banned PUBG along with other 118 Chinese Applications. So, we felt many of us really looking for similar battle royale games like PUBG.
One of the Indian Celeb also announced another game FAU-G will be released very soon as an alternative to PUBG. That's why we brought the best games you would love to play on your android mobiles and tablets instead of PUBG.
1. Gods of Boom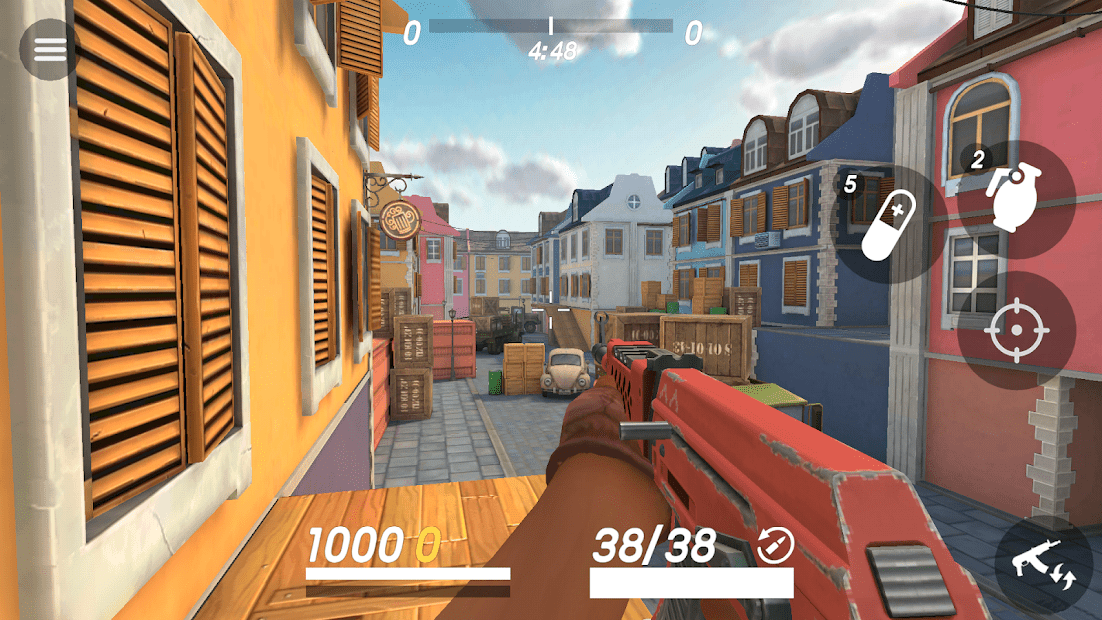 The first Game like PUBG on our list is Gods of Boom downloaded more than 50 million times from Google Playstore and has 18,48,000 reviews with more than 4 stars rating.
Gods of Boom is a Multiplayer First Person shooting game and has very great 3D graphics that you'll enjoy for sure while playing this game.
This game concept is easy to understand but skill cap is not beginner if you love to play a tournament like a match you would probably love this game, Gods of Boom deliver PVP battles with enchanting and vivid visuals.
The good thing about this game is its skin, battle modes and events are regularly updating as well.
2. Hopeless Land: Fight for Survival
Hopeless Land is a free to play action game with more than 50 million downloads and 1.6 million reviews on Playstore.
As it signifies by its name, Hopeless Land is a survival game where you have to fight with other 120 players in one big fatal survival gameplay.
The game developers did a great job in detailing things as they claimed they inspired by real Asian style architecture. Hopeless land lets you land air sea warfare, drive many new vehicles and helicopter, and many more..
Hopeless Land has a cool shooting experience and easy operation, and the good thing about this game is that it doesn't require higher devices so technically you can play this game on almost all devices without having any device barrier.
3. Call of Duty Mobile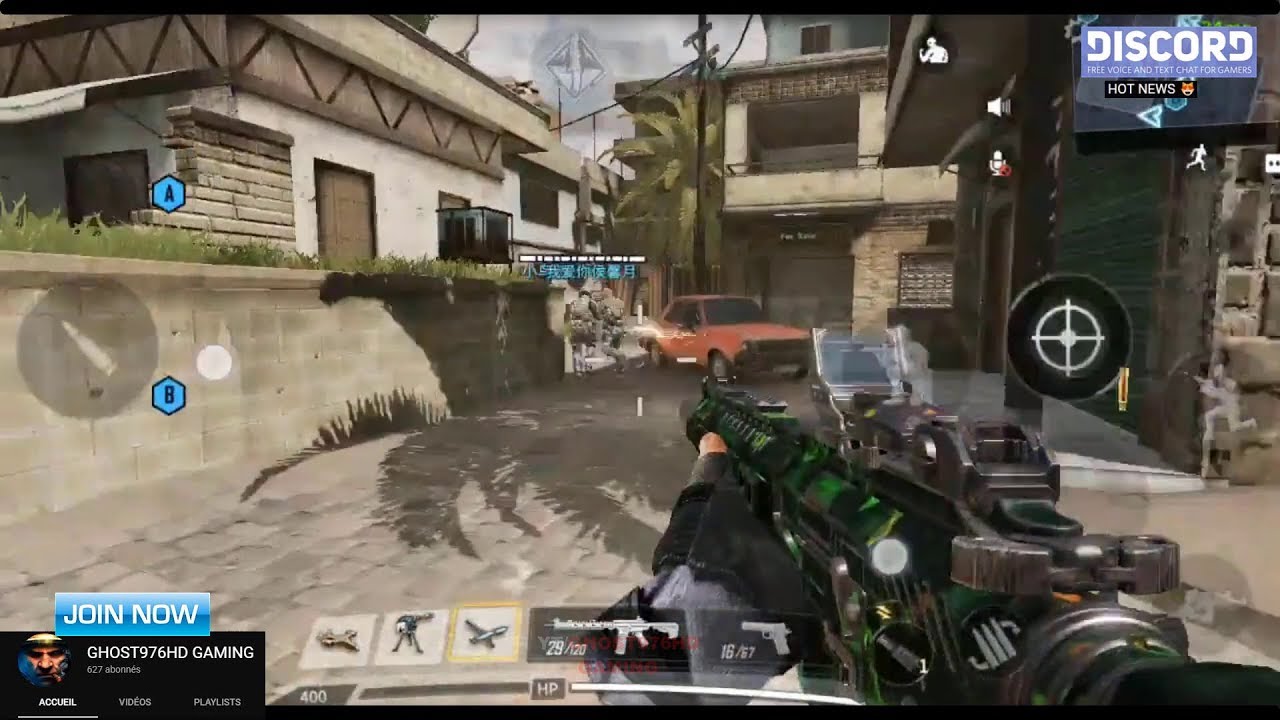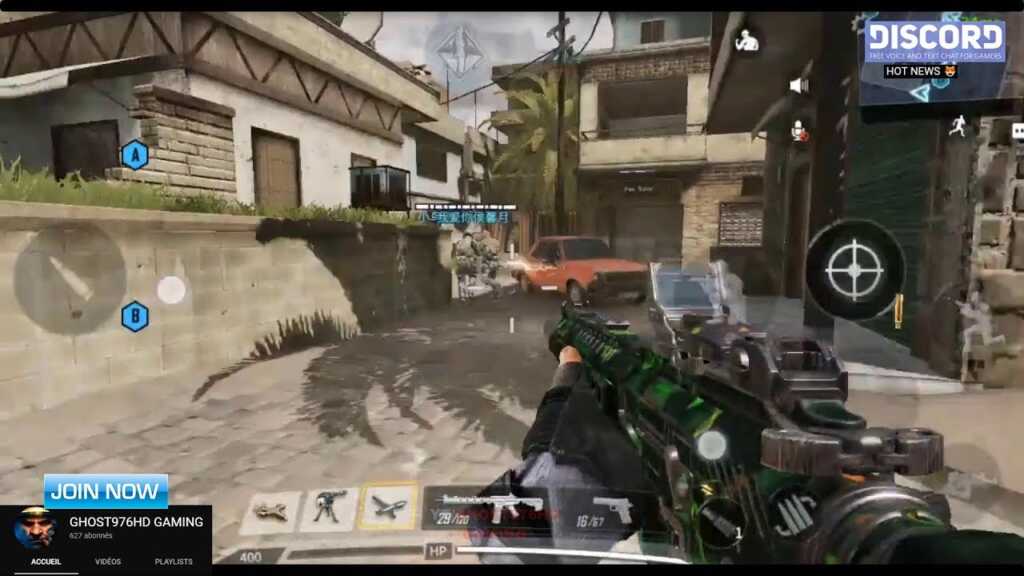 Call of Duty is one of the best alternatives of PUBG game, Downloaded more than 100 million and 10.6 million reviews with an overall rating of 4.5 stars.
COD is free to play battle royal shooting game, has customizable controls, thrilling 3d graphics, voice, and text chat.
The game has an iconic map and different gaming modes, you can play 5v5 PVP deathmatch and in battleground mode, you'll fight with 100 players to survive.
While Playing you can earn many outfits, characters, weapons, and pieces of gears, and enjoy fighting with your friends and foe to win this free to play the game.
4. Modern Combat Versus
Modern Combat Versus is an action-packed mobile shooter game, downloaded more than 10 million times, and has more than 200 thousand reviews with 3.8 ratings.
The game is free to play, has 4v4 online multiplayer battle mode that you'll love to play if you keen competitiveness in your game. Emerged yourself with the best quality FPS graphics featuring stunning effects and visuals.
You can choose your agent as every agent has a different set of weapons, then you need to create or join a clan to play matches with online players from all over the globe.
..and you can customize you agent character with cosmetic skin and weapon camos.
5. Grand Battle Royale: Pixel FPS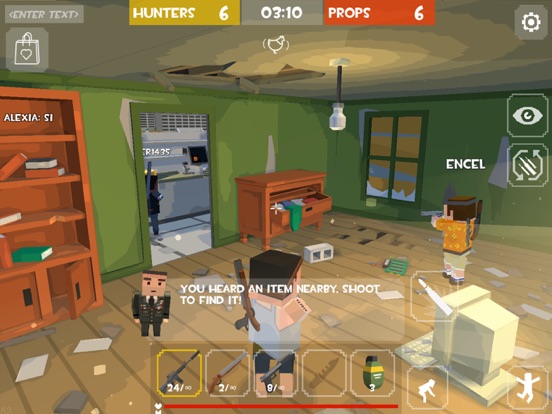 If you like to play battle royale games and love military blocky pixels games as well then Grand Battle Royale: Pixel FPS is for you.. downloaded more than 10 million times and has more than 2.3 million reviews with 4-star ratings.
A free to play the game, features multiplayer PVP battles with a player around the world for intense survival game lovers.
Guns will appear randomly anywhere on the ground so look up for pixel gun and start shooting.. and of course last man standing will be the winner of the match.
6. Action Strike: Online PvP FPS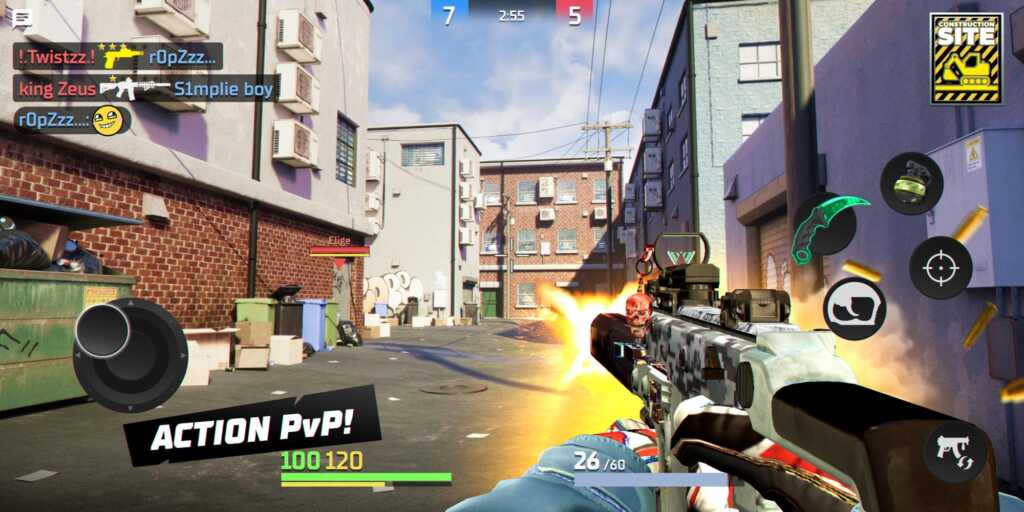 Action Strike is an online first-person shooter 3D mobile game has been downloaded more than 5,00,000 and has more than 11,800 reviews with 4.2 stars.
In this game, you'll have to compete with thousands of players by participating around the world in short dynamic and PVP matches in real time combats.
Quick reflexes and tactical skills are a must in order to win this game, operate, and handle your character in the first-person view, destroy and kill the enemies in order to win.
7. Garena Free Fire
The best Alternative of PUBG game is Garena Free Fire with more than half-billion downloads from the Google Play store and has more than 6.2 million reviews with a 4.1-star rating.
The Game is a Free amazing survival shooter game available on android devices. Every battle round is of 10 minutes in this game you between 49 players other than you and in order to win you need be the last man standing.
In Free Fire, you can explore the vast map by Driving and roaming in vehicles, hide in trenches, or prone under grass and become invisible. The Game also offers different modes like 4 man squad mode and 4v4 mode. The aim of every mode is to survive.
8. Battle Forces – FPS, online game
Are you a fan of classical realistic first-person shooter game, then the next game 'Battle Forces' is for you. The game has been downloaded more than half a million times from google play store with 4.1 stars rating.
Battle Forces featured many different game modes including 4v4, 5v5, team battles, and leagues.
The game developer released this game's early access version but that does not mean that this game is simple and has the same boring gameplay where you'll have to just kill others for survival to win.
Its Unique CyberPunk set will definitely impress you, game offers each player has a unique ability that might be useful for them in their critical situations of battles!
9. Pixel's Unkown Battle Grounds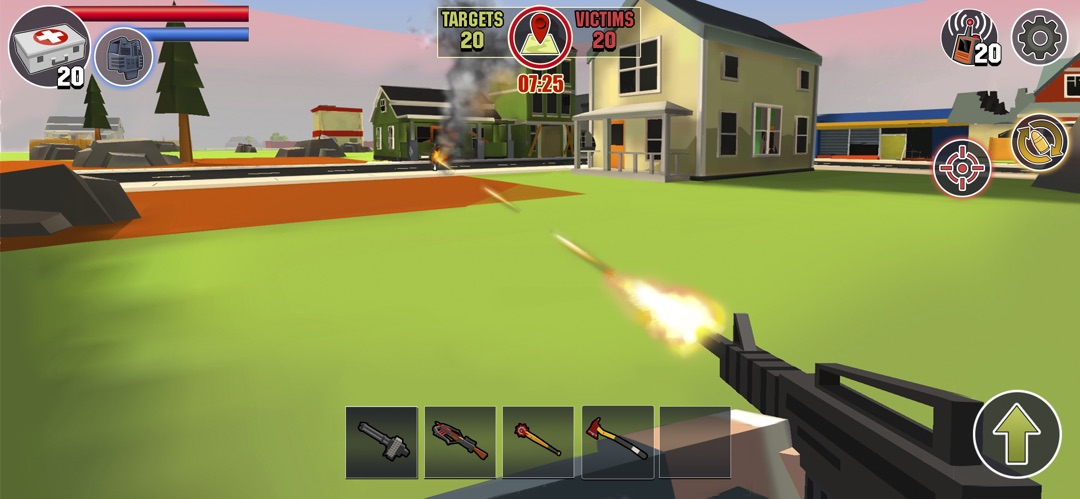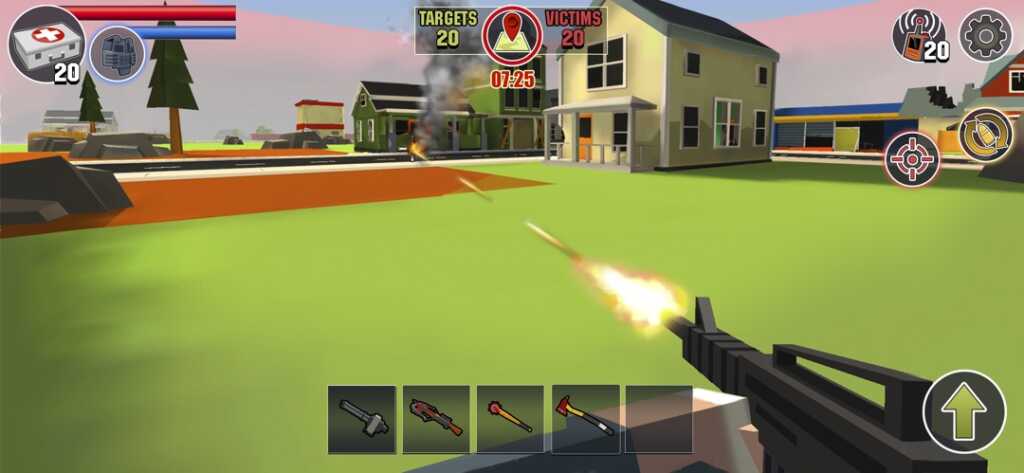 Another game pixel game lovers are Pixels Unknown Battle Grounds, downloaded more than 50 million times, and has reviews of six hundred thousand with 4 star ratings.
If you are looking better but a similar action multiplayer survival game like PUBG, then this is the game you should play. Similar to PUBG, the battlefield is shifting continuously and reducing by the time.
The game is free to play and has many graphic modes for lower hardware devices, featured more than 30 different kinds of weapons, and in-game cars and military vehicles.
10. Fortnite
Fortnite is one of the most popular game, similar to PUBG a free to play online multiplayer battle royal game where you have to battle against 99 other players and last standing player will be the the winner.
The game featured three different game modes as well which are battle royale, save the world, and Creative, In Creative mode the game lets you create your own world and the battle arena where you can play with your friends and other online player or can join others as well.
But the game Fortnite has been removed from the Play store but you can still get it from Fortnite's official page and there are few other methods as well…
How to Download and Install Fortnite on Andoroid Mobile Phone
Go to your browser and open Fortnite's official page fortnite.com/android.
From there You'll need to download Epic Games store apk.
For Installing the app you might need to allow "install from unknown source" from your phone settings.
After done with Epic App store Installation, A message with prompt itself asking for permission to install application from Epic Game store. You need to grant the permission.
Fortnite will be installed but before playing that game dont forget to revoke the access for your own security concerns. Settings may differ but in Android 10 its as follows…
Open Settings > Find "Apps & Notifications" > Tap "Special app access" > Scroll down to "Install unknown apps" > Under "Chrome," turn off permission for installing unknown apps
Final Words
These are more popular games which are fun to play mostly free to play and similar to PUBG, Free Fire, and Fortnite are amazing games to play if you are looking for PUBG alternatives and If you are more in to Pixle games then Grand Battle Royale is a must play for you.
Tell us what other games you like the most and if you wondering we have missed your any favorite game that you believe it should be on this list then let us know in comment section.
Donate on Paypal or Buy us a coffee or Join Patreon if you find the information shared in this blog post useful. Mention 'Coffee' in the Subject. So that I can thank you.