Ads are arguably the most annoying thing about using the internet. Be it social media, video platforms, blogs, or even forums, they can be found in every corner of the modern web. That is why we've created this detailed guide about how to block ads on Android.
But no matter how annoying they are, ads are the only reason why free content exists on the internet. Without them, everything would be hidden behind a paywall. The reason why you're reading this article for free is because our website relies on ads.
Sadly, there are certain bad actors that use malicious or exploitative means of advertising. Hostile ads can often ruin your viewing/reading experience, redirect you to unsafe platforms, or even download infected software.
How to Block Ads on Android Phones
By following the steps mentioned below, you can save yourself from various annoyances and protect your device from hostile or non-user-friendly ads.
Use a web browser with built-in Ad blocker
The Google Play Store has a variety of web browsers that come with an Ad blocker out of the box. These are incredibly useful as they avoid most pop-ups, trackers, and redirection ads without you even noticing.
Browsers like Firefox, DuckDuckGo, Vivaldi, and Opera are some of the most popular options at the moment. As the Ad blocker comes pre-loaded, you do not need to install any extensions or follow extra steps to block ads. The browser conveniently does it for you.
Use Ad-blocking apps like Adlock
Adlock, the popular adblocker for Android defends you against ads across your device and is not limited to a specific app or browser. It works without root access and automatically blocks all pop-ups, banners, redirects, and autoplay ads.
Apart from blocking ads, Adlock also ensures that your personal data is secure while browsing the internet, disables malware-infected ads, saves mobile data, and even extends your battery life.
It comes with a modern easy-to-use interface and does not require any technical knowledge. Even if you're a complete newbie in terms of technology, you'll have no issues while learning how to use the app.
Adding to its list of perks, Adlock works on a variety of different applications, games, and websites. Other Ad-blocking apps like AdGuard, Blokada, and AdAway are also great options to choose from. However, some of them may require root access.
Change your DNS to block ads
If you're comfortable tinkering with your DNS settings, this method can be extremely helpful to you. There are tools like AdGuard that offer free DNS services to help block off ads on your Android device. Follow these steps to connect to a Private DNS:
Go to Settings and look for 'Wi-Fi' or 'Connection' settings.
Find 'Private DNS' and open it.
Change the DNS settings from 'Automatic' to 'Private DNS provider hostname'.
Fill in the DNS of an Ad-blocking service of your choice. You can use 'dns.adguard-dns.com' to access AdGuard's free service.
Changing these settings will help you avoid ads on nearly all of your Android applications.
Disable Pop-ups and redirects in Google Chrome
Google Chrome offers a handy feature that allows you to block pop-ups and redirects on various web pages. This efficiently avoids malicious and harmful ads while browsing. Here are the steps to enable it:
Open Google Chrome and tap on the three-dot menu in the top-right corner.
Open Settings and scroll down to Site Settings.
Find 'Pop-ups and redirects' and toggle it off.
You can disable certain intrusive and misleading apps in the Google Chrome settings as well. Follow the steps mentioned below to do that: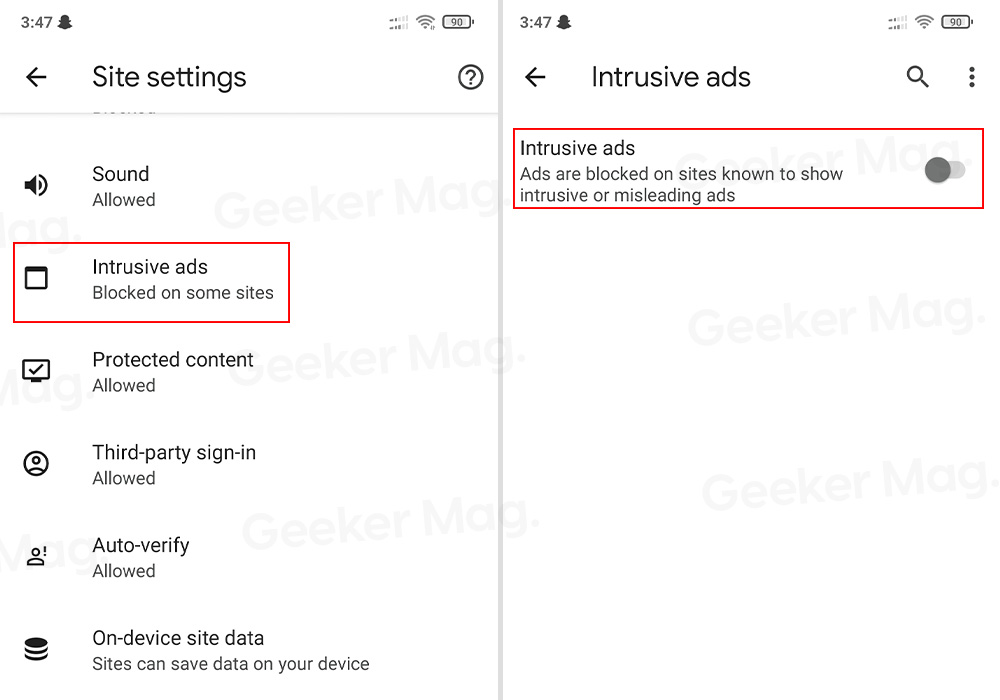 In Google Chrome settings, find Site settings and open them.
Click 'Intrusive ads' and turn them off.
Use VPN apps with Ad blocking
A lot of popular VPN services and apps often come with built-in Ad blocking, security, and anti-malware features.
Nord VPN, Surfshark, Proton VPN, and CyberGhost VPN are some popular options to choose from. Unfortunately, the biggest disadvantage of this approach is the extra cost of buying a VPN subscription.
Additional tips
Turn off site notifications in your browser:
A lot of websites exploit your browser notifications to display ads in an extremely intrusive manner. Turning off such notifications can offer a much better experience.
Disable Wallpaper services:
Certain Android apps use your device's lock screen wallpaper to show ads. You can block such ads by following these steps:
Go to Settings and look for the Lock Screen option.
Find Wallpaper Services and open it.
Now select the 'None' option to block all Wallpaper Services.
Support the developers through subscriptions:
If you can afford to spend money on some subscriptions, you can avoid ads on your favorite websites or apps and support the developers by purchasing their services.
Avoid rooting your device:
In 2023, we already have access to a lot of tools that offer great protection against ads without the need for root access. While rooting your device can give you extra control, it comes at the cost of security threats. Only try it once you've understood and accounted for all of the potential risks.
Regularly Update Apps and Android OS: 
Keeping your apps and Android operating system updated ensures you have the latest security patches and features, which can help maintain effective ad blocking.
Whitelist Trusted Sites: 
Some websites rely on non-intrusive ads for revenue. Most ad blocker apps allow you to whitelist specific sites if you want to support them.
So these are possible ways to disable ads on Android phones. If you're aware of other possible ways and tricks, then feel free to share in the comments.
As an independent platform, it takes a lot of effort to create and curate quality content daily. Our content is totally funded by users like you.
Therefore, if you find information on this website useful, we kindly ask for your support in maintaining the longevity of our platform. If each person who benefits from our website contributes, we can secure a brighter future for our website.
Donate on Paypal or Buy us a coffee if you find the information shared in this blog post useful. Mention 'Coffee' in the Subject. So that I can thank you