Reset Sync data is a nifty feature that is useful when the Edge browser has problems syncing data across your signed-in devices. This feature when used reset and delete sync data.
So what's the data we're talking about here? Whenever you connect your Edge profile with a Microsoft account, the complete information related to the browser stored on the Microsoft server is synced across all devices. The sync data include browser history, favorites, passwords, browser settings, extensions, collections, Addresses, and other autofill data.
Sometimes there could be a situation where data isn't syncing properly and not syncing at all on signed-in devices. The best solution is to make use of the reset sync option in the browser settings. This will delete synced data from Microsoft servers and fix any issues.
Update 19/01/2023 – Microsoft is preparing to update the option that allows you to reset the sync. Instead of deleting the browsing sync data from Microsoft servers, Edge will delete the sync cache on the device, this will allow the local browsing data to be re-synced with the sync data stored on the servers. Here I compare the same option in the Stable and Canary versions:
Reset Sync option will be replaced with Re-sync data to this device. It's under Controlled feature rollout and was spotted by Leo
Reset Sync Data in Microsoft Edge
If you're facing any data syncing issues in the Edge browser, then here's how you can use the Reset Sync data feature:
Click on the Ellipse (…) icon and select Settings from the menu.
Switch to the Profile tab and then on the right side select Sync.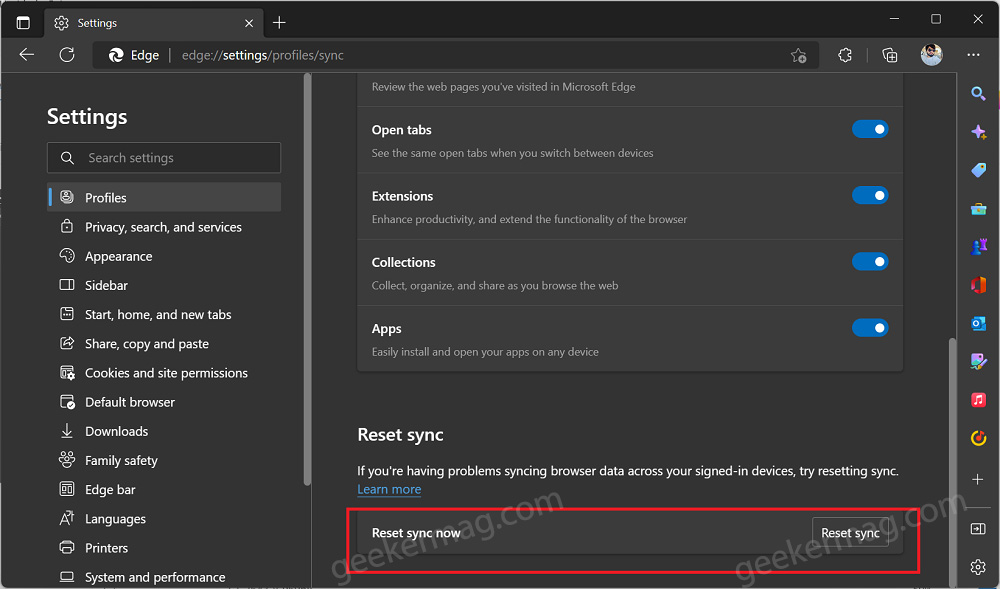 On this page, you will see an option called Reset Sync option visible at the bottom of the page.
You can directly visit this setting page by going to edge://settings/profiles/sync address.
Here, click on the Reset Sync button. A confirmation dialog will appear, click on the Reset button and you're done
In the dialog box, you will get information that clicking the Reset button will delete all the browsing sync data from Microsoft servers, and not from the device.
Apart from this, there's an option "Resume sync on this device after resetting sync" option, checking this option will automatically sync the data after resetting sync.