For some workflows, touchscreen displays might be very advantageous. High-quality touchscreen monitors may make using specific programs more intuitive and accurate, whether for artistic purposes or to increase basic productivity tasks.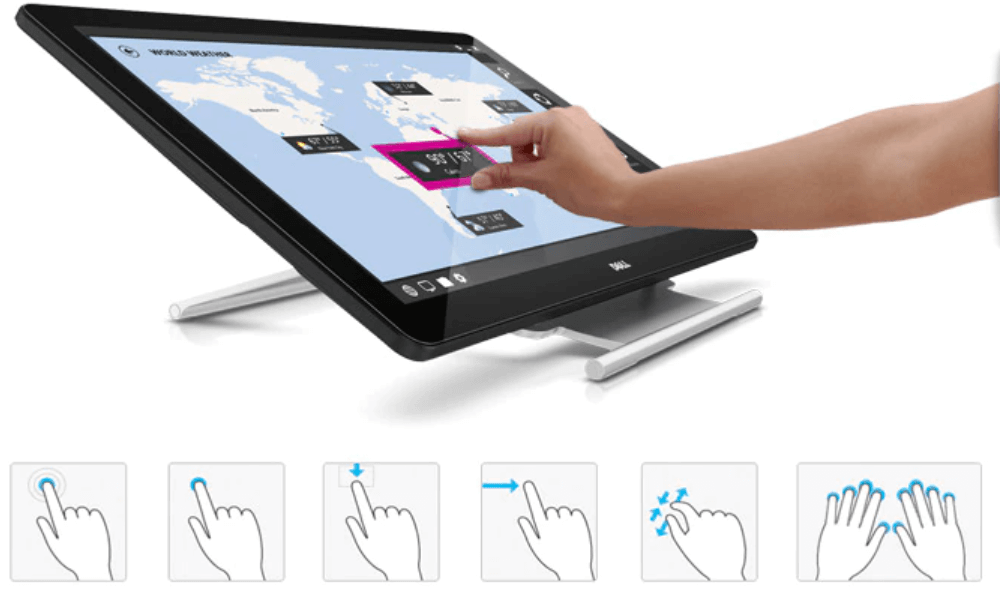 They may provide a fluid, responsive experience that resembles writing with a pen on paper and an immediateness that computer mice and keyboards cannot match. Even a simple 12-inch monitor can be a real game-changer.
Main Advantages of a Touchscreen
Before you start reading about what factors to keep in mind when choosing a touchscreen monitor, let's learn about the advantages of using the touchscreen monitor.
Gestures and commands: Many touchscreen devices support special touchscreen commands, using which will definitely increase the efficiency of the use of such devices.
More efficient use of space: It doesn't matter if you're choosing the touchscreen for home use or as a part of some outdoor device like a railway ticket kiosk — using a touchscreen instead of a conventional flat screen will save you some space as it combines both input and output devices in one. No need for extra space for a keyboard or input pad, all operations can be done using only the monitor.
Easier to transport: Because the monitor is also an input device, there is no need for a mouse and keyboard, so moving the PC will be easier as there are fewer components to move. Moreover, there are many offers with touchscreen monitors with in-built computers.
Touch gestures: It's also can be used to immediately sketch with your finger on the screen and convert this handwriting to text. Additionally, you can execute a command directly on the screen rather than using keyboard shortcuts to do so.
How to Choose a Touchscreen Monitor
If you made up to this line, then we presume that you've learned about the advantages of using the touchscreen. Now let's learn what things and technologies to keep in mind when choosing a touchscreen monitor.
Resistive display
The most popular technology because of its perfect balance between price and quality of the picture.
They are constructed of numerous flexible layers of glass with air or gas inserted between each layer. The layers osculate when a touch is produced, enabling the monitor to identify the location of the contact.
The resistive monitor responds to a touch from a finger, glove, or not, as well as from a pen, pencil, or plastic card. The surface of such a panel, however, is not very resilient and is rather easily scratched and damaged.
Capacitive display
In terms of touchscreen monitor construction, it is the second most popular choice.
When a capacitive panel is touched, a little charge is drawn to the point of contact, turning the capacitive panel into a functional capacitor. The variation of the electrostatic field is measured to determine the location of the touch.
In more simple designs, circuits located in the corners of each panel calculate the charge and send the information to the controller for processing.
If you want to operate the touchscreen with both hands — you need multitouch panels, where sensors are organized into a grid for more steady operation.
Acoustic surface wave (SAW)
This touch panel measures the attenuation of ultrasonic elastic waves on the surface to determine where a finger makes contact with the screen. The waves are absorbed when the finger makes contact with the screen. The information from absorbed waves is then used to determine the point of contact.
When compared to other technologies, this kind of touchscreen has some advantages. Excellent light transmittance, enhanced visibility, and scratch resistance are a few of the most noticeable.
Size
Upgrading to the appropriate digital tools requires taking stock of your organization's technological requirements to keep personnel connected, involved, and secure. To engage office staff and remote users in real-time, some organizations may upgrade their offices with huge 60+ inch touchscreen displays.
However, if something smaller is needed, for example, to upgrade an old cash register and increase the effectiveness of the device, consider a 12-inch monitor, which will fit perfectly in places with limited free space.
The size of the ideal device for the home can start from as little as 15 inches. It's an optimal size for multitasking and, along with that, not taking too much space. Moreover, such a device can even free you some free space because it doesn't require a keyboard or mouse, so you can free up your worktable.
Price
The price range is very wide, however, some consistent patterns can be found.
There are many propositions starting from $200. It may be a reasonable price for a small screen, but buying a 15-inch monitor for $200 should trigger your suspicion, and not without a reason.
High-quality monitors use high-quality electronics which can be pricy. That's why if you want to obtain a long-living device — you should not buy the cheapest no-name brand.
The somewhat greater cost of a touchscreen monitor over a non-touchscreen equivalent is certainly worth it if you've ever used a touchscreen laptop and wished you could do the same at your desk.
PC compatibility
Examine the touchscreen monitor's ports to identify what kind they are and where they are located. It must have the proper ports, like HDMI, DVI, and VGA ports, if you want to plug in a system unit to it.
The touchscreen display must have the required port in order to work with the desired peripheral. Therefore, always check to see what kind of ports are present and where they are.
It's also crucial to have a monitor which will work perfectly with the operating system of your choice. Most modern monitors are well-compatible with Windows, iOS, and Linux.
Final words
Choosing the right touchscreen monitor can be a challenge, however, if you know what are you looking for — you'll find something that meets your expectations pretty fast.
As an independent platform, it takes a lot of effort to create and curate quality content daily. Our content is totally funded by users like you.
Therefore, if you find information on this website useful, we kindly ask for your support in maintaining the longevity of our platform. If each person who benefits from our website contributes, we can secure a brighter future for our website.
Donate on Paypal or Buy us a coffee if you find the information shared in this blog post useful. Mention 'Coffee' in the Subject. So that I can thank you