Firefox is a popular web browser used by people all across the globe. It offers various tools that make the browsing experience outstanding and one out of them is the Screen Capture tool.
Screenshot tool in Firefox allows users to take screenshots either of a full web page or visible area of the web page. After that, users can save screenshots to the clipboard or save them to the device.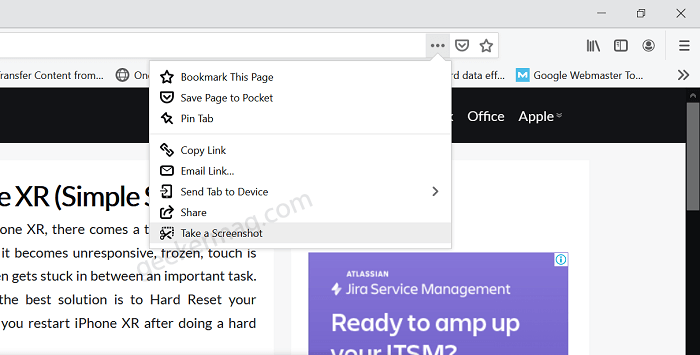 As of now, Take a screenshot option was available in the Page actions menu that opens up when you click the (…) icon on the right side of the address bar. Lots of users complaining that the Take a Screenshot option is missing from the Page actions menu. It's not missing, but the company decided to remove the same option for unknown reasons starting with Firefox 88.
Although it's impossible to bring back the Take a screenshot option in the Page actions menu, there are other ways using which you can take a screenshot in Firefox.
A similar screenshot feature is also available in Microsoft Edge. You can check out blog post on how to use Web Capture tool in Microsoft Edge.
Take Screenshot in Firefox
The following blog post will cover all the possible ways on how to do that:
You can add Screenshot icon in the toolbar of the Firefox browser. Here's how you can do that:
Click Open menu (Hamburger) icon and select Customize toolbar option from the menu. Alternatively, you can make a right-click on Toolbar and select Customize toolbar.
Here, you will get a list of items that you can add to the toolbar. Look for the Screenshot item and drag-drop it on the toolbar inside rectangular box available on both the left and right side of the toolbar.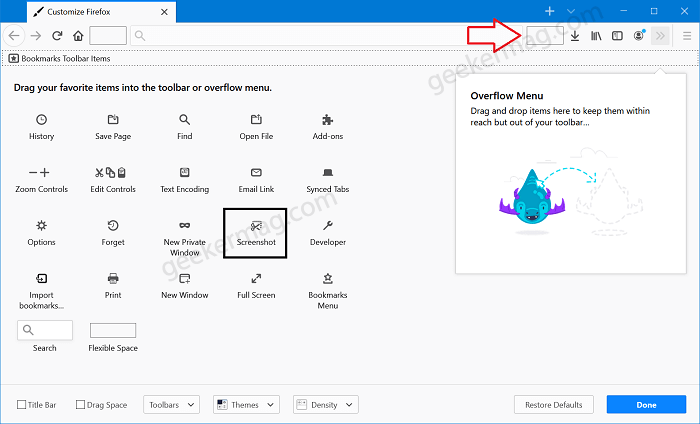 Once added, click on the Done button.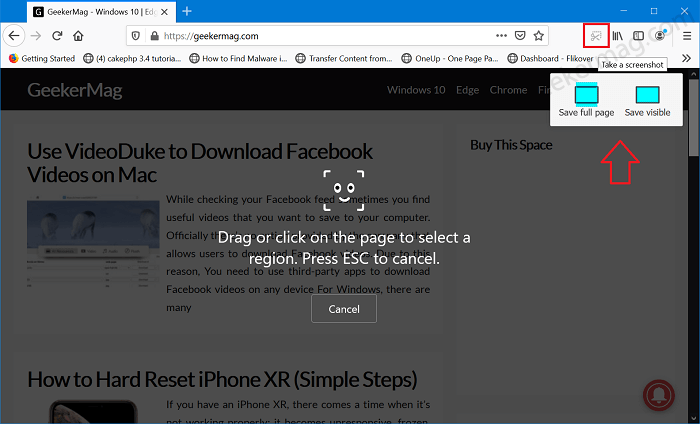 After that, open the webpage and then click on the newly added Screenshot icon on the toolbar. Doing this will activate the Screenshot tool. Here, you will find two options; Save full page and Save visible.
Save full page option to take a screenshot of the full webpage. While on the other hand, click Save visible to take a screenshot of the visible area of the webpage. Apart from that, you can also take screenshots of a particular area too. For that, use a pointer to select the area.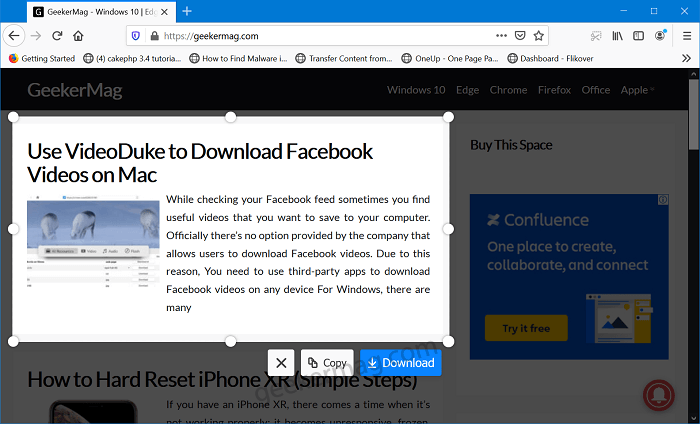 Depending on your choice, select one mode. After that, you will see the preview of the screenshot with two options; Copy and Download.
Select Copy to save screenshot to Clipboard, While on the hand, click Download to Save it to your hard disk.
Alternatively, You can make a right-click on the webpage and select the Take Screenshot option from the menu. Doing this will activate the screenshot tool.
In case, you have a habit of using keyboard shortcut, then you can also make use of CTRL+ SHIFT+ S keys combination to activate screenshot tool in Firefox.