Microsoft is frequently adding useful features to the Edge browser so that it can compete with other popular browsers available on the internet. The latest stable version of the Edge browser has all the feature which a modern browser must have, still, one vital feature is still missing in it. The ability to take a screenshot of the website using the default snipping tool in Windows 10.
If you're familiar with Microsoft Edge browser dev tools, then it is possible to take a screenshot of a website or webpage using commands, depending on the type of screenshot you need.
In order to make it convenient for users to capture screenshots, Microsoft is working on adding a new screenshot feature called 'Web capture' to the Edge browser. With the help of this feature, users will be able to capture the screen of a full-screen window or partial part of the screen.
You might be interested in reading blog post on how to take screenshot using Chrome Developer Tools (The steps for Edge browser is same)
Use Web Capture in Microsoft Edge
In case, you can't wait to know about how you can take screenshot in Edge browser using Web Capture feature, then here's what you need to do:
Make sure, you're using the latest version of Microsoft Edge browser.
Next, click on the Ellipse (…) icon available on the upper right corner, and from the settings menu select 'Web capture'. You can also enable Web Capture button on Edge toolbar to open it quickly.
Doing this will instantly dim the active screen. Now using the pointer, select the area which you want to save (just like you do in Windows 10 default snipping tool).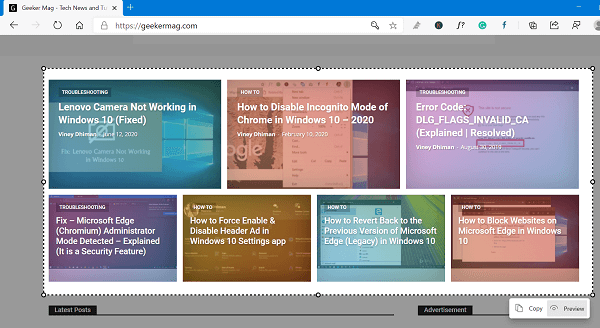 Doing this will bring an option to either copy or Preview the screenshot. If you click on the Preview option, the selected area will be opened in the Web Capture window. From there, users can either share, copy it to the clipboard, or save it to your computer.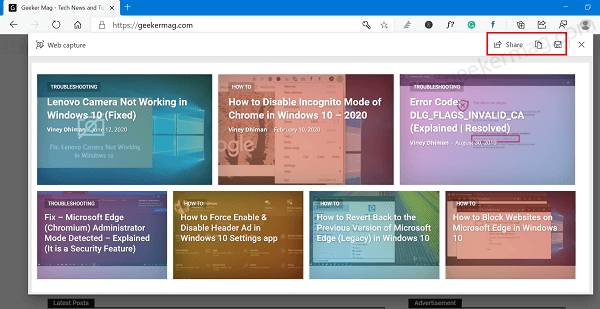 The feature is under development, so its highly possible that Edge developers might include the Edit option which includes support for annotation and draw the shape or figure in the Web Capture screen.
Currently, Microsoft is testing this feature will limited users and it is possible that the Web Capture feature will roll out to more users when it's ready. Why don't you check if you are able to 'Web capture' your browser? Comment below and share your thoughts.